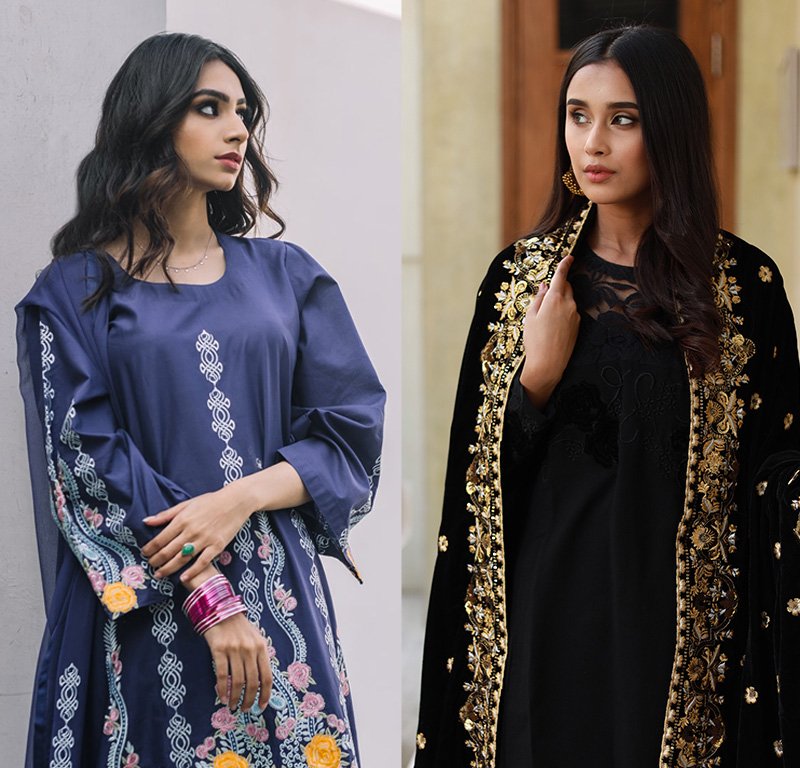 Look and feel like royalty this Eid with JoIR. With an array of styles, colours and designs to choose to slay fashionably at any event.
Bringing the latest fashionable designs, JoIR aims to provide high standards and is exactly what every closet needs. The diverse and efficient team works relentlessly to achieve a final product that would put a smile on the faces of the customers. Engaged in a wide range of fashion textile lines this company is built on the fundamentals of the family while trying to achieve sustainability and affordability.
The indescribable relationship between parents and their child sparked the idea for the name JoIR. An abbreviation for Jewels of Imtiaz and Razia, the brand name JoIR represents the incomparable and unconditional love within a family. Having the names of their parents gives them the comfort of their parents support and presence at all times. The passion for creativity and its implementation led a chemical engineer to project his creativity.
With many emerging brands in the Pakistani fashion industry, JoIR intends to not only style your wardrobe in unique new ways but also aims to keep its brand affordable. The company aims to enter all segments of society by introducing premium quality fabric and elegant design at a reasonable cost for everyone to enjoy with high-quality material used which is durable in all kinds of weather.
An exotic colour theme, a variety of comfortable materials and impeccable stitching is what JoIR is all about. The Chandni collection is a personal favourite because of the light tones and beautiful elaborate embroidery. Suitable for women from all walks of life, from working women to teenage girls this collection is the right pick. This collection welcomes the warmer days of springs with its distinctive embroidery and designed looks.
The Gul-e-Bahaar Collection is a line of smart casuals. It fits the comfortable, colourful and trendy vibe of today's generation. This collection of light cambric stitched shirts is not only chic but also affordable.
The Rang-e-Bahaar Collection has a variety of different colours from tones of white and off-white to summery shades. The three-piece suits in this collection have a natural look to them and are perfect for the fashionable youth of today.
Jhil Mil, Noor Afshan, Saheb-e-Zauq, Shaneel outfits and shawls are some of the other collections JoIR has worked on. They all display a variety of colours, embroideries and design making cultural clothing eye-catching and fashionable. Jhil Mil is a collection of eastern, formal wear. The complete suits are filled with detailed embroidery, good quality material and are stitched to perfection. Shaneel shawls are a perfect addition to every closet and outfit for the winter season. The velvet outfits help you get through festivities and formal gatherings in glam and style.
JoIR's services are not only constricted to women, but they also work on cultural men's clothing. The Saheb-e-Zauq men's collection provides men with simple and comfortable eastern clothing perfect for all events. They also cater to customised orders such as party and wedding wear to enhance your look on your special day making it more memorable for you and your loved ones.
Engaged in the business of fashion textile, JoIR is one of Pakistan's emerging company, it has started serving its mission to fulfil the demand within and beyond the borders. You can order your Eid Attire from their website joirstore.com