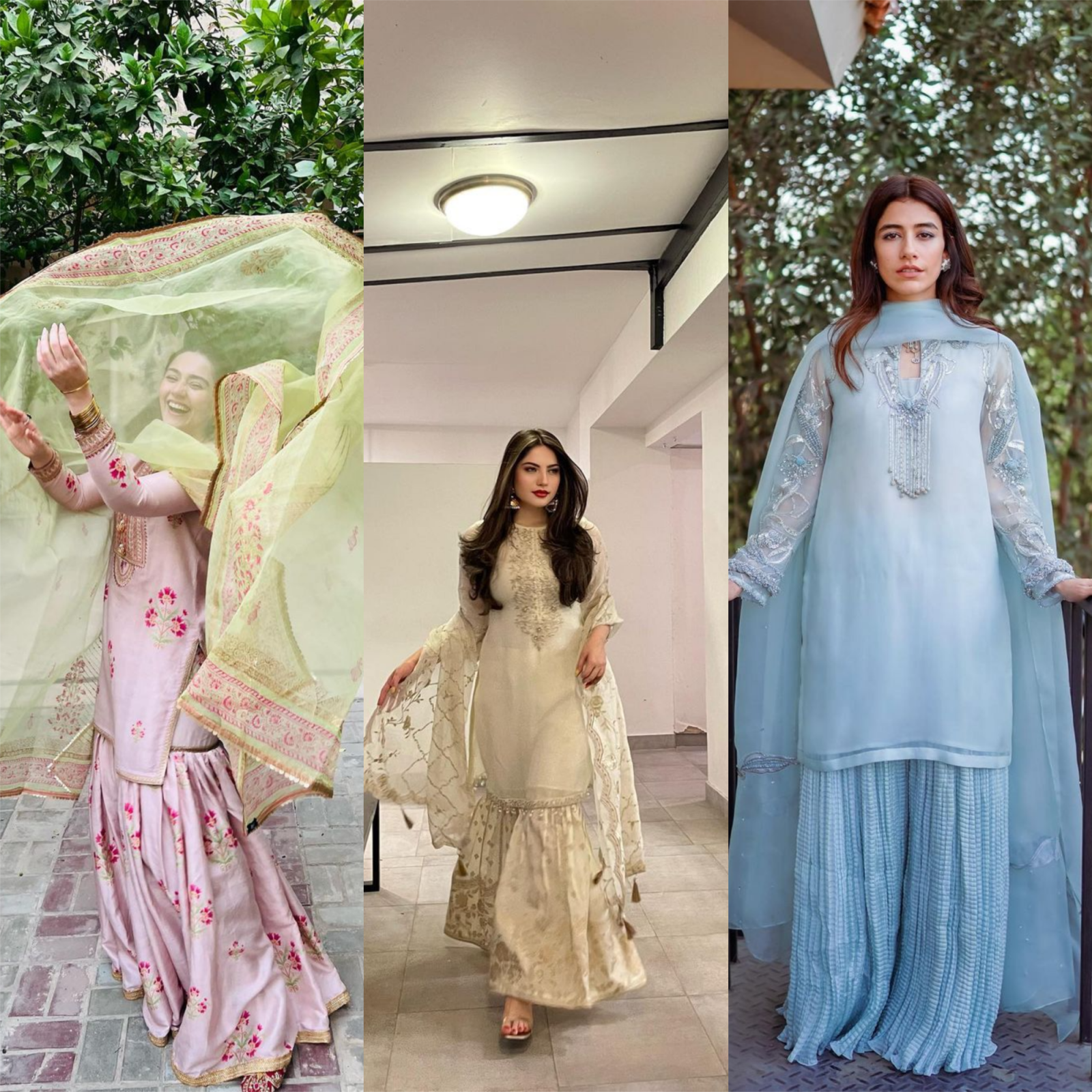 Heatwave affects significant parts of the country but why compromise on style? There are various options to keep up your style game and beat the heat with gorgeous airy outfits! We can't stress over how beautiful ghararas and shararas look. They are not only one of the most elegant pieces of clothing but they don't fail to impress. These ghararas and shararas can be worn in various ways giving a different look. Our gorgeous Pakistani celebrities serve us major summer style inspiration that we can't wait to replicate to revamp our wardrobe. Here are a few summers looks 2022 that we absolutely drool over!
Durefishan Saleem
Durefishan Saleem stuns in a soft pink gharara by the maestro Mohsin Naveed Ranjha. She looks like an absolute dream styling the whole outfit. A pink gharara and shirt are paired with an apple green dupatta. The entire outfit is adorned with beautiful colored flowers and embroidered neckline which is narrow enough to keep the outfit ideal for summers. Moreover, the dupatta has a broad border on all four sides which makes it the perfect match with the outfit. Block printed flowers on the four corners of the dupatta enhance the beauty. Durefishan looks like a style diva wearing the gharara outfit!
View this post on Instagram
Shaista Lodhi
A long shirt and sharara? You may not have worn it before but we guarantee you, that it is a perfect fit! Shaista Lodhi styles this combination and looks absolutely splendid. Crushed ghararas have been trendy for a long time and we now know why! They look absolutely gorgeous and can be styled in so many ways that we can't even count. Shaista wears this lilac outfit by Rabia Zahur with a touch of pink and gold that enhance the beauty of the outfit. Furthermore, the pink border on the lilac dupatta adds a pop of color and makes it stand out. It gives the airy look that we look forward to in this heat. Moreover, with the right accessories, it will be the ideal summer look that you wish to achieve.
View this post on Instagram
View this post on Instagram
Neelam Muneer Khan
For all the white lovers, this look by Neelam Muneer is going to be your absolute favorite. She styles a white shirt paired with a white and gold gharara. Neelam styles an Indian label, Varsha, and looks immensely beautiful. It is one of the ideal trendy looks for wedding festivities. Also, she carries the look so well that we can't wait to replicate it. The delicate embroidery on the neckline and the heavily embroidered organza dupatta enhance the beauty of the outfit.
View this post on Instagram
Naimal Khawar Khan
Naimal never fails to impress us with her jaw-dropping style sense. She is always up to date with recent fashion trends. Naimal styled a mustard shirt and gharara which not only looks absolutely beautiful but it also is weather friendly. The thin, airy fabric is perfect for the summer season and also serves the style that one wishes to achieve. Moreover, the outfit can be carried in a simple way for everyday wear because it looks very comfortable. Other than this, it can also be carried in a way that it can be worn for a lunch day out with proper accessories!
View this post on Instagram
Iqra Aziz
Iqra Aziz stands out in a turquoise shirt and gharara. Since the gharara is loose from above, it gives the feel of a sharara as well. The outfit by Faiza Saqlain is beautifully curated in a way that the fusion of a gharara and a sharara looks absolutely unique as well as trendy. The color along with the unique style makes the outfit look divine. Iqra carries the whole look with utmost grace and elegance. It is definitely the look that one can replicate for the next festivity. Also, the airy fusion of gharara and sharara looks absolutely beautiful and can easily replace the typical ghararas. She definitely serves us major summer style inspiration!
View this post on Instagram
View this post on Instagram
Syra Yousaf
Crushed shararas are too beautiful to be worn once only. They are definitely the next big thing. Syra Yousaf styles an ice blue attire by Waniya by MA. A knee-length shirt is paired with a crushed sharara giving a whole new look to the outfit. The entire outfit may not have looked this pretty with a gharara or a trouser. A whole new element is added which makes it look beautiful. Moreover, Syra nails the look in the best way possible. We can't wait to replicate this look soon. It is the ideal outfit that can be worn at an intimate event or Eid. Other than this, the embellished neckline along with heavily embellished sleeves are not to be ignored which add value to the minimalist outfit. The look is completed with a plain organza dupatta.
View this post on Instagram
View this post on Instagram