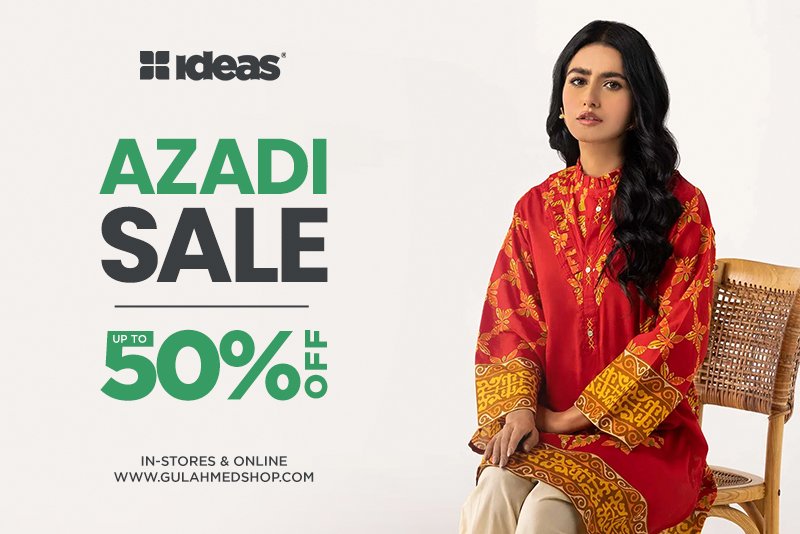 It's hot and humid outside – and we mean smelting hot. We are writing, sitting in front of two fans sweating to the core kind of hot. But whether you're sitting in Lahore melting away or trying to enjoy the summer monsoon in Karachi, we could all do with light and breezy summer outfits in our wardrobe arsenal right now. Luckily, the Ideas Pret latest collection composed of embroidered shirts for women is awash with the perfect summer or heatwave-ready shirts. Staying stylish in hot climes has never been easier.
Our team has put our heads together and come up with a definitive list of 10 add-to-cart worthy embroidered shirts for women that are bound to catch anyone's attention.
A fresh summer look with a cool color palette, this cambric shirt features intricate screen print and embroidered motifs across a pristine white canvas in dreamy shades of blue. Layered with lace finishings, a scalloped daman and a stylized neckline, this design compliments the spirit of an eventful joyous summer.
Rendered in a picture-perfect pink hue, this cambric shirt features immaculately detailed screen print and embroidery. This heavenly look is an instant classic with its pearl embellished placket and elegant versatility!
This stunning number features a lime green cambric cotton base with embroidered floral motifs on the bodice and hem, a V-shaped placket with stitched detailing, and flowy sleeves with snap buttons for a ruffled look. Pair this with a matching set of suitable trousers from Ideas for a standout look!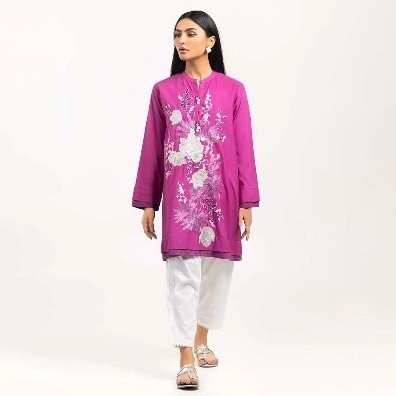 An instant attention-grabber for sure! This brightly hued light cotton shirt in magenta features embroidered motifs and floral screen print, ben collar and a stylized placket with embellishments – all to create a stunning style statement this mid-summer.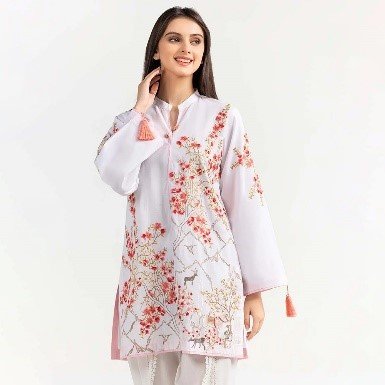 Embroidered shirts for women have been strictly labelled as formal wear in the past. However, we beg to differ. This embroidered shirt in particular tends to challenge the status quo. It is perfect for when you want to look casually chic but also put-together enough if you bump into someone on your grocery run. Featuring embroidered floral motifs, this cambric shirt in the color pristine white flaunts an embellished ben collar design and sleeves with tassels for a classy daytime look.
Did someone say summer soirees? For the days you want to make a stylish entrance, this 2-piece is the ideal option! Cool summery color palette layered with chic embroidered motifs featuring exquisite cutwork on the neckline, sleeves and front daman and paired with matching cambric trousers – we are surely adding this outfit to cart today!
When stepping out of the house does not seem like a plausible option, we recommend wearing this breezy number. Easy on the eyes and on the body, this cambric embroidered shirt is perfect for lounging around the house this mid-summer.
Number eight on the list of our most shoppable goodies from Ideas Pret embroidered collection is this easy breezy screen printed and embroidered shirt in a mint green color featuring a stylized neckline with button details on the placket. The shirt flaunts a soft rounded daman and is perfect as daily wear for women.
Regardless of the hauntingly humid weather, we all know we will have a few dawats to attend here and there. Perfect for the dawat season is this stunning plum colored embroidered shirt paired with a matching pair of trousers and a beautifully printed chiffon dupatta in complementing colors. Get ready to catch all the oo's and aah's when you step out in this graceful 3-piece ensemble.
Step into the brighter side of fashion with this sunshine yellow embroidered and screen-printed light cotton shirt. A wardrobe must-have for the dull and dreary monsoon season.
This brings us to the end of our list of what we will be adding to the cart from Ideas' ready-to-wear embroidered collection. The Ideas Azadi Sale is in full swing at www.gulahmedshop.com and we have done all the hard work for you. Now, all that's left for you to do is add these beauties to cart and enjoy the hottest summer with utmost style and panache without breaking a sweat!