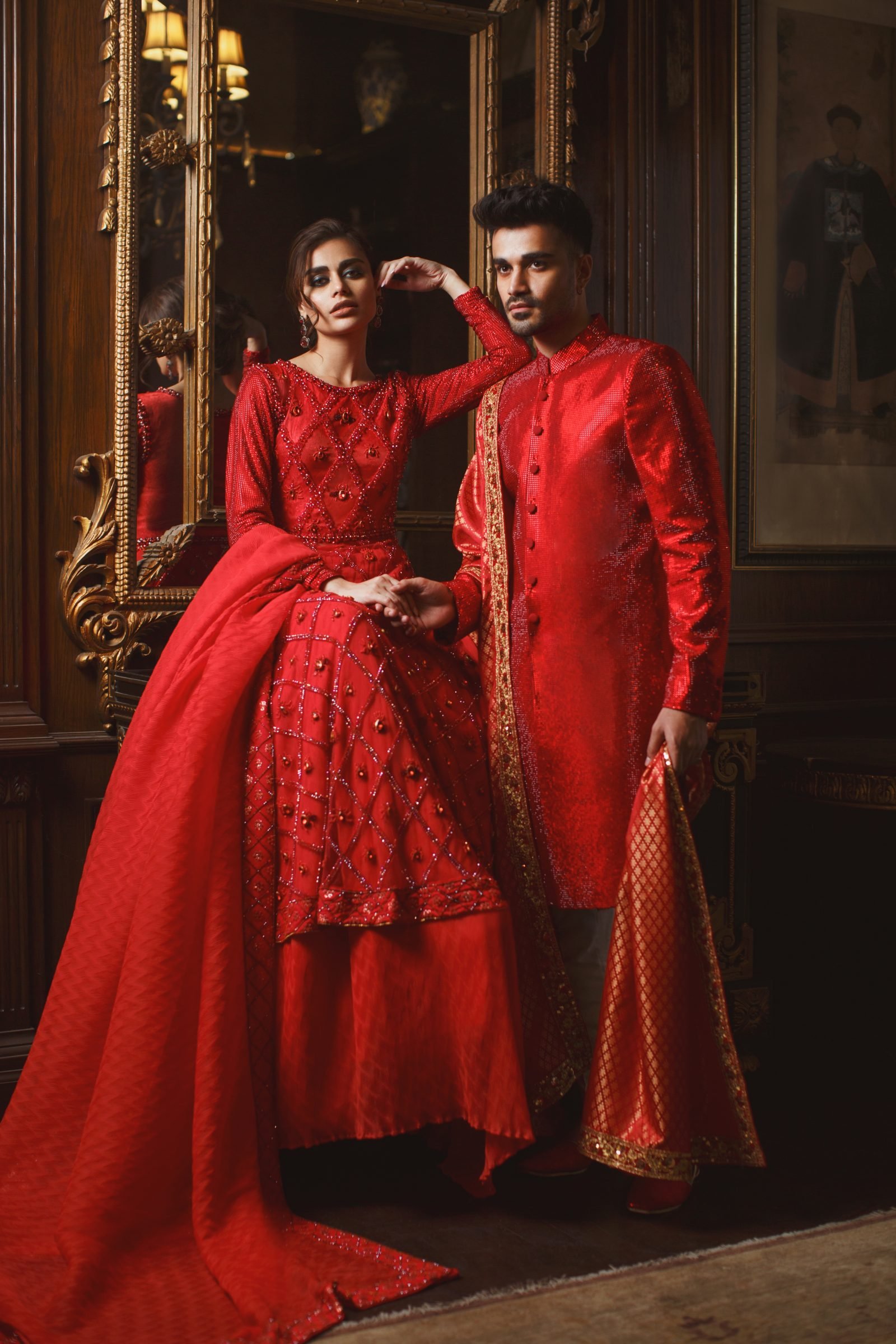 International designer Ali Haider made quite the entrance into the Pakistani fashion world. Launching his first-ever collection in the country, the artist has put up quite a glamorous array of clothing for men and women already. With his distinctive eye for creating clothing that stands out from the rest, he reimagines eastern couture in a way that's out of the box and uniquely refreshing. With intricate cuts, explosive hues, and unmatchable style, he makes clothing for men and men who naturally have an adventurous soul and want to bring that out through their clothing. Recently, the distinguished designer posted his fashion film featuring model superstars Sadaf Kanwal and Sachal Afzal wearing dazzling ensembles that mesmerize at first glance.
The boisterous visionary also officially launched his campaign with a bang, giving the fashionistas across the country some high fashion eye candy. When seeing all of the clothing from the campaign one can see that each of the ensembles is different from the next. Where the sherwanis have some shimmer and extra pizzazz, taking men's fashion to the next level, the lehenga cholis are far beyond simplistic embroidery or added lace. Each piece gleams personality from miles away and that's exactly why we love this designer's creations so much. Ali Haider dares to be bold and bright in a world that's often muted with monotony. His designs are exemplary to those who are imaginative, explorative, and fearless in their style.
View this post on Instagram

Although Ali Haider obtained his degree in Graphic Design, his love for exploring different art forms led him to venture into fashion. The designer has already showcased his pieces in New York Fashion Week and Paris Fashion Week, earning him credibility in several fashion capitals around the world. His work has also been showcased in Toronto, Canada where he made quite an impression on the Canadian audience for adding so much personality into his clothes. Only showcasing his designs in two flagship stores in Toronto and New York carried his work, he finally decided to open a studio in Pakistan to bring an edge to eastern luxury couture in a way the nation has never seen before!
Ali Haider's first ever studio is now open in Karachi, Pakistan and all of his designs from the collection are currently available through order and booking only.
If you want to see more of Ali Haider's work, check out his Instagram page:
#AliHaiderCouture
#AliHaider
For booking Text/Call/WhatsApp +92 337 8412590