CAIA's much-anticipated luxury formal collection, 'Regine' was unveiled this September. This exquisite collection invites fashion enthusiasts to embark on a journey into a realm of sheer elegance, where intricate embroidery and captivating shades come together to create sensational modern festive pieces. CAIA, a brand that seamlessly blends classic and contemporary elements, has once again redefined luxury fashion with 'Regine' which is perfect for the upcoming wedding season.
The pieces within this collection are meticulously designed, with every detail carefully thought out to create a harmonious blend of classic and contemporary aesthetics. Each ensemble is a masterpiece, adorned with intricate embroidery that tells a story of fine craftsmanship and dedication.
Regine's Bespoke Collection: A Diverse Palette for Every Style
The collection boasts a vast palette that ranges from rich, deep hues to soft, pastel tones, ensuring that there's something for every fashion aficionado. Whether you're drawn to bold and vibrant colors or prefer the subtlety of pastels, or simply want to go with a striking black, 'Regine' has it all. The latest collection adds depth and dimension to each piece, making them perfect for festive occasions and special events.
CAIA's Brand Philosophy Comes to Life With Regine
At the core of CAIA's brand philosophy lies the seamless fusion of nature and art, a principle brilliantly manifested in the 'Regine' collection. Drawing inspiration from the natural world, this exquisite line features intricate embellishments that reflect the brand's commitment. 'Regine' skilfully marries contemporary and classic elements, introducing fresh silhouettes while preserving timeless charm. CAIA's dedication to incorporating minimalist yet striking design elements guarantees that each ensemble possesses a distinct and remarkable allure.
The hottest Regine collection is set to become a must-have in the wardrobes of fashion enthusiasts. CAIA continues to redefine luxury fashion with each collection, and 'Regine' is no exception, promising to leave a lasting mark on the world of haute couture.
Our Top 3 Picks from 'Regine' Luxury Formals Collection:
Dove
This pale subtle grey steals the spotlight for us. For those who are looking for something unique, this 'dove' article oozes elegance and unparalleled charm. This lehenga in blue grey is a masterpiece, demanding attention with its intricate sequin and crystal embellishments on the sleeves. The flowy lehnga paired with a hand embellished top is a must have this wedding season!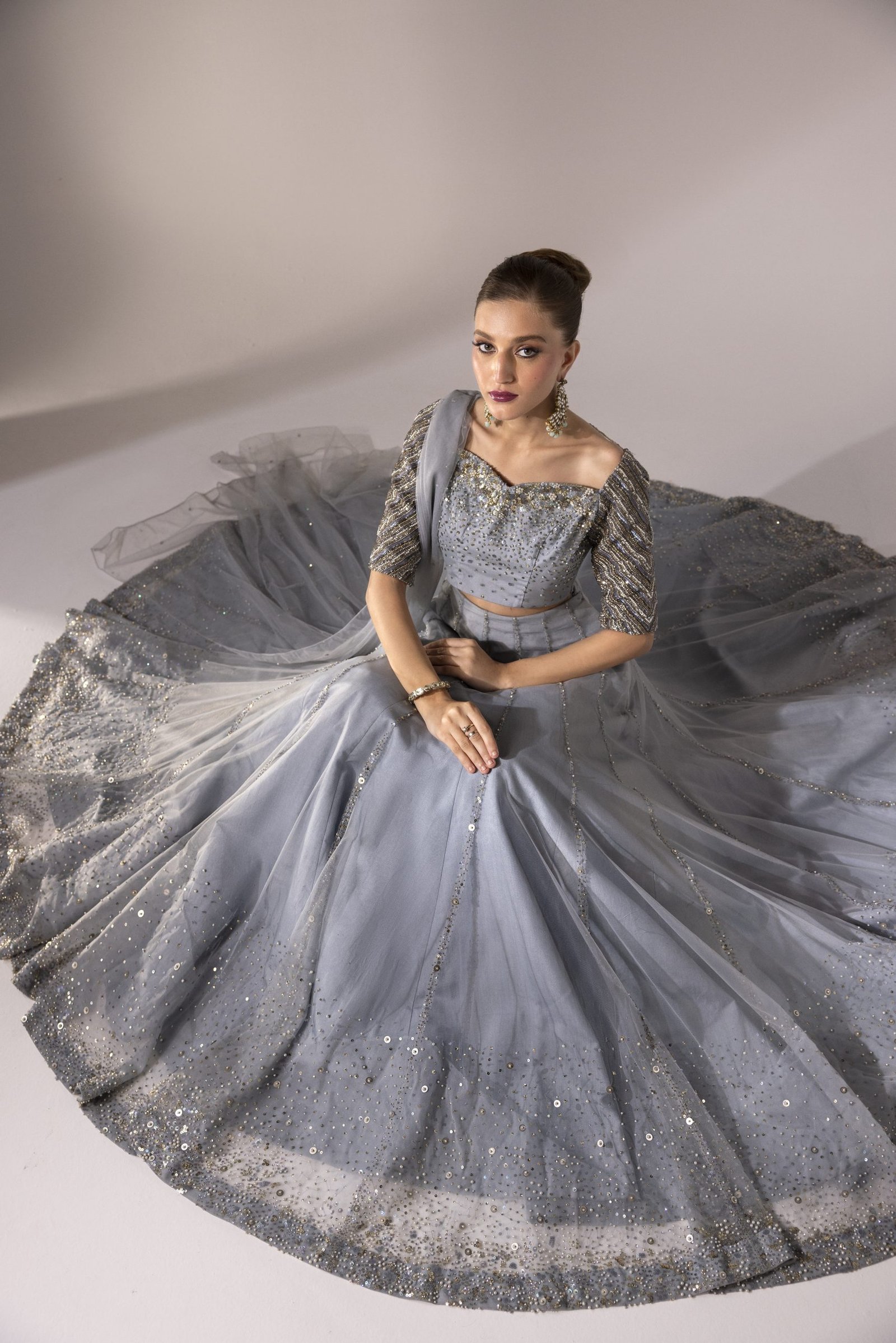 Midnight
This midnight black is what dreams are made for, the straight cut outfit with silver embellishments using handcrafted crystals. The black is a great addition to every girl's wardrobe. The neckline is sure to impress and turn heads, the shirt and Dupatta are crafted from delicate net fabric, while the trouser, in elegant raw silk, adds a touch of luxury.
Tangerine
This pop of color is perfect for the wedding festivities, the vibrant tangerine with its intricate yet unique design is glamourous and fusion of modern and traditional craftsmanship. We're absolutely in love with the handmade 3D flowers and the delicate pearl detailing.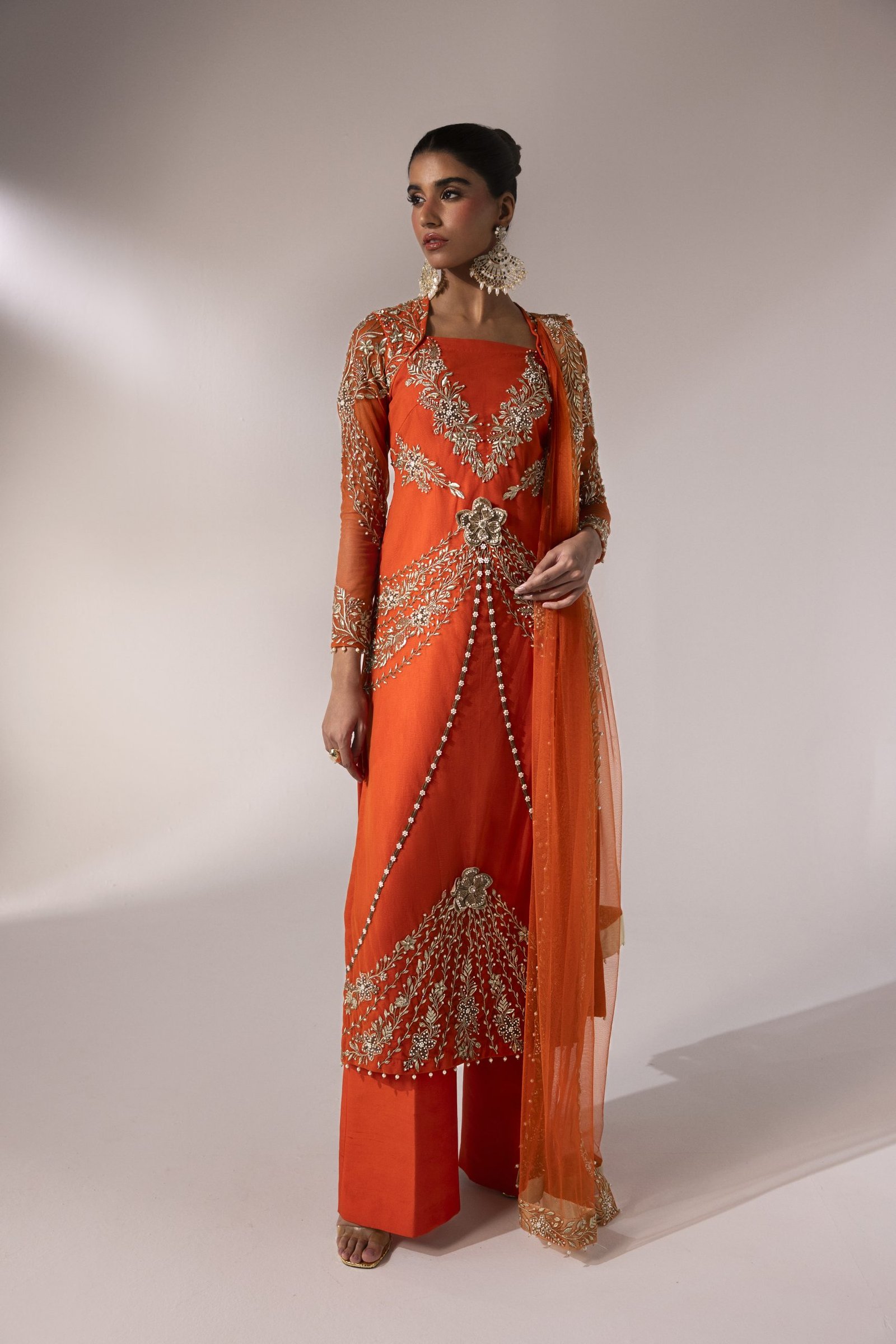 Check out the complete Regine collection here:
https://caia.pk/collections/regine