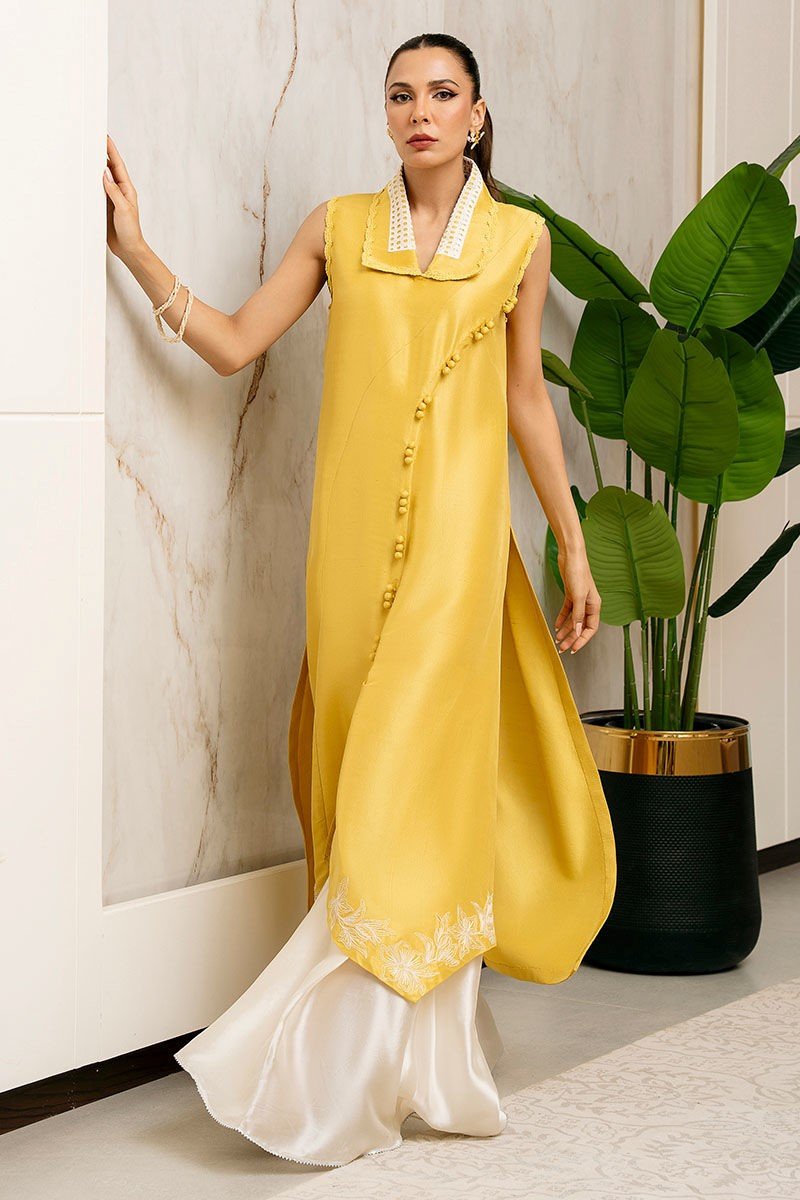 Some fashion designers go beyond merely making clothes; they incorporate stories, feelings, and dreams into each thread and stitch. Amna Arshad is precisely the fashion designer that breathes individuality into her creations and produces clothing that evolves into a work of art. The designer has always focused on redefining elegance in an industry where innovation and creativity coexist. The uniqueness weaved into every thread gives the clothes she creates an elegant identity that appeals to admirers of contemporary fashion. She incorporates elements of the past while embracing the present, giving her designs a distinctive personality that appeals to women looking for balance between traditional and modern appeal.
Let's look at her most recent collection, Raya, and our three all-time favorite designs from the opulent silk line that so perfectly captures Arshad's own style. But first, let's explore Amna Arshad's distinctive design aesthetics, which set her apart in a highly competitive marketplace and make her a favorite of celebrities like Saboor Aly, Mansha Pasha, Muneeba Mazari, and many more renowned women.
Amna Arshad's Design Aesthetics: Heritage Weaved into Modern Elegance
The design philosophy of Amna Arshad combines historic allure with contemporary sensibility. She set out on a mission to reinvent Pakistani fashion with a degree in law and a steadfast enthusiasm for the textile business. Amna has expertly woven antique classics with a unique twist owing to her innate talent for accentuating the feminine sophistication while preserving an air of elegance. Her works are examples of how time-honored fashions have evolved and now radiate a modern appeal. Her designs give a fresh perspective to traditional elegance while appealing to the sensitivities of today's strong, independent women. Each outfit serves as a canvas for her to depict stories of culture and personality while evoking an everlasting appeal.
Raya – The Luxe Silk Edit-An Ode to Exuberance:
Amna Arshad spins tales of grandeur and elegance in "Raya – The Luxe Silk Edit," her most recent masterpiece. The line is a tribute to silk, a material that exudes elegance and drapes poetically. The collection delivers a symphony of couture that connects with present day aesthetics while paying tribute to time-honored traditions through a skillful combination of colors, textures, and embellishments. This collection tells a story of grace and magnificence via each piece, which is a tapestry of creation made from the finest silks. Each design, from shirts to kaftans, allows you to experience luxury in its purest form.
As we continue to explore this sartorial wonderland, Raya, let's pause to admire our three top picks, from the collection, which are more like works of art and truly showcase her creative brilliance.
GIA- A Hot Pink Symphony:
Raw silk becomes a canvas of cherry pink brightness in GIA. The shirt exudes elegance with its kora dabka buttons and Gota accents. Lace details enhance refinement, while sequin accents lend a hint of enchantment. This outfit is a symphony of contemporary grandeur since it is worn with silk floral-appliquéd trousers and an organza dupatta that is embellished with laces. An outfit that is ideal for all of your evening or night outings and may be dressed up or down depending on the occasion.
LULU- Sunshine in a Shirt: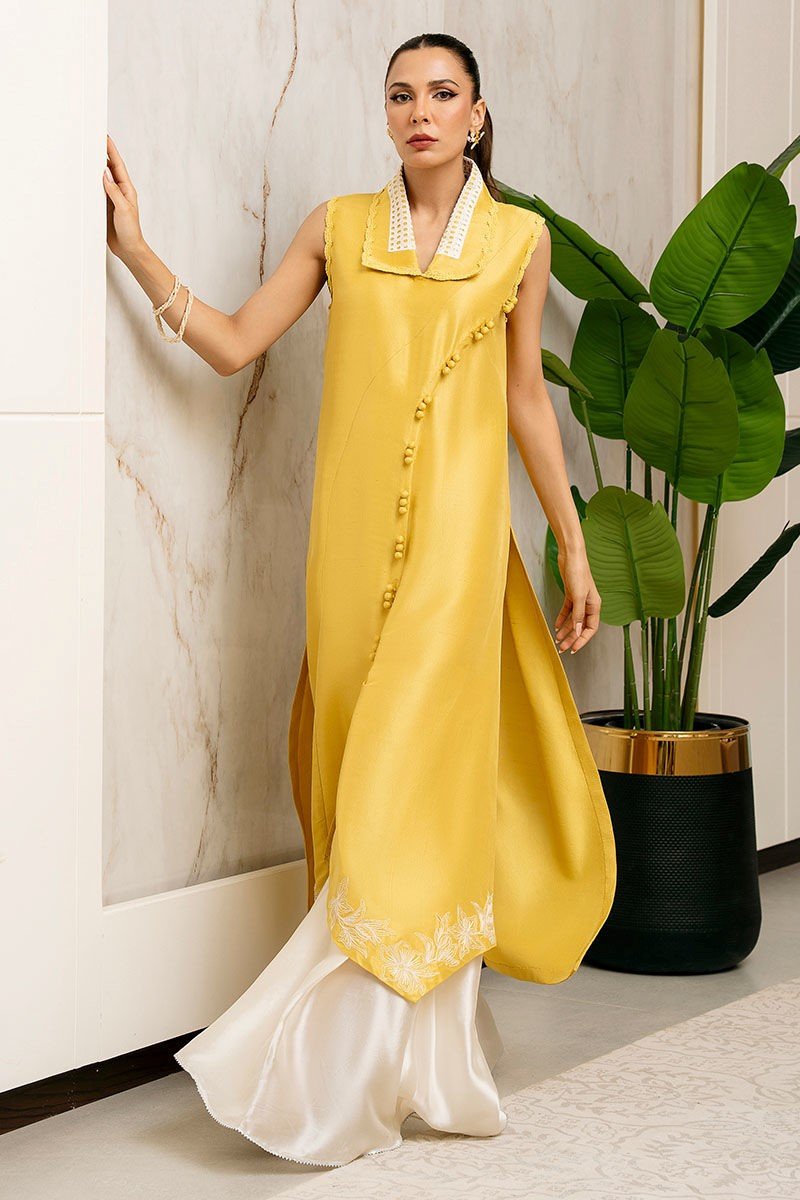 The LULU shirt, designed by Amna Arshad, captures the spirit of a bright morning and dresses it up in style. A wonderful balance of brightness and elegance is embodied in this timeless shirt, which is made from yellow pure raw silk. It is a showcase of artistic talent, with carefully chosen panels and lace adorning the neck and armholes. The daaman's anchor embroidery gives the shirt a hint of modern appeal. The shirt is given a touch of refined elegance by the fabric-manipulated buttons that embellish it. Wearing the LULU shirt for brunch with friends will let you embrace its upbeat nature. For a casually stylish appearance, pair the LULU shirt with cut white pants. To keep the look of the outfit simple, let the shirt take centre stage and accessorize with minimal jewelry.
Loco –Majestic Maroon:
Traditional patterns and modern allure are woven together in the LOCO shirt and dupatta as a celebration of elegance and craftsmanship. Embellished with an inside silk and schiffli panel with a Angrakha-inspired cut. While the sleeveless design and delicate lace embellishments provide a hint of modernity, the elaborate embroidery draws connection to the traditional craftsmanship. By fusing vintage appeal with modern refinement, the shirt perfectly embodies timelessness. The matching dupatta is an with intricate patterns and textures adds to the sophisticated appeal of this outfit. It has lace adornment on all four sides and is similar in style to the shirt. Amna Arshad's attention to detail and design are evident in this dupatta, which is more than simply an accessory. The LOCO outfit lends a touch of regal grandeur to exquisite dinners and soirées. To project a subtle elegance, pair it with bold earrings and sleek hair. LOCO can also make you stand out as a stylish wedding guest without drawing attention away from the bride. Its elegant design finds the ideal blend between formal and festive.
Experience The Brilliance:
Step into Amna Arshad's Karachi atelier to feel the brilliance and grandeur of her artistic masterpieces; it's like entering a world of couture fantasies. You are greeted with pastels, patterned silks, and chic linens before a crescendo of trendy formals and bridals. The studio is a symphony of textures, hues, and patterns that beckon you to explore, enjoy, and select items that fit your own sense of style. The experience is about appreciating the art of elegance rather than merely shopping.
Amna Arshad's designs are swatches of art, threads of tales, and stitches of dreams in the fabric of fashion. When you put on one of her outfits, you are doing more than just donning clothes; you are embodying an artistic statement, a synthesis of invention and tradition, and a heritage woven into silk and elegance. Despite the digital era, she still believes that having a physical presence is essential, which is a testament to her commitment to client pleasure. Her credo, "Something to have, something to hold," is more than simply a tagline; it's a pledge of enduring elegance and a connection to her customers.