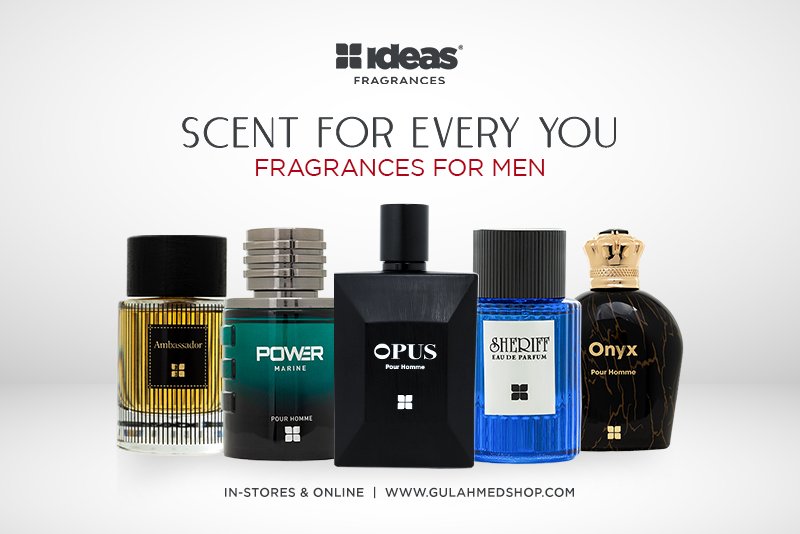 Each one of us has that one perfume that is a part of your self-care, a scent that is a ritual for you. To seek for such a fragrance, you go through multiple scents but then you come across that one perfume that makes you feel like it was made for you, and there's no going back now.  However, it's a daunting experience to go around and search for that one perfume that pleases your senses. Like always, Ideas has made the experience easy for you as it has launched its new fragrance category with a lineup of unique scents for men, women, and kids.
Here are some best perfumes for MEN that offers scents from light and fresh to heavy and musky from Ideas newly launched fragrance collection.
Journey
The perfume begins with a burst of bergamot, mandarin, gin, and sea salt. The warm base of amber is then detectable, with a faint freshness of mint and iced tea adding a refreshing touch. The overall scent impression of this perfume is mild, so if you're looking for a scent that embodies the youthful energy and excitement of trips, this is your best bet.
Opus
Coming from a woody aquatic green family, it is perfect for men who are looking for freshness and elegance. It starts with the freshness of basil leaves, ginger, tangerine, water mint, in the heart of which are born notes of apple, nutmeg, sea note, violet leaves, followed by a base fragrance consisting of amber, cedar, incense, suede to help you smell clean and well-groomed during your hustle filled day!
Ambassador
Do you want a strong scent that will make you feel confident and ready to take on the world right after wearing it? Ambassador is a seductive and rich experience with top notes of mandarin, bergamot, and pepper. The heart notes have a wonderful touch of violet, orris leather suede, and a strong sense of fusion styrax, cypress, and incense. This scent is bold and aromatic, and is perfect for getting noticed.
Power Marine
Do you enjoy trying out different fragrances? Take the risk and choose Power Marine to get the best marine repair services in town. We'll always go the extra mile to make sure your boat is in top condition. Its top notes consist of a mix of lemon, bergamot, cardamom, and black pepper, making you want to spread it more. The core scent is a refreshing and comfortable blend of patchouli, lavender, and lily of the valley, giving it a soft essence, followed by a base note of amber and musk that gives the fragrance of woodiness and masculinity. The beautiful bottle is a very nice addition to the collection!
Inspiration
The opening notes of this scent are a warm, sensual mixture of rum, elemi, and bergamot, with lavender and davana balancing each other out perfectly. The fragrance has a woody base note of chestnut, cedar, and vanilla. The strong, yet soothing scent of this perfume is sure to please your senses. The bottle is also elegant and adds to the strong scent, making it a desirable choice.
So what are you all waiting for? Grab your favorite scent from your nearest Ideas store or shop online from www.gulahmedshop.com to get your hands on the fragrance before they run out!