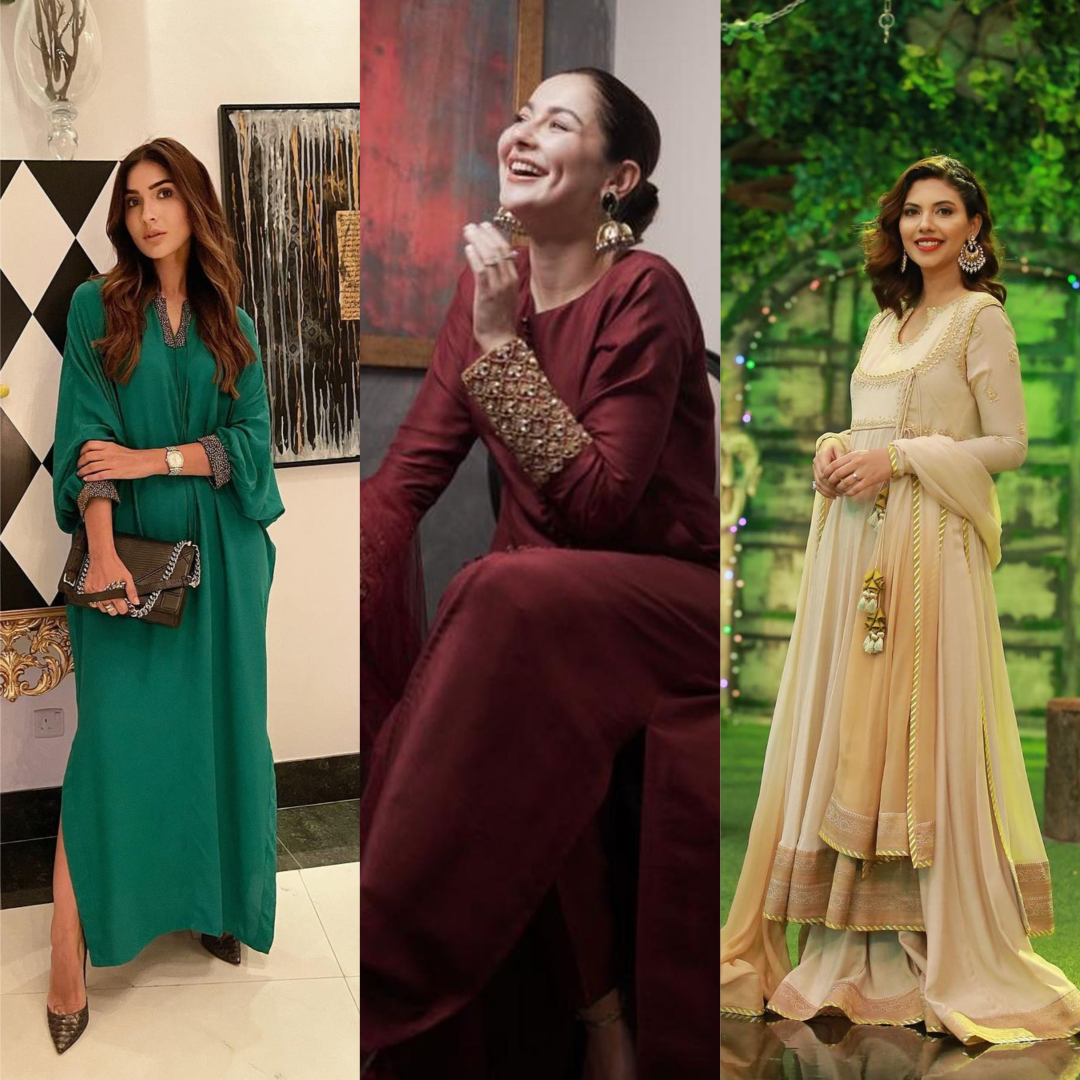 Eid is just around the corner and we can't wait to indulge ourselves in the food coma that comes along! With all the Eid luncheons and dinners, one completely forgets what they are going to wear for these gatherings of friends and families. Eid ul Fitr is all about dressing up and making the most of these few days after a whole month of Ramadan. With all the excitement to meet friends and relatives on this special occasion, here are a few looks that you can take inspiration for your Eid lunch looks! However, there is very little time left for Eid, so give your best to find the perfect outfit and look one of the best dressed among all. Here are a few Pakistani celebrities who styled the outfits to perfection serving us some major style inspiration for Eid.
Hania Amir
This year, Eid is all about wearing solids with minimal embroidery and statement cuts. Hania Amir stuns in a gorgeous deep red attire by S.A.K Atelier exuding elegance in the spectacular outfit. Such outfits make you look stunning even with minimal effort because the outfit themselves are magnificent. Furthermore, the minimal embellishments on the sleeves are the highlight of the outfit, diverting all the attention towards the sleeves. This Eid ul Fitr, gather some inspiration from these glamourous celebrities serving us major looks in effortless attires. Moreover, deep red is the color as it looks extremely sophisticated and absolutely divine. We are in awe of the complete look and how beautiful it will look on all the lovely ladies!
View this post on Instagram
View this post on Instagram
Ayesha Omar
Who said you can't wear black on Eid? Black looks effortlessly gorgeous during any of the festivities and Eid is the perfect event to experiment. Ayesha Omar stuns in this magnificent black outfit by Zara Shahjahan paired with an apple green dupatta. The green dupatta along with the green embroidery on the neckline and the sleeves is to die for! We are in awe of the beautiful color combination. It looks beautiful to see black paired with such a fresh color that infuses a soul in the whole look. The black shirt is paired with sharara pants which make the overall look even more beautiful. Ayesha has always been a style icon who never fails to impress us with her jaw-dropping fashion sense!
View this post on Instagram
View this post on Instagram
Kiran Malik
Try something different this Eid and dress up all so chic for the Eid lunch. Ditch the regular shalwar kameez and wear a kaftan to revamp the entire look. It will not only make you stand out in the crowd but will also make you look chic and elegant in the room. It is all about how you carry a particular look and ace it to perfection. Kiran Malik stuns in this gorgeous bottle green kaftan by Purple Haze pret studio. It is definitely something out of ordinary which will give you a distinct look. Kiran is an absolute style icon who pulls off every look so well that we can't match her style. Pair the beautiful outfit with the right accessories to get the desired look and making it one of the ideal outfits for the Eid lunches that you will be attending.
View this post on Instagram
Minal Khan
Matching separates are the new trend and we can't seem to get over this anytime soon! Whether it is for everyday wear or dressing up for Eid, matching separates have got you covered. Minal Khan absolutely stuns in this black pair of separates by Muse Luxe looking drop dead gorgeous. The elegant outfit paired with the right pair of accessories is what is going to make your look, this Eid. Style your separates in the best way and look among the best dressed this year. Moreover, the details of the sleeves are not to be missed. Add beautiful details to the sleeves to make it your dream outfit.
View this post on Instagram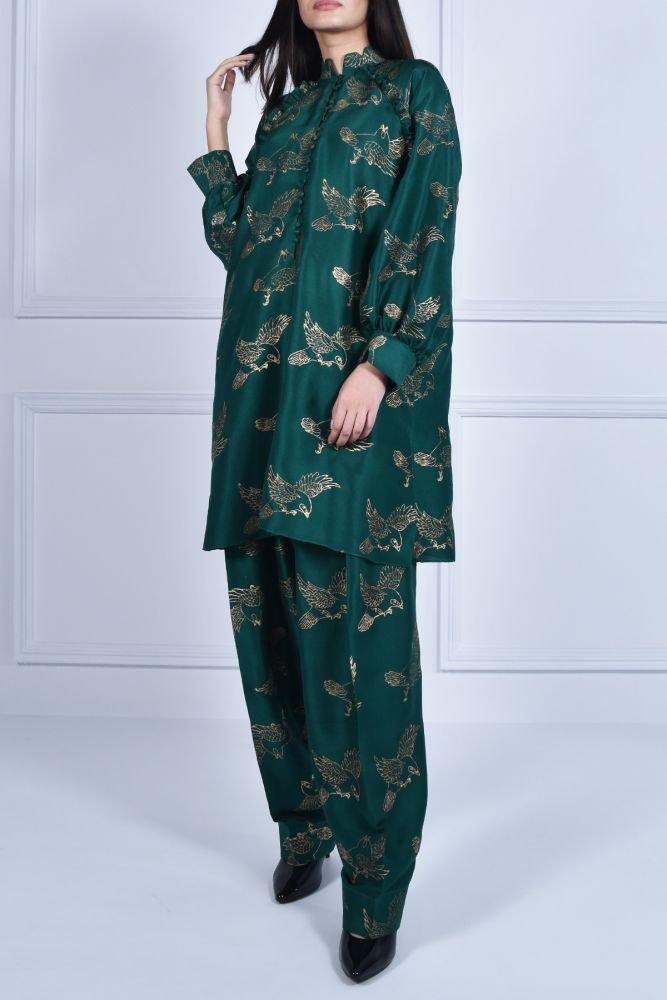 Sunita Marshall
There's always one in the family who loves dressing up and is a fan of going overboard on Eid. We have some inspiration for that particular one as well. Eid is all about celebrating so celebrate it to the fullest in the best way possible and wear whatever you want! Sunita Marshall looks absolutely exquisite wearing Iqbal Hussain serving us some major traditional vibes. It is the ideal outfit for all those who love to dress up. Long shirt with slits paired with sharara pants is all we wish to wear this Eid ul Fitr. The gorgeous tussles make the look even more beautiful and make us a fan of her. It is the best outfit to be paired with exquisite jhumkas and have the best time at Eid with your loved ones.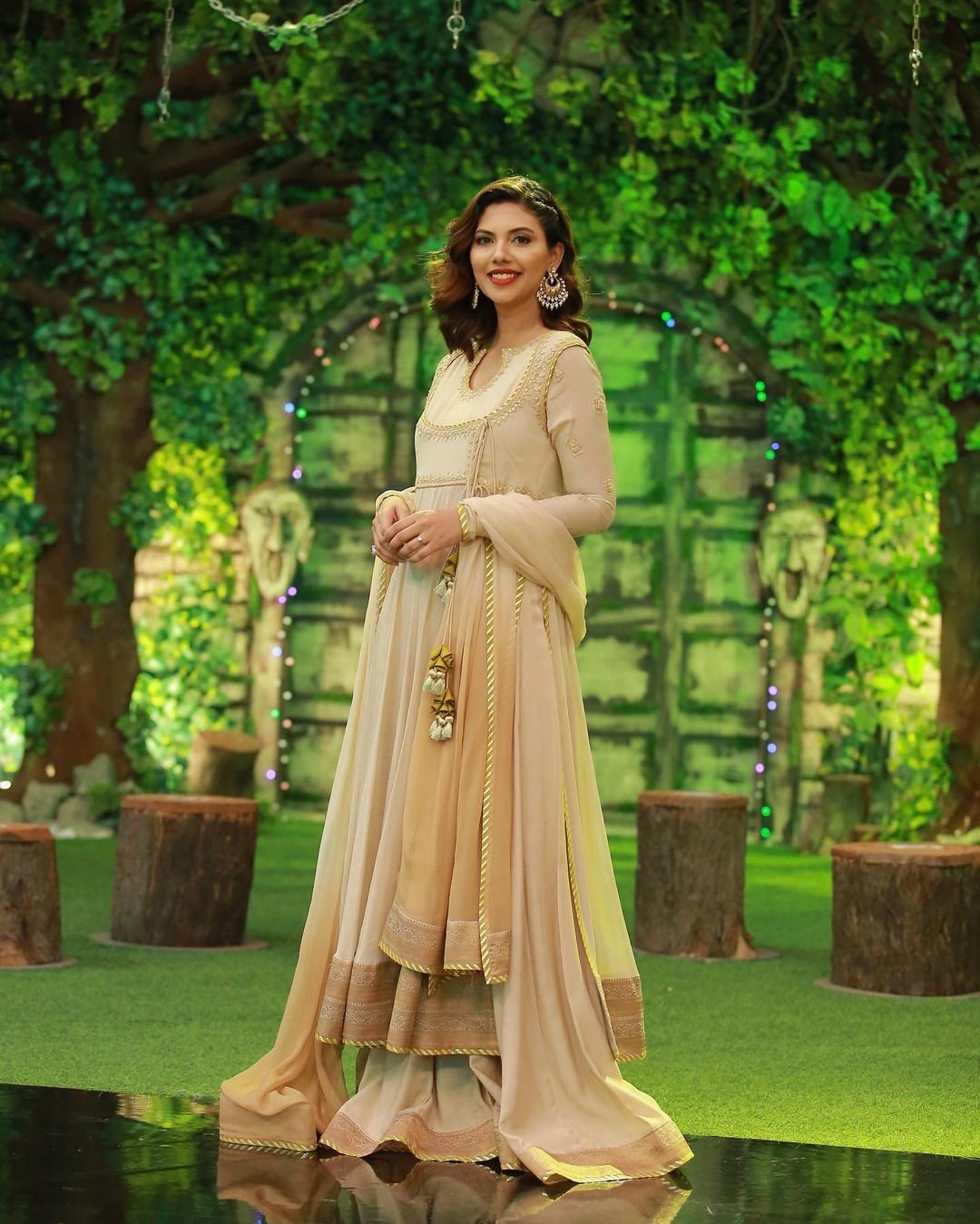 https://www.instagram.com/p/CN0CLehhe88/?utm_source=ig_web_copy_link
DureFishan Saleem
Durefishan Saleem is always a treat to watch as she has a distinct style that impresses us all! She carries every look with utmost grace and elegance that one cannot get enough of her. Her style game is always on point. Therefore, her fashion sense is the best to get inspired from. She stuns in a magnificent Sania Maskatiya number looking like an absolute dream! Life is too short to wear boring clothes so get yourself an Anarkali frock and twirl it away. Durefishan wears a gorgeous lilac floor length frock paired with a floral printed dupatta. The overall look was paired with statement earrings and sleek bun that brings all the attention on the spectacular dress that we absolutely adore! The beautiful details of the dress are to die for making it the perfect Eid outfit! Get inspiration from Durefishan this Eid and stand out in the crowd!
View this post on Instagram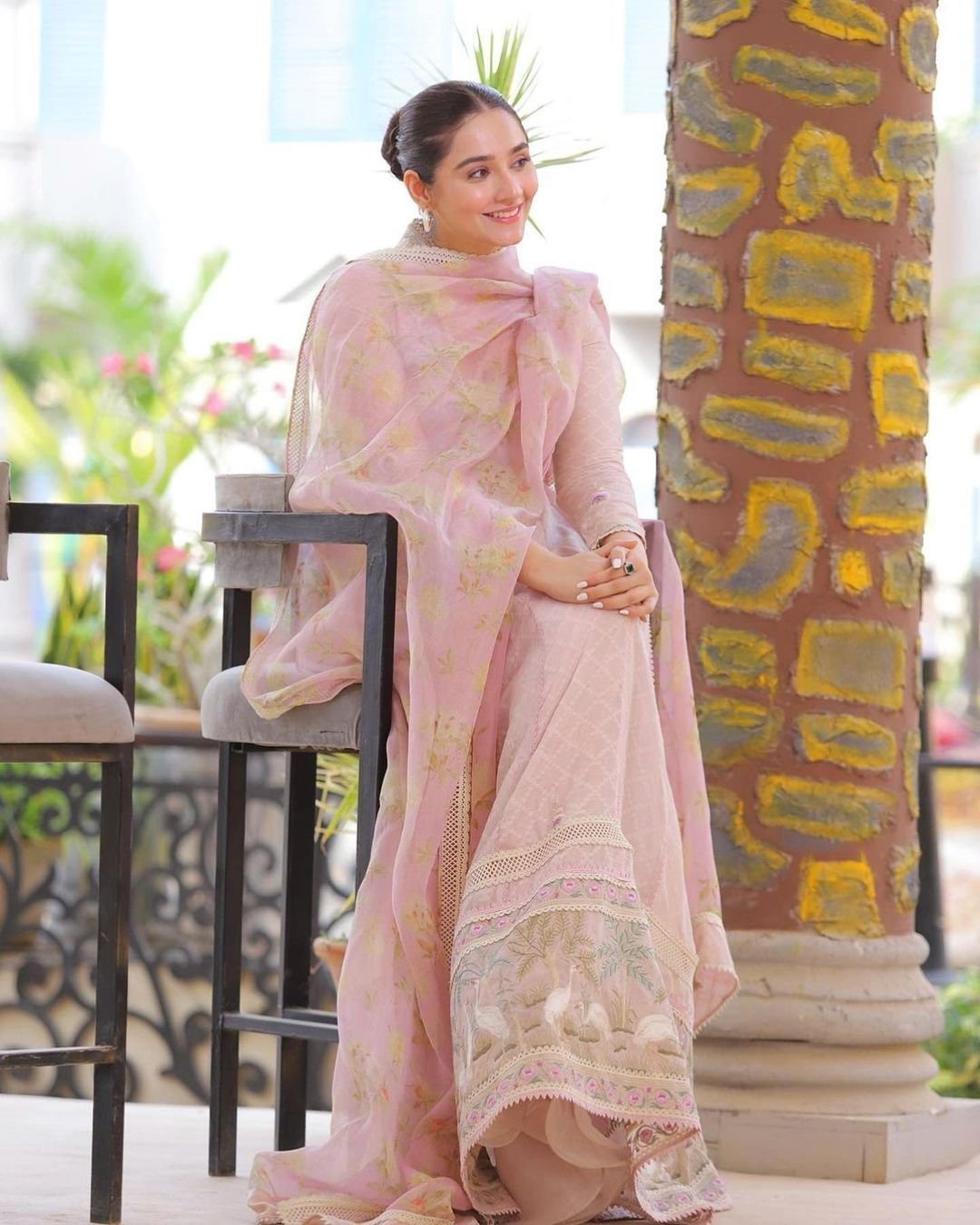 Zubab Rana
For those who would like to keep it all sleek and stylish this Eid, this is the ideal outfit for you! Nothing looks more graceful than a plain outfit, stitched to perfection with minimal embroidery details. It adds a distinct elegance in the whole look which cannot be compared to other outfits. Moreover, it all lies in the modern cuts and sophisticated silhouettes that give the outfit the elegance and grace. Zubab Rana looks beautiful in a Rozina Munib ensemble which is the perfect outfit for Eid. From the color to the cut and the chantilly dupatta make it a treat for the eyes! Beautifully embellished sleeves and the 3D motif at the back are the highlight of the outfit.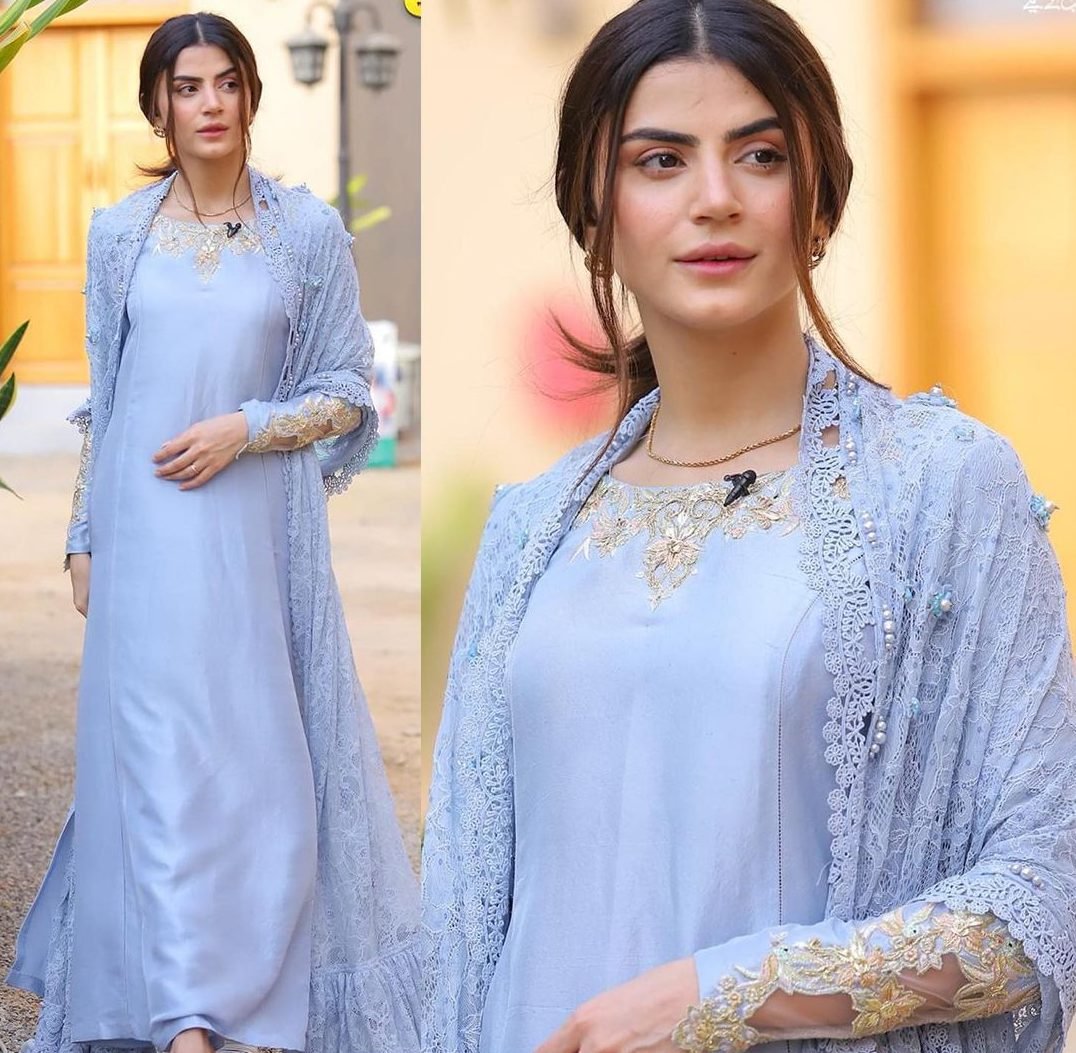 Syra Yousaf
We can't get over matching separates! Syra Yousaf wears a gorgeous lemon colored pair by Sania Maskatiya looking like a dream. The beautiful outfit is paired with a white organza dupatta that adds to the elegance and beauty of the outfit. The color itself is so refreshing that she radiates in the outfit impressing us all. It is a gorgeous button down shirt paired with trousers. The floral print of the matching separates make her look like a summer dream. Pair the spectacular outfit with statement jewelry and accessories and look absolutely divine this Eid. With Eid in such a hot weather, this outfit is the ideal one to carry with utmost grace and elegance. It is the perfect color for the season and is beautifully carried by the diva. Get inspiration from the gorgeous style icon and look as refreshing as Syra this Eid with the perfect outfit.
View this post on Instagram
Ushna Shah
For someone who wishes to go overboard on pink and embellishments, this is the perfect style inspiration for you! The very gorgeous Ushna Shah looks absolutely radiant in this blush pink number by Nida Azwer serving us major inspiration for Eid looks. We love how beautifully she has styled the whole look. Shalwars are definitely back in trend especially those with embellished borders. The graceful neckline along with spray of motifs overall makes the outfit look divine. The whole look is paired exquisite jewelry and flawless makeup that leaves us in awe of how elegant the overall look is. The beautiful actress impresses us all with her spectacular fashion sense and style game that is always on point! From the color to the beautiful design, everything is to be loved.
View this post on Instagram