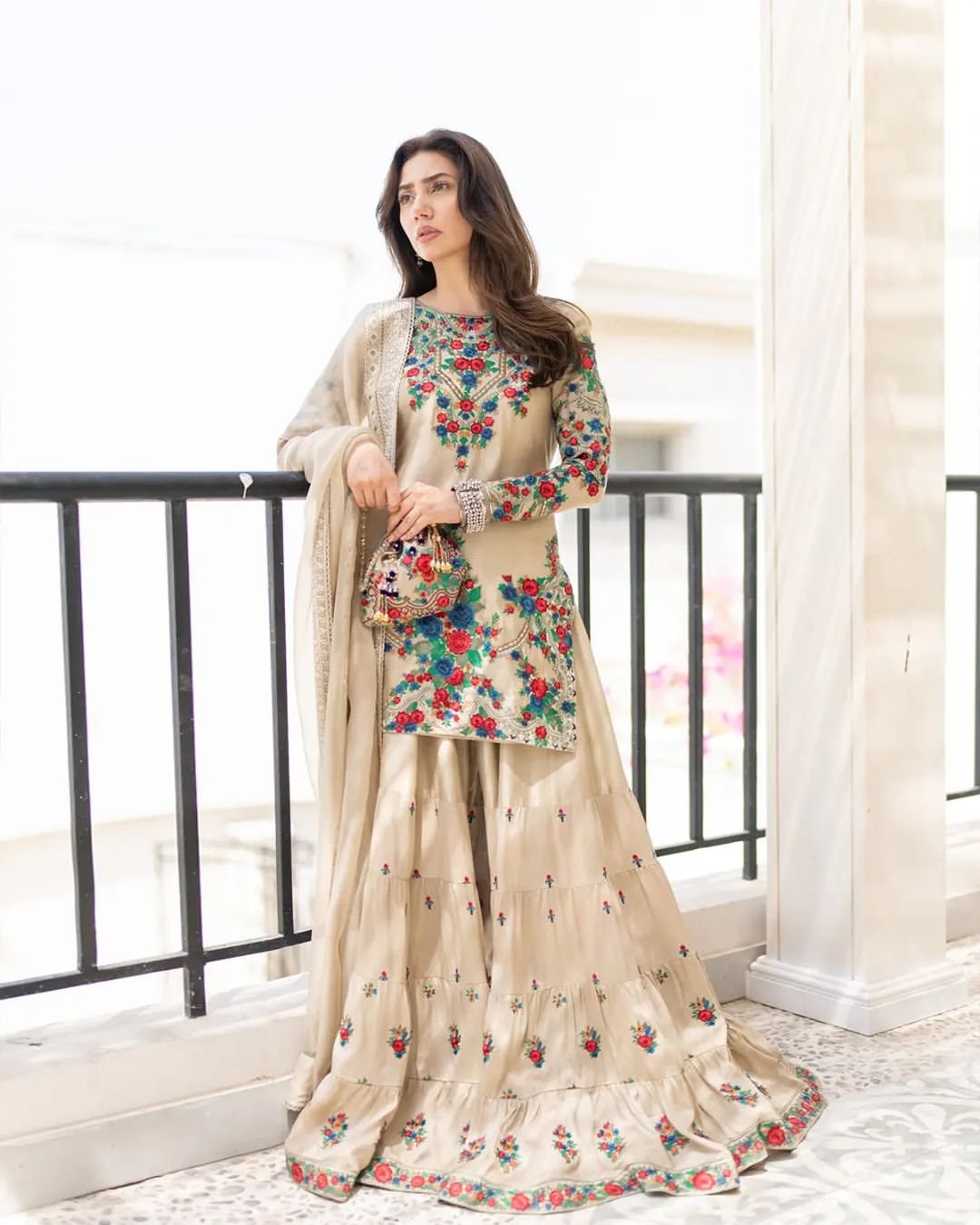 Mahira Khan stuns us completely with her jaw-dropping looks for her movie, Quaid-e-Azam Zindabad promotions! No matter what color or silhouette Mahira wears, it automatically looks elegant. She played with colors but served grace and royalty in every look she created. We are in awe of her fashion sense as she truly serves as a style inspiration for all! Here is a roundup of Mahira Khan's looks for her movie promotions.
Starting from the outfit that made excessive rounds all over social media was this extravagant shalwar and a short shirt. Bringing back the old charm, Mahira impressed us all with how gracefully she pulled off the look. This outfit by Iqbal Hussain looked absolutely royal on the gorgeous celebrity!
The next outfit that Mahira carried absolutely effortlessly was the gharara set by Faiza Saqlain. Who said you can't wear ghararas to movie promotions? Mahira proved us all wrong.
View this post on Instagram
Another outfit that Mahira styled to perfection for her movie promotions that we absolutely loved was the dark green solid set by Laraib Kakar. She paired a solid set with a heavily embellished dupatta serving utmost grace and elegance in the outfit.
The Shiny, metallic set never looked as gorgeous as it did on Mahira as she styled another of Iqbal Hussain's outfits. Serving timeless look in a sequins shirt and crushed sharara, we can't take our eyes off the gorgeous. It felt as if the outfit was curated especially for Mahira because she carried it in the most perfect way!
Making a shift to a completely western outfit, Mahira Khan serves us the total boss lady look! She carries the all-black suit to perfection with the minimal embellishments that we absolutely love! The power suit by Sania Maskatiya is one of the best outfits of Mahira Khan.
Another look Mahira Khan carried for her movie promotions was a saree by ThankGodI'mFabulous. We are stunned by how gorgeous Mahira looks in it which makes us all a fan of her elegance. The handwoven cotton saree gives comfortable yet festive vibes for any event in hot weather.

Giving the comfortable vibes, Mahira Khan wore an airy, white cotton kurta by Sabah pret wear showing how comfortable can be styled in an elegant way. Bohemian vibes served by the gorgeous kohl eyes and antique jewelry becomes our instant favorite.
The saree that got us all hooked was the printed one by Sania Maskatiya. The flares gave it a whole new different look transitioning from the typical saree style. From the colors to the silhouette, we loved everything about this look!
View this post on Instagram
When in doubt, wear red! Mahira Khan proves this right by wearing a solid red pishwas and absolutely winning the show! We are in love with the simple yet elegant style that the gorgeous actress maintains throughout her looks. The red pishwas by Zara Shahjahan is one of the best looks of Mahira Khan for her movie promotions.
Saving the best ones for the last. Mahira Khan wore two outfits by Faraz Manan that totally glued us to our mobile screens. The elegance and royalty that Mahira serves through those looks are unmatchable. The white outfit gives off Marilyn Monroe vibes completely. From the color to the fancy cut and the fine detailing, everything was absolutely perfect!
The black outfit that Mahira Khan wore at one of the movie premiers made us drool over this look. A black sequined saree with a cape makes us fall in love with her style sense. It is one of the best outfits that our actresses have worn at movie promotions.
View this post on Instagram