Since time and memorial, the expressive art form of dance has held an incredibly significant place in our subcontinent. Films that are both local and across the border aren't complete without the protagonist and antagonist both bursting into dance at virtually any given moment. Celebratory events come into full circle as loved ones gather around to express their happiness and excitement through dance. The rhythm of the art form has been passed down from generations, giving Pakistanis the global reputation of being esteemed and revered dancers. Recently, a performance song under the name of "Aatish" surfaced on our radar. Starring the multifariously talented Amna Ilyas in three breathtaking looks and entrancing dance moves, this dance composition has all the makings of what a true performance song is and should be.
It's no surprise that it was Amna Ilyas who took on the mantle to perform. Known for her sheer boldness and unbeatable talent in modeling and acting, it wasn't surprising to us that the acclaimed star would successfully clench yet another art form, staying true to her multi-faceted reputation. The song's three minutes and thirty second duration features freestyle dancing (choreographed by Wahab Shah) by Ilyas and other talented back-up dancers in glittering troupes, one more mind-blowing than the other. The opening sequence of the song shows Ilyas in a gilded cage of sorts, with smoke filtering in on all sides. The glimpses of her unbeatable belly-dancing moves immediately have us shook. As the opening chorus of the song begins, a close-up of Ilyas's enchanting eyes tethers perfectly to the initial beat of the song. There's a jump and a woo, and we see Ilyas's charged moves alongside a sparkling group of talented dancers ready to set the stage on fire.
Just when we made up our minds that we would only see Ilyas performing in an all-gold look complete with shimmery eyes (courtesy Arshad Khan and Aali Khan), we experience a surprising segue in which Ilyas is decked up in a silver dress with accentuating diamond jewelry. As we continue to watch it, we couldn't help but wonder if Ilyas had one more trick up her sleeve for the final segment.
In true Amna Ilyas fashion, she saved the best for last. Her final look features her in a beige body suit with reticulated patterns performing her last few moves in a POOL. What stood out to us is the handmade crown that completed her whole look. A hidden yet powerful detail to all those out there that the Queen has officially been coroneted and her reign will indeed be groundbreaking.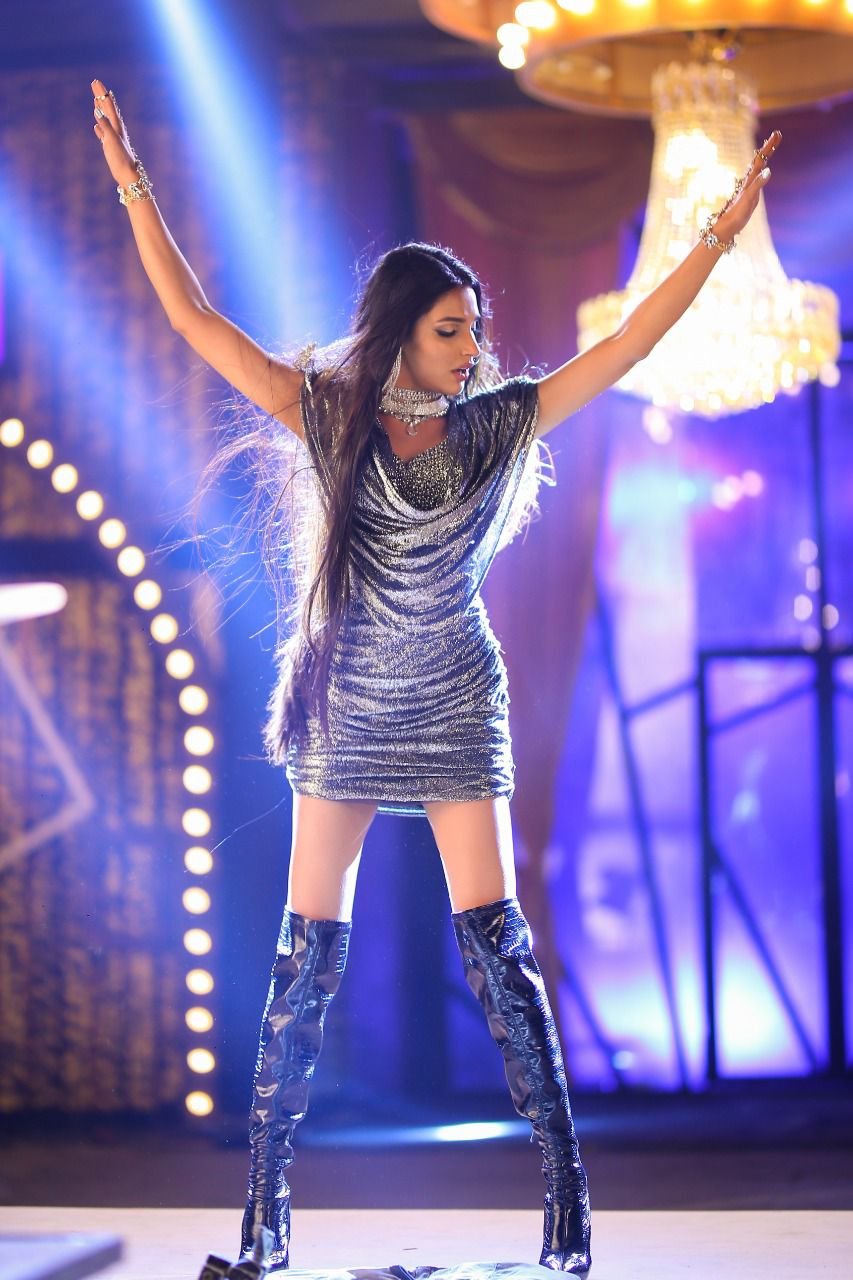 From the dancing all the way down to the costumes (designed by Hunny Haroon) and set design, we were floored at the harmony of how things fell together. In some cases, one tends to find at least one dreaded detail that overpowers their attention. This however cannot be said about "Aatish" which is sung by the legendary Sunidhi Chauhan. Drawing inspiration from Arabic cabaret dancers as well as focusing on the famed freestyle genre of dance, it's safe to say that you're in for an unexpected treat. A treat we have been waiting to see for quite some time.
As "pundits" growl at certain elements of the song, we are reminded of the unification as well as liberty that can only be found when expressing oneself through art. We are given a long-awaited glimpse which we didn't realize was needed into the long-standing balletic beauty that comes with dance. And we couldn't be more happier that it was Amna Ilyas who impeccably delivered it.
Excuse us while we catch our breath!! (and watch again)
To watch the full song please see below: