Can Washing Your Face for a Full 60 Seconds Give You Perfect Skin?
When it comes to new tips and tricks for getting the perfect skin – we're always the first ones there. Now we all there is a 2 minute teeth brushing rule, but did you know there is a 60 second face washing rule too?
According to Roberts-Smith, "cleansing your face (with your fingers) for 60 seconds allows the ingredients in the cleanser to actually work." As she wrote, "Most people wash their face for like 15 seconds max. [Sixty seconds] softens the skin and dissolves sebum blockages better. Texture and overall evenness improves."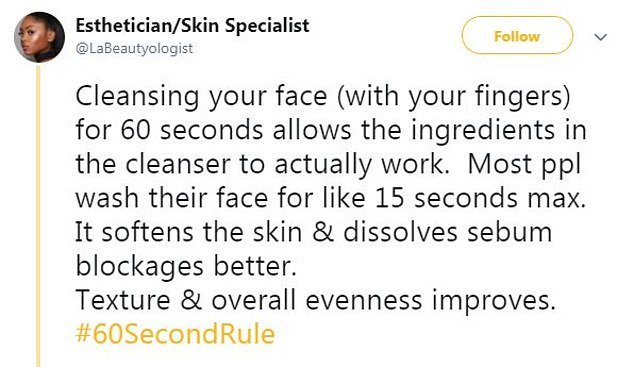 "In our busy lives, where face washing may be done in a hurry, the beauty hack for washing for 60 seconds is a good guideline," says Purvisha Patel, a board-certified dermatologist and founder of Visha Skincare. "It makes sure that the cleanser is applied and actually rubbed into the skin for a whole minute before getting washed off." Patel divides the time even further, to washing each of the four quadrants of the face for 15 seconds.
If you've been missing your facials and cleansing routines at the salon, look back and remember that the beautician always takes about a minute or two to cleanse your skin, getting off all the makeup and oil that you walked in with. According to Natalie Fairchild, licensed aesthetician and skin therapist at Heyday, the extra time ensures that your skin actually gets thoroughly clean. So not only do you want to give the cleanser a chance to break down and dissolve products and grime, but taking 60 seconds also makes you pay attention to your skin and what you're doing—like remembering to cleanse around the edges of your nose, under your chin, and around your hairline
Not all skin types react the same to any skin routine. So it's important to keep yours in mind when setting the cleansing clock. People with acne, for example, can likely benefit from following the 60-second rule. If you've got acne, you will generally benefit from a good minute-long wash as it will help exfoliate clogged pores, clean the pores, and wash away excess oil and debris on the skin.
Try it yourself and see how it works for your skin. Remember, only cleanse your face for 60 seconds at night after a full day – and remember to moisturise after.