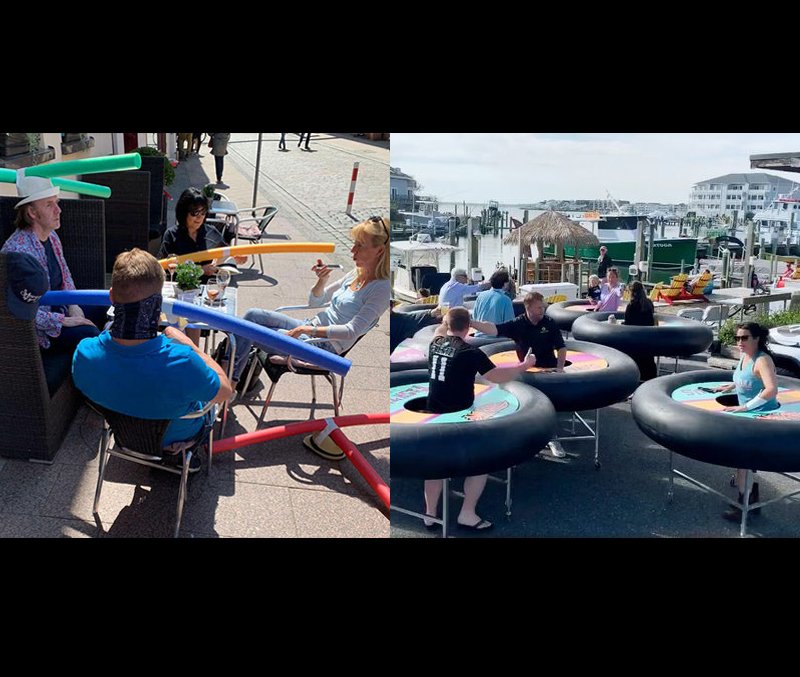 There is no denying the impact of the novel Coronavirus pandemic that has gripped nations all over the world. The way businesses run and the general way of life is never going to be the same again, even after a vaccine or cure is created to defeat the virus. An example of whats to come in the future is the way some restaurants have already begun implementing social distancing with it's customers, in curious and creative ways.
Mediamatic ETEN, a waterfront restaurant and bar in Amsterdam, has evolved its greenhouse model to outdoor pods for individual parties of up to three diners.
Additionally, according to the restaurant's Facebook page servers are wearing 3D printed clear PPE face masks to ensure the health and safety of diners and staff.
Diners in a Maryland beach town are bouncing back into eating out amid the coronavirus pandemic with a little help from inflatable inner tubes on wheels.
About a dozen of the so-called "bumper tables" were rolled out at Fish Tales, a restaurant in Ocean City, Maryland, on Saturday, news outlets reported. The inflated tube tables were created by Baltimore-based company Revolution Event Design & Production to allow people to practice social distancing while eating and talking in outdoor settings.
The owners of the Cafe Rothe in Schwerin — a town in the state of Mecklenburg-Western Pomerania — were allowed to reopen their doors to visitors after coronavirus restrictions were lifted. While people enjoyed the company and the weather, the motto at the cafe was: "Keep the social distance."
Rather than using floor markings and perspex screens to keep people apart, the owners of the cafe distributed straw hats with two colorful swimming noodles attached to the top.
Owner Jaqueline Rothe said "This was the perfect method to keep customers apart and a fun one," "It was a perfect gag and of course it was funny, our customers were really into it. But what it did show to us (was) how difficult it is to keep a distance of 1.5 meters (4.9 feet)."
While it is still strongly recommended to only venture outside if it's absolutely ESSENTIAL, it's good to see bounce back in new and creative ways while attempting to keep their customers and themselves safe.