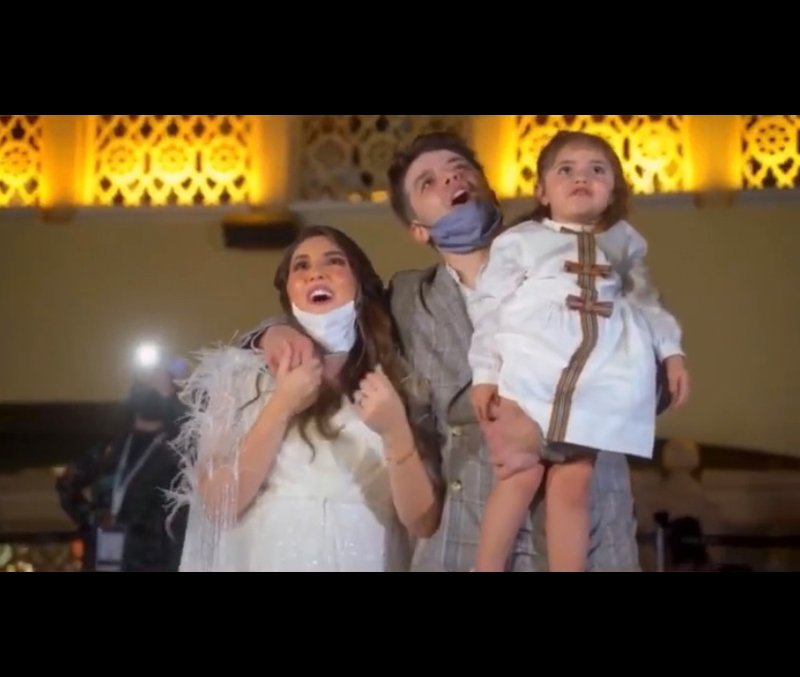 Hold on – $95,000? Did you also immediately convert the amount into Pakistani rupees and then let it go when you could no longer say the amount out loud? Yep. Happened to us too.
Turns out, a popular Arab Youtube couple, Anas Al-Marwa and Asala Al-Maleh held the most expensive party in the world to find out the gender of their baby, by lighting the Burj Khalifa in Dubai. Lahore, please don't get any ideas!
Tweeters described the party as exceptional, hosted to reveal the gender of their expected newborn in the presence of their acquaintances, their friends and their daughter. It is said that the cost of the party, which lasted three minutes, amounted to $95,000.
Burj Khalifa was illuminated in blue to indicate that the baby will be a boy, and the event was classified as the largest party in the world to reveal the gender of an unborn child.
Asala Al-Maleh is of Syrian origin and was born in Kuwait. Along with her husband Anas Al-Marwa and their daughter, Mila Marwa, she is considered the most famous Arab family on YouTube, and the family lives in Canada.
Asala Al-Maleh established her own YouTube channel on August 3, 2016, and has gained more than two million subscribers.
Al-Maleh gained her fame during her participation in THE VOICE program and did not complete her singing career in the program for reasons and family circumstances.
Here is a small clip from the most extravagant gender reveal/baby shower ever: