'Diriliş: Ertuğrul' Actors Respond to Pakistani Fans & Win Hearts All Over

Unless you've been living under a rock, you have most definitely heard of 'Diriliş: Ertuğrul',  the Turkish show that revolves around the Ottoman Empire.
Thanks to PM Imran Khan, the show was dubbed in Urdu and airs everyday on PTV Home for the entire country to enjoy, and enjoy is what Pakistanis are doing. New born fans of the show are bombarding the comment sections of all Turkish actors involved in the show, and while some comments are just plain embarassing (like telling the female lead how to dress appropriately or the male lead to not keep his beloved pets in the house) , most comments are fans showing love and appreciation to these actors for their performances.
What makes this new found bound with Turkish entertainment even better, is that these talented actors are also taking time out from their busy schedules to respond to some Pakistani fans! Nurettin Sönmez, the actor who plays the role of Bamsi Alp in the show, lovingly replied to an Instagram comment from a fan: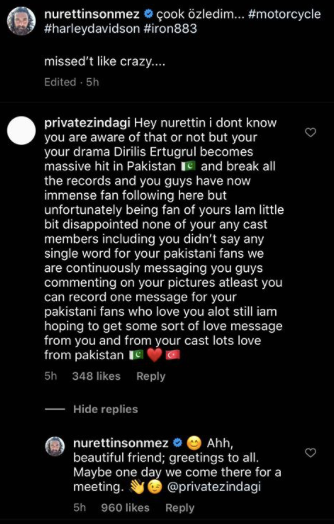 Ezgi Esma Kürklü, who plays the role of Banu Çiçek, also responded to the same fan: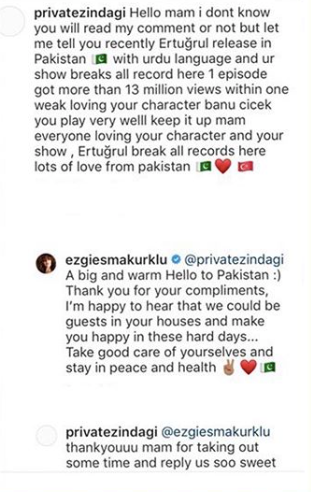 We hope fellow Pakistanis continue to shower international actors with love, and also start showing our own actors the same kind of love and respect, especially those who really deserve it!