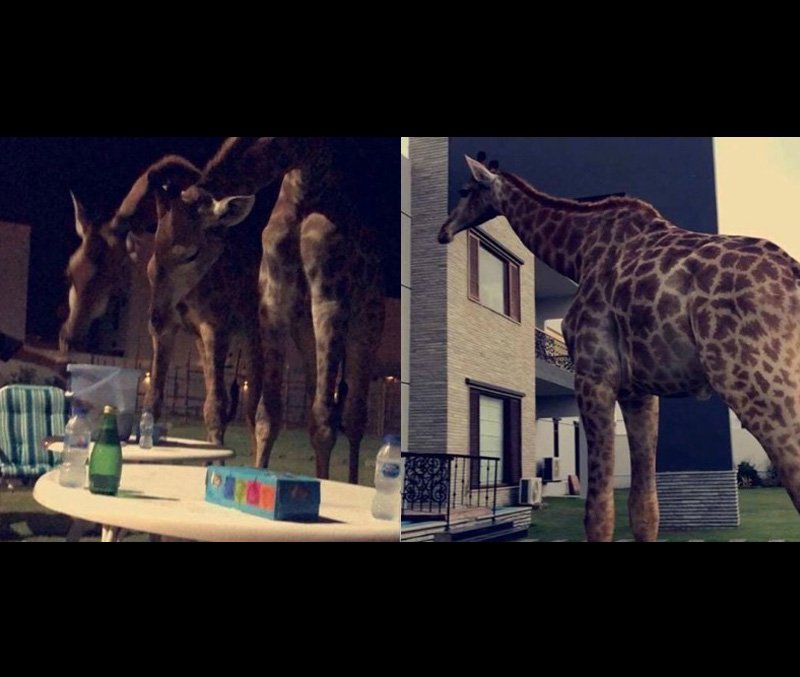 As if owning exotic pets like lion cubs and tigers wasn't enough – a family in Karachi has truly broken all pet keeping records by owning and keeping two giraffes in their residence. If you've been around Phase VI, we bet you've spotted them wandering in the garden of a residential area. While some people found it difficult to believe their eyes, and others thought the pictures that surfaced were Photoshopped, it is important to highlight the animal cruelty in play here.
https://twitter.com/norbalm/status/1298188085285605382
A team of the Sindh Wildlife Department visited the house on April 17 after receiving many complaints. "We told the owners that they can't keep giraffes in a residential area," Mumtaz Soomro, who works for the wildlife department, said. "They have agreed to shift them to their farmhouse in Gadap Town."
He said that the giraffes are about two years old. "Giraffes don't pose any danger to humans," he added.
"Any person who wants to keep any wild animal at their house must get a licence first", said conservator Javed Mahar. "The licence does not mention what animals a person is allowed to keep," he explained. Most people keep black partridges, peacocks or deer at their house. Some, on the other hand, use the licence to keep lions, zebras or, as in this case, giraffes, he added.
The family with pet giraffes holds a mini-zoo permit, said Soomro. This permit, which costs Rs10,000 per year, gives people permission to import different kinds of animals, he said.
When we speak against animal cruelty, it is important to know and understand exactly how this falls under the realm of it. Firstly, it is important to note that Giraffes have been listed as "vulnerable" on the International Union for Conservation of Nature's Red List. In December 2016, the IUCN noted that the tallest land mammal's population decreased by 36% to 40% in 2015. The reasons for the population decline were said to be "illegal hunting, habitat loss and changes through expanding agriculture and mining, increasing human-wildlife conflict, and civil unrest." Secondly, they are much too tall and big to be kept inside a house when they ought to be free in the wild.
When the country came together for the release of Kaavan, we realised that there was much work to be done. These giraffes suffer in silence even if they are well fed. They were never meant to be house pets – and for them to be confined in such a small space is a shame.
Pakistan's obsession with keeping "exotic pets" truly goes to show for how little understanding we, as a country, have of what animals need and deserve. The concept of animal rights barely exists in Pakistan, and that is why, people continue to house giraffes, burn lions and keep wild animals in the supposed sanctuaries of their homes.
So here's a request – if you want a pet – stick to taking care of the several stray cats and dogs that are so often poisoned on the streets, or killed in road accidents. Adopt these homeless pets – care for them and take them off the streets. Two such amazing organisations can arrange for a loving pet for you in case you want one:
Todd's Welfare Society
Ayesha Chundrigar Foundation Animal Rescue
The animals that need your love and home – are the ones left to die on the streets. NOT lions, tigers, cheetahs and giraffes who truly belong in the wild. Adopt, DON'T SHOP!