Women Take to Twitter with #WhyIMarch to Signify Why Aurat March is Necessary For Every Pakistani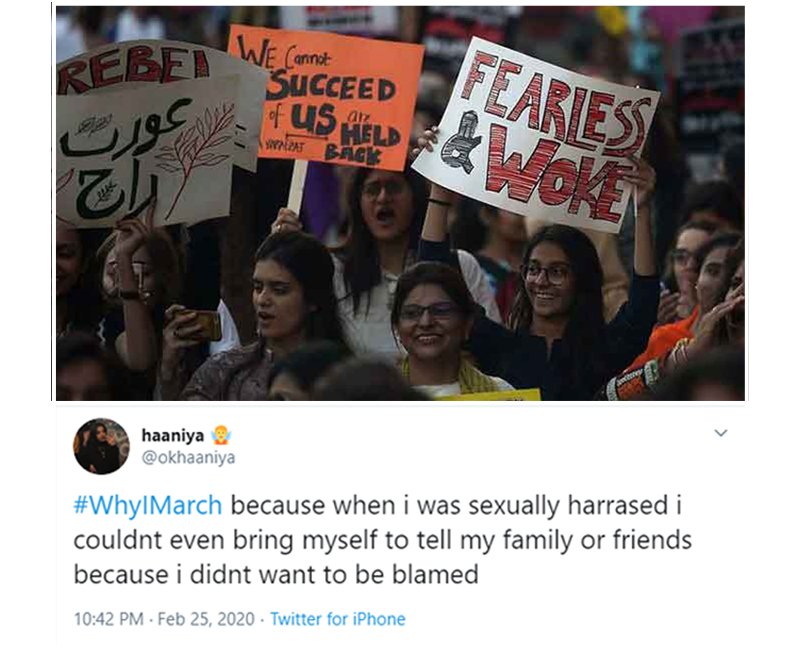 https://twitter.com/rabian_k/status/1232546318658232320
https://twitter.com/kiamusibathai/status/1232374452433948679
While girls, women and even some men of all walks of life prepare to take to the streets for Aurat March this year, a lawyer in Lahore has filed a petition in Lahore High Court against the march, aiming to stop them from celebrating International Women's Day on March 8th like last year.
The petition filed by Advocate Azhar Siddique claims, "If Aurat March 2019 is taken in account, it can clearly be observed that the so-called 'Aurat March' is nothing but an anti-state activity aimed at tarnishing the dignity of women and tarnishing the image of Islam." He claims that "morality and decency have to be safeguarded and protected by the state at all costs".  He believes that Aurat March is "vulgarity" and that "There are laws in place to safeguard women's rights and fundamental rights.Regarding rights, I am unable to see any disparity." However, women having 60 seats in the house of 342 people hardly reflects on equality (an example that Mr.Siddique used to highlight that there is no difference between the rights men and women get in Pakistan). Shocked? We were too!
Therefore, to tell Mr.Siddique exactly why Aurat March is NOT vulgar but absolutely essential, girls and women of all ages took to Twitter to share WHY they choose to partake in Aurat March with the hashtag #WhyIMarch. Here are a few that caught our attention:
#WhyIMarch: because once when I stopped the car at the Cantt Chowki & asked the men on duty to stop the car tailing me, they didn't.
They didn't think that me being harassed in my own car was worth their time or concern. It was my fault that I was driving alone.

— Sara Hayat (@saratamman) February 26, 2020
#WhyIMarch because EVERYDAY i am so fucking scarred & horrified after reading news stories about rape & murder of women and children & it needs to stop & the men responsible need to be held accountable and punished

— baby wood elf (@iamkuds) February 26, 2020
#WhyIMarch bc i was sexually harassed from my servant all my childhood

— fareena (@fxreenaaa) February 26, 2020
#WhyIMarch because my earliest memories are of those getting groped in a market and now i dread markets and everytime i go i am in a constant hyper vigilance state as to not let anybody touch me and not go in crowded places.

— sad fkn mess™ (@aliciamayemory_) February 26, 2020
#WhyIMarch because Ive seen pregnant women crying after knowing they're going to have a baby girl, fearing for their marriage, fearing for their and her lives. Because the number of abandoned baby girls is much higher than boys. Because illegal abortion of girl fetus is a reality

— Sherry (@CherieDamour_) February 26, 2020
#WhyIMarch Because public transport is still unsafe for women and that hinders them from going out there and living their life in peace.

— Maha Noor Qureshi (@Maha_Q1997) February 26, 2020
#WhyIMarch i was groped in public when i was 12 and my first instinct was to hide it from my family because i knew they would force me to dress differently

— qaumi bf (@BeghairatAurat) February 25, 2020
#WhyIMarch because my 16 year old cousin has been engaged to a 30 year old man and no one in my family bat an eye. #AuratMarch2020

— marha (@auratnama) February 25, 2020
I march because I couldn't before, and so many can't still.

I march for the right to have privacy.

I march for the women who were murdered for not delivering a hot meal to their lazy husbands.

I march for the survivors of sexual assault. #WhyIMarch #AuratAzadiMarch2020

— Manahyl (@manahylk) February 25, 2020
#WhyIMarch I march for the victims of toxic masculinity, the women who were killed because the rotis they made were not round enough.
I march for women who're deprived of their rightful share in inheritance.
I march for young girls who're forcibly married. #AuratMarch2020

— Ailia Zehra (@AiliaZehra) February 25, 2020
#WhyIMarch because i will never forget the look of power in that mans eyes when he grabbed my dupatta in the middle of a bazar.i will never forget the audacity of the man who ran his hand up my sisters leg with my mom sitting there. and i will never forget how we stayed quiet.

— spidey (@stillnotdoingok) February 25, 2020
To the woman who saw me on the street today and stopped to ask if I was okay as she saw me standing with my male friend and having a panic attack and wanted to ensure my safety,

you are the reason that I have courage to fight the fight. This is #WhyIMarch

— Aimen Bucha (@AimenBucha) February 19, 2020
We hope these tweets reach Mr.Siddique and he rethinks the joke of a petition that he filed for the ban of Aurat March. THIS IS WHY WE MARCH!