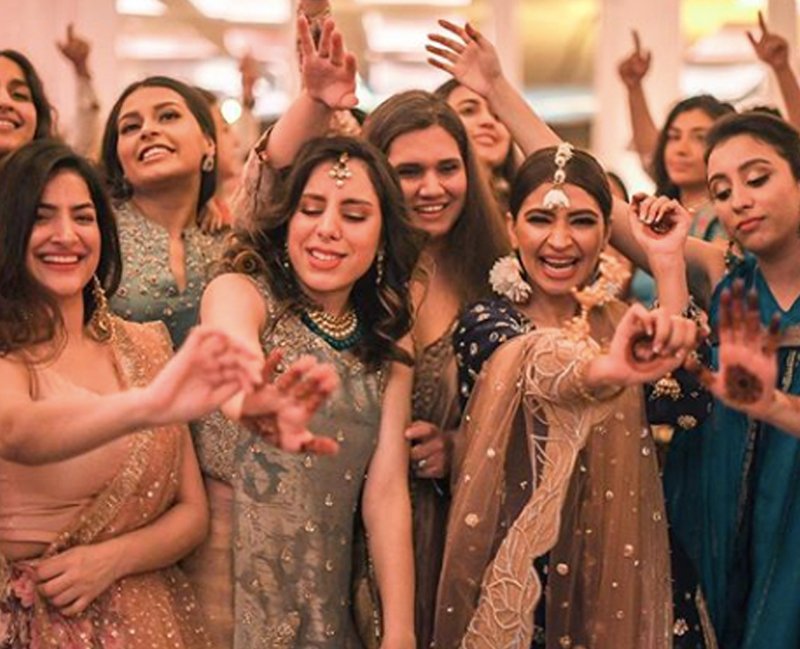 [video src="https://www.youtube.com/watch?v=8g9ay6wuz34"]
Whether you like the golden oldies, or are more into the new age desi hip hop type vibe, this playlist has got it all. If you want the perfect upbeat songs to dance to yourself, or to order your friends and cousins to dance to (aren't all ladies bridezillas at dance practices?) we've got you sorted. From Nazia Hassan classics to Marshmello remixes, here are the sickest songs to play at your mehndi, or shendi:
Kariye Pyar Diyan Galan – Nazia Hasan
A classic song that lives on and on. Perfect for all the best friends/sisters/cousins to dance to!
Haye Dil Bechara- Jimmy Khan
The song that has taken over airwaves all over Pakistan, there's no way anybody can stay off their feet once this plays.
 Taki Taki Bhangra Remix- DJ Amit
If the original Taki Taki is too passè for you, try on this bhangra remix for size.
Rail Guddi Remix- Speedy Singhs
Rail Gaddi is a classic and we LOVE this spin on it. Fast paced and fun, everybody dancing better be wearing waterproof makeup because they're going to break a major sweat!
Bolo Tara Rara- Daler Mehdi
Who doesn't love this guy? From the older relatives to the young un's , nobody can resist Daler Mehdis upbeat musical styling.
Expert Jatt- Nawab
This one is PERFECT for an all boys number, but the girls can and should join in too!
Zingaat – Dhadak OST
We know we know, this song is old but we can't get it out of our heads! And you won't be able to stop dancing either once this plays.
 Ghungroo Song- War OST
One of the freshest songs on the list, we may not be friends with our neighbours at the moment but we can't help grooving to this track. Lucky for upcoming brides that it released right on time for wedding season.
Malang – Sahir Ali Bagga and Aima Baig
Please google the numerous dances available on this song on youtube, they are KILLER. Who can resist these 2 voices?
Tambourine- E.V.E
English songs at Mehndis are not for everyone that's why we refrained and only added ONE to the list, and it's a banger. I mean, don't these kids make you want to break out dancing wherever you are? It sure gets our adrenaline pumping, and pumped adrenaline is exactly what you need to beat the larkay walay on the dancefloor!
BIBA – Marshmello x Pritam
We wonder when Marshmello is coming down to visit our side of the pond so we can also a boast a killer track like BIBA. The video comes with signature dance moves you can chaapa and rock that dance floor til the sun rises. Or until 10 pm because Lahori weddings have a curfew…
Did we leave any of your favourites off of this list? Maybe a DDLJ or K3G rendition? Let us know in the comments below