Stove Top Pizza Recipe (No Oven Needed)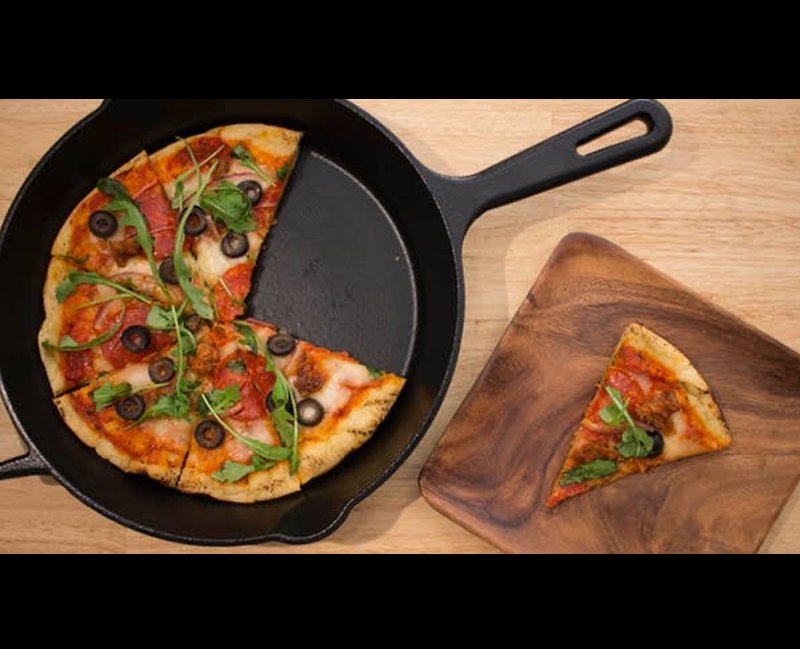 If you're anything like us, the one thing you're missing more than anything, is PIZZA. But if you don't have an oven, don't worry. We're bringing you this super easy stove top pizza recipe that you can make in a pan. And we don't mean to brag, but it tastes PRETTTTTYYYY good!
Ingredients:
1 tablespoon olive oil

Various toppings to your liking (you can choose to add chicken or beef to the mix too)

Pizza sauce, mozzarella cheese, cooked sausage:

Pepperoni, black olives, onion)
For the Dough:
1 1/2 cups all-purpose flour

3/4 teaspoon active dry yeast

1 teaspoon kosher salt

1/2 cup warm water
Directions:
In a bowl, stir flour, yeast, and salt together. Gradually incorporate water and olive oil, until rough clumps form into a loose dough ball. Transfer mixture to a lightly floured surface and knead until the dough becomes smooth, about 6-8 minutes.
Lightly grease a bowl, roll the dough to coat in the oil, and cover with a clean towel. Allow to rise and double in size, about 1-2 hours. Lightly flour your surface and turn out the dough. Use your hands to gently stretch the dough into a thin round to fit your skillet.
Heat a cast iron skillet on medium. Lightly drizzle with olive oil and carefully place the dough. Cook untouched for about 2 minutes, or until lightly golden brown.
Flip over and reduce heat to low. Spread your sauce, arrange your toppings, and keep covered just until the cheese melts. Continue cooking for a few more minutes, until the crust is crispy and browned.
Slice and serve!