Munib Nawaz Gets Robbed by House Help, Uncovers a Bigger Scheme Being Run by Housekeepers Family

As if there already wasn't enough to be scared about, what with the ongoing pandemic and the governments incompetence, now we must also be cautious of our housekeepers and their whereabouts as we sleep.
Designer Munib Nawaz posted the following on his Facebook profile on Wednesday: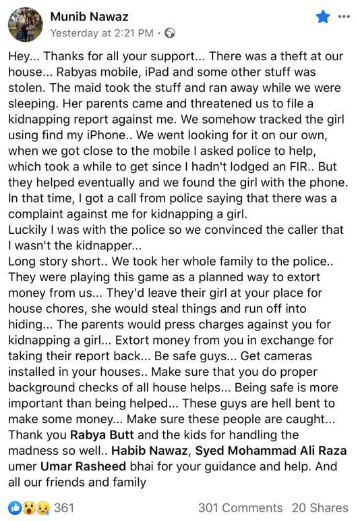 According to the designer, his house help and her family were involved in an elaborate scheme to extort money out of Nawaz and his family. The housekeeper took off in the middle of the night as Nawaz slept, with valuables from the house. Coincidentally after her disappearance, the girl's family confronted the designer about their daughter's whereabouts and threatened to charge him with kidnapping. At this point, Nawaz began tracking one of the stolen phones and found the girl with the help of the police. The girl and her family were turned in, and were revealed to be running an elaborate extortion scheme to blackmail families into forking out money.
The designer goes on further to plead with everyone to be diligent with their help and to install cameras and run concrete background checks on whoever is hired.
People disguised as house help in Pakistan committing crimes such as theft, assault and kidnapping is not unheard of. Properly screen whoever you let into your homes for your safety and the safety of your families.