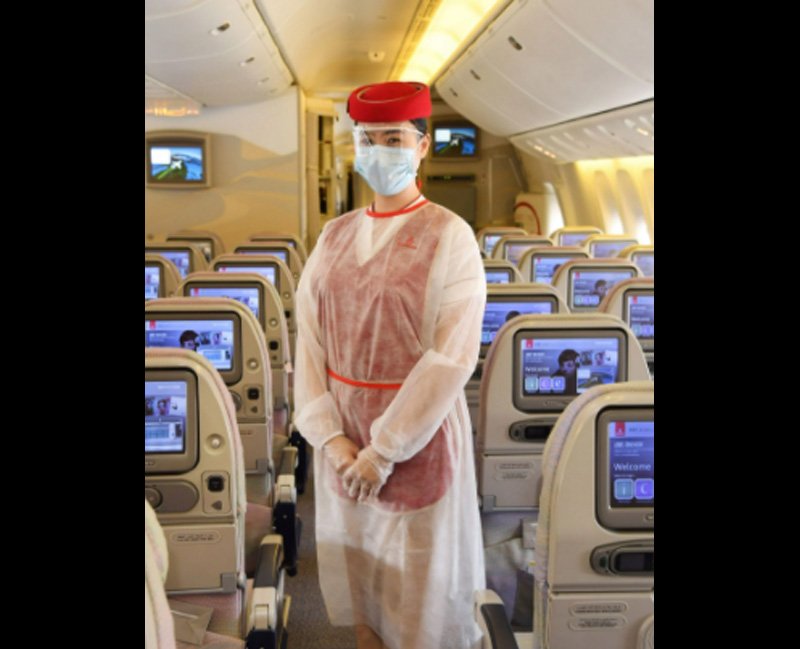 THE NEW NORM
With the sudden COVID-19 outbreak earlier this year, the whole world did a 180 and changed overnight. From our everyday interactions to the pace of our lives– things were turned upside down. For me, having not been to office in months, gone to a restaurant or seen most of my friends, the concept of traveling was something that seemed unrealistic all together. However, when I got the call from Emirates to travel to Dubai for a weekend getaway, it felt like there was a possibility to adjust to the new normal. I was nervous, anxious and excited all at once! Having traveled with Emirates before and trusting their staff and team to take the upmost care of us, I knew I was in safe hands, which was why I accepted the offer, packed my bags and was ready for a mini vacay.
UP, UP AND AWAY!
Before traveling, I had to take a COVID-19 test in Karachi. It was quick and painless and I got my results within 24 hours. It was my first test taken and it didn't scare me much. However, on the day of my flight, I was all nerves. The idea of being confined, restricted to one seat, and surrounded by strangers for 2 hours made me dizzy. This was crazy! I love to travel and the idea that it was going to be scary was foreign to me.
However, from the second I arrived at the airport I felt more at ease with every step. Karachi airport was less crowded, the flight half full and the aircraft crew were covered from head to toe. My business Class seat looked the same but different, as the pillow and blanket were in a new, specially disinfected seal vacuumed bag. It smelled clean but I sprayed my seat down before settling in due to paranoia, as my wide eyes (behind the mask) were taking in the new norm of travel. I could see the enhanced safety and disinfection measures taken on the fight, so I began to relax a little. Did you know that cabin air stays clean and fresh throughout your flight as advanced HEPA filters remove 99.97% of viruses, germs and allergens in the air? The Emirates onboard services are modified to maintain strict hygiene and safety and to reduce contact, with small changes to the 5-star service we are all accustomed to. I was so sure I didn't intent to use the washroom, and had decided to lay off any beverage – but once the flight was off, my leg rest up and my bum snuggled into a cozy spot in the seat, I ordered a cup of tea and sipped it joyfully as I began to enjoy my journey.
From single use and digital menus to hygienically sealed pillows, Emirates had every minute of your journey taken care of.  My favorite aspect of this new norm was their hygiene kit. While most travelers understandably had their own bag full of wipes and sprays, Emirates still provides each passenger with the essentials; Mask, gloves, hand sanitizer and antibacterial wipes – all packaged into a tiny box for your convenience! The part that I was least looking forward to, which was the idea of wearing a mask the whole time, was actually far less painful than I built it up to be. I even managed to get some shut eye, and wearing the mask made no difference to my comfort whatsoever. As always, the Business Class service was on point!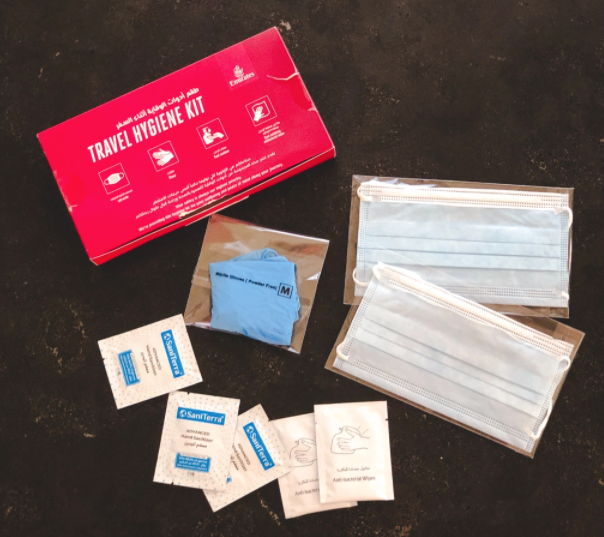 DUBAI, HERE I COME
The arrival and testing process at Dubai airport was as efficient as expected. We were led to the testing portion, which was a quick and speedy process (and stung less than my KHI test). All ground staff were following SOP's to the max and from the time I landed to the time I got into the car to head to the hotel, with testing and luggage in between, I was done in under an hour! It was interesting at first to see an airport like Dubai's, which is usually a hub of busy passengers in transit, be quiet and less packed than usual. But, it made me feel safe, feel confident in my decision to travel and secure in knowing that social distancing measures were being implemented.
Of course, the second I got tested I thought – oh no! What if I come positive? The fear is very much real and I couldn't help but wonder about the worst-case scenario. Emirates offers COVID-19 health and quarantine cover for 31 days when you travel away from home. If you have COVID-19 symptoms you will be taken to Dubai International Airport Medical Centre for further checks.
It was made clear that all passengers who took a PCR test on arrival must self-isolate until they receive their results – which came up on my phone the next day in under 24 hours. Once I was in the clear, I was ready to take my vacation! And Emirates had everything planned to the T, holding back nothing! From dinner the Marina Harbor to taking in the views from the top of the Burj Khalifa, to a day out at the world's largest indoor theme park (IMG Worlds of Adventure), and wandering the aquarium at the Atlantis, there were so many adventures to be had!
See more highlights in our travel diary!
THE GANGS ALL HERE!
What makes a trip is the company you keep, and I was fortunate enough to have a great group of fellow journalists with me. From Team APR (the Pakistani agency coordinating with Emirates) was Emad Zafar. I've traveled with Emad before and he has always been the most accommodating, easy going and helpful professional to work with, so it was great to catch up with an old friend! Along with us was Akram Ali from Pro Pakistani and Zeeshan Aziz from UrduPoint. Akram was clearly a fellow foodie, as him and I probably enjoyed lunch at Gordon Ramsay's Bread Street Kitchen & Bar the most, and Zeeshan's hilarious observations and laugh out loud stories kept us entertained throughout the trip. Every time I get the opportunity to meet new people through these experiences, I walk away taking so much from them, and this trip was no different. We all shared a love for travel and were taking in the new normal of travel together.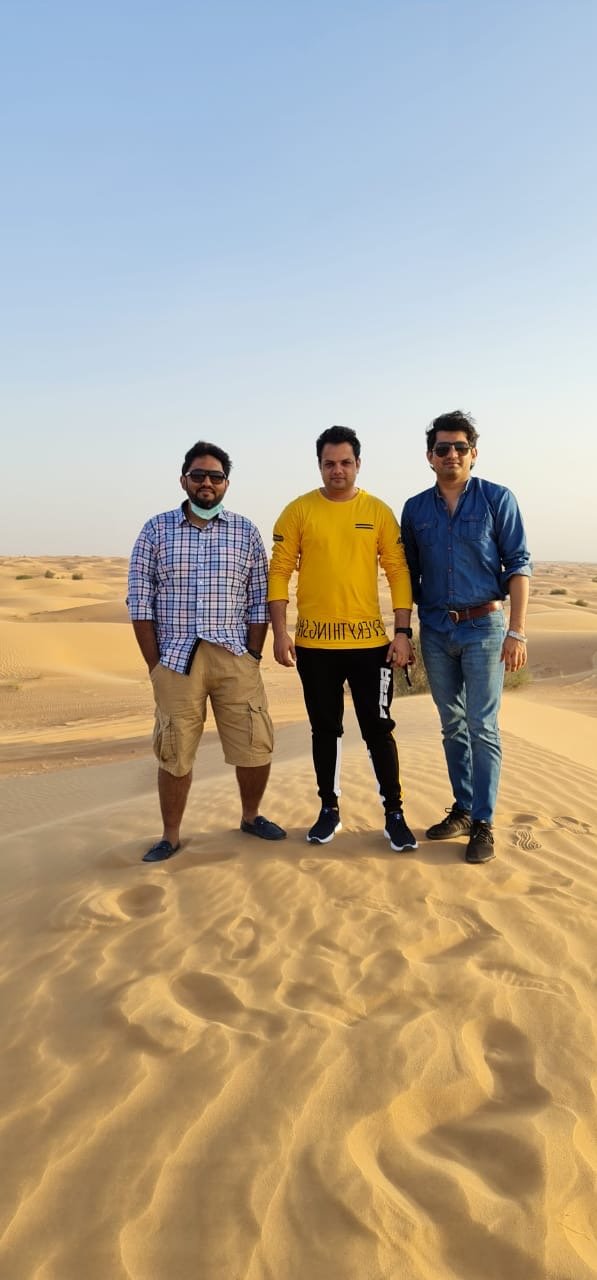 HOME SWEET HOME
I had to test again before arriving back to Pakistan, as my stay extended the 96-hour timeline needed to test. We went in the morning to the American Hospital, and while the line was long, things moved quickly and I was in and out under 2 hours.
When I got back home four days later, what everyone kept asking me was – Oh my God, how was it? And to be honest… I had no complaints! I felt safe and comfortable being under the Emirates banner, as I knew the level of service, customer care and attention to detail would not be hindered because of COVID-19. If anything, they were able to illustrate how "normal" things can be (even while wearing a full PPE suit while doing it).
I am so thankful for Emirates for giving me this opportunity, especially because I didn't even realize how badly I needed to get that travel fix out of my system. From their hospitality to their attention to detail with SOP's, I can truly say that they made it easier to get through a scary 2020.