Everything That Has Happened in Kashmir After India Revoked Article 370

This Kashmir Solidarity Day, we take a look back on all the ordeals of the Kashmiris since India revoked Article 370 last year.
What is the Article 370?
When  the Dogra ruler of Kashmir, Hari Singh, acceded to India (even though Kashmir was a Muslim majority population, and therefore, technically should have been a part of Pakistan as per the Independence Act), the Kashmiris were offered the Article 370. It guaranteed Kashmir's autonomy in the Indian Union. Kashmir theoretically received special rights including the right to its own constitution and autonomy to make laws on all matters except defense, communications and foreign affairs.
What happened?
In the first few days of August, there were signs of something afoot in Kashmir. Tens of thousands of additional Indian troops were deployed (on top of the huge army that remains stationed there at all times), a major Hindu pilgrimage was cancelled, schools and colleges were shut, tourists were ordered to leave, telephone and internet services were suspended and regional political leaders were placed under house arrest.
But most of the speculation was that Article 35A of the Indian constitution (which gave some special privileges to the people of the state where it allows only Kashmiris to own property in Kashmir) would be scrapped. All identified residents defined as such under Article 35A are issued a permanent resident certificate, which entitles them to special benefits related to employment, scholarships and other privileges. But the biggest advantage for permanent residents is that only they have the right to own and, therefore, buy, property in the state. People suspected that this article would be removed.
The government then stunned everyone by saying it was revoking nearly all of Article 370, which 35A is part of and which has been the basis of Kashmir's complex relationship with India for over 70 years.
Why did India revoke Article 35A and Article 370?
Many Kashmiris believe that the BJP ultimately wants to change the demographic character of the Muslim-majority region by allowing non-Kashmiris to buy land there. Moreover, stripping it off its independent character within the India occupation, and merging it into the Indian state, strips Pakistan over its claim over Kashmir (according to India). The decision also sits in with Mr Modi's desire to show that the BJP is tough on Kashmir, and Pakistan.
What has happened in Kashmir since?
In the lead-up to the move, India sent thousands of additional troops to the disputed region, imposed a crippling curfew, shut down telecommunications and internet, and arrested political leaders. If this is how the largest democracy in the world operates, with a dictator's handbook, it really brings the whole question of India's claim of democracy under question.
Kashmiri prisoners transported far from home:
Hundreds of people arrested in the Kashmir lockdown have been held without trial by the Indian authorities and moved to jails far from home. At least 300 have been arrested under the Public Safety Act (PSA), which allows for detentions of up to two years without trial.
The transportations are often conducted without warning, and families say they are allowed little contact with detainees once they find them. Proving innocence is difficult even for those with resources given the communications situation in Kashmir and the number of cases.
On October 3rd, Kashmir Journalists protested the 2 month blackout in Kashmir: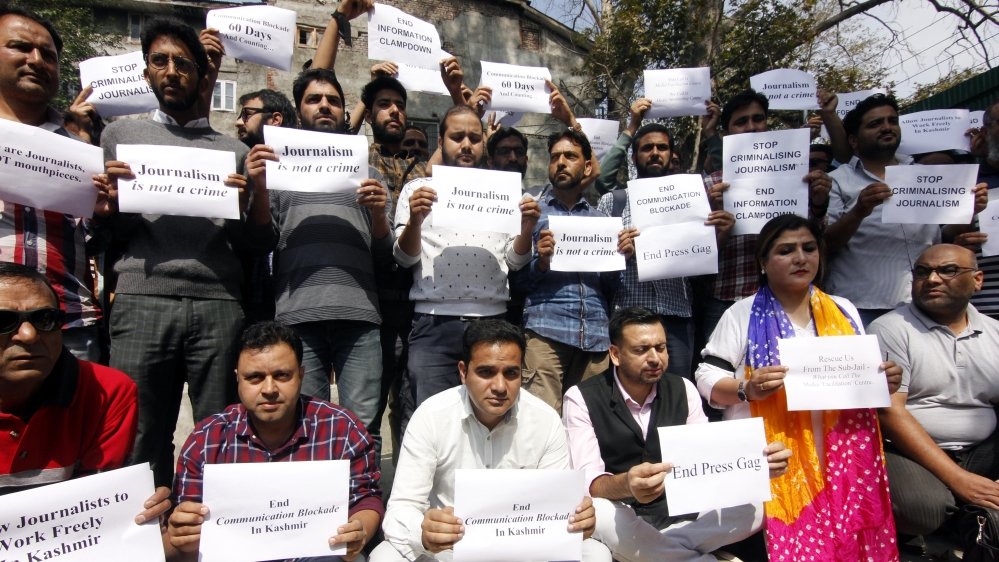 Dozens of journalists in Indian-administered Kashmir have held a sit-in to protest a communications blackout in the disputed Himalayan region, describing the blockade of internet and mobile phone services as a government-imposed gag. To go online, the area's 250 accredited journalists visit a government-run media centre in the main city of Srinagar where they wait often for hours to use one of the 10 computers for a maximum of 15 minutes.
Indian Army arrests Kashmir minors too:
The police dossier listed Abrar Ahmad Ganai (a 16 year old) as a 22 year old to justify the arrest and detention of a minor. This isn't the first time that the Indian army has continued to arrest minors and detain them thousands of miles away from home to ensure that they could not be reached by family.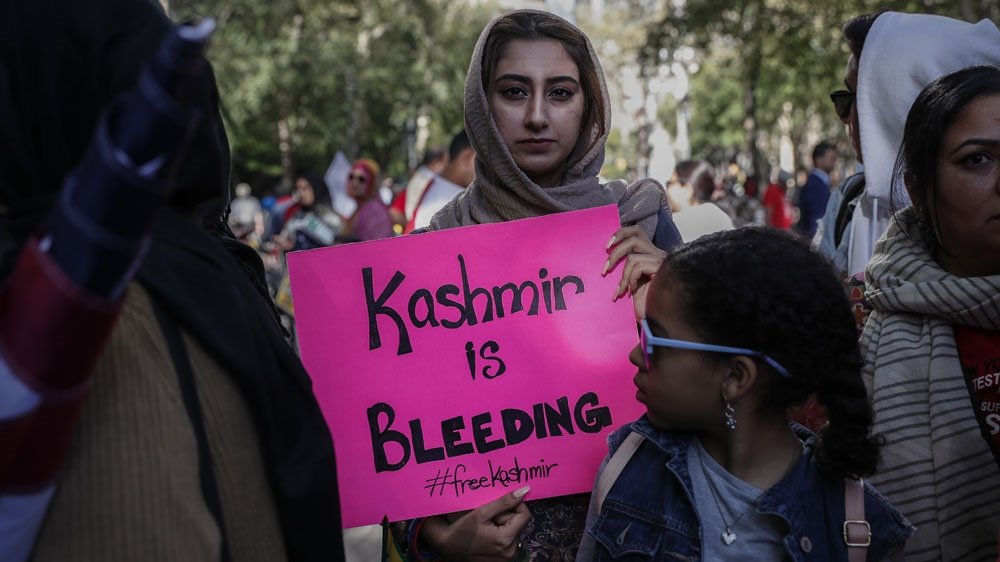 See Also
Kashmiri supporters gathered outside the UN headquarters in New York: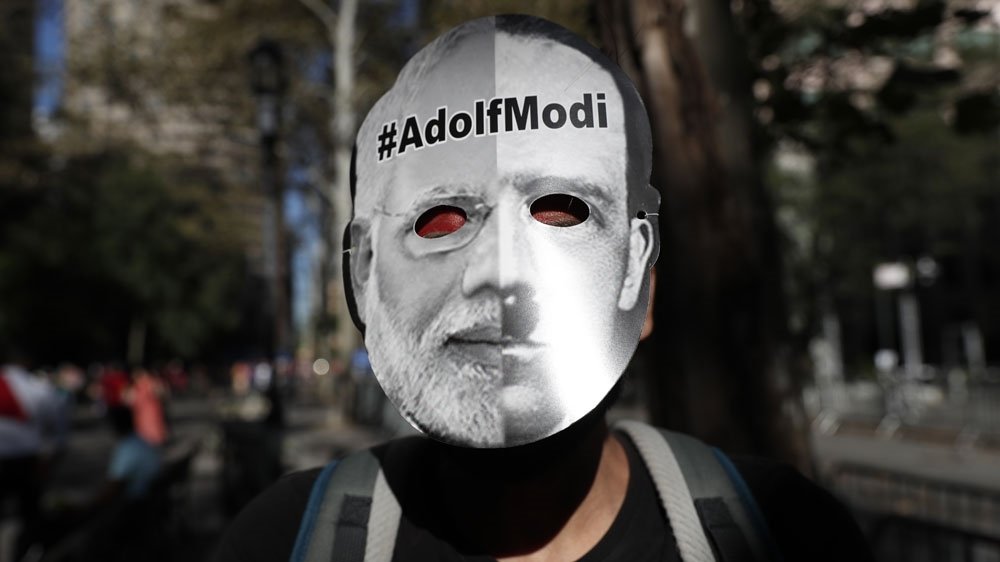 How is Kashmir 6 months after the lockdown?
Kashmir is bleeding. In Indian occupied Kashmir, Indian troops have martyred 63 Kashmiris including 2 women and 4 young boys during the ongoing 6-month long siege and lockdown in the territory (these are the only ones that have been accounted for. There are countless others that are detained, maimed, killed and injured without anyone finding out).
Out of those who were martyred, seven youth were killed in fake encounters or custody. India had revoked the special status of occupied Kashmir on 5th August, last year, and put the territory under military siege.  921 people were critically injured due to firing of bullets, pellets and teargas shells on peaceful demonstrators by Indian military, paramilitary and police personnel in the occupied territory.
Women molested and Juma prayers halted:
The Indian troops molested 42 women after barging into the residential houses in the period. The occupation authorities also did not allow people to offer Juma prayers for 19 consecutive weeks at historical Jamia Masjid in Srinagar after August 5, it said.
The report said that although uneasy calm and uncertainty prevailed in the Kashmir Valley, yet life was badly affected there as restrictions under Section 144 remained enforced. The increasing cordon and search operations have also added to the miseries of the already suffering people of the occupied territory, it added.
Political leaders in Kashmir still remain in detention:
Thousands of Hurriyat leaders, activists, politicians and civil society members including APHC Chairman Syed Ali Gilani, Mirwaiz Umar Farooq, Ghulam Muhammad Hubbi, Bar President Mian Abdul Qayoom, human rights activist, Muhammad Ahsan Untoo, and Bar General Secretary, Muhammad Ashraf Butt, continued to remain under house arrest or in jails.
This Kashmir Day, Pakistan stands in full support of Kashmir and its people.