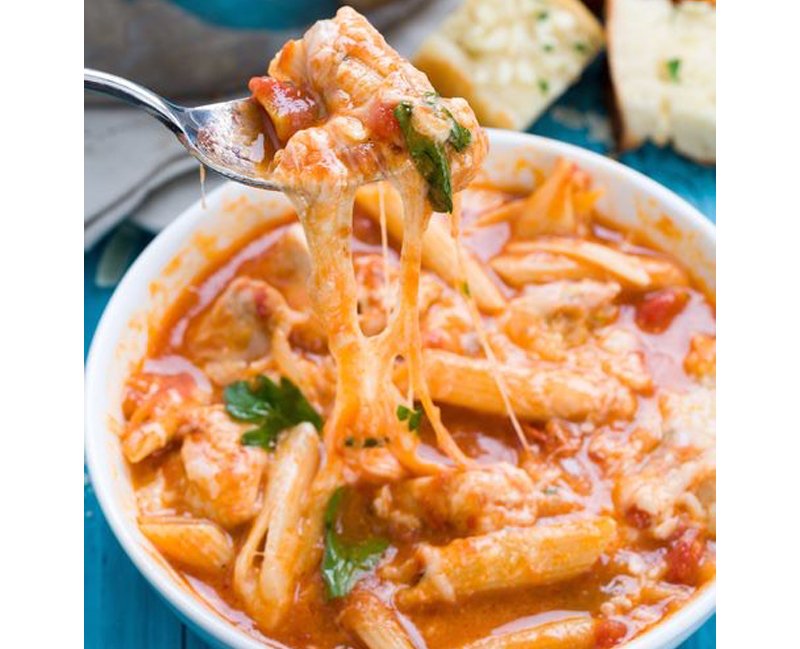 If you're a fan of the classic Chicken Parmesan, this one pot version will knock your socks off! Here's what you need:
INGREDIENTS
1 tbsp. 
extra-virgin olive oil
1 tsp. 
crushed red pepper flakes
1 
(15-oz.) can diced or crushed tomatoes
3/4 lb. 
cooked chicken breast (about 2 breasts)
1 1/2 c. 
shredded mozzarella
1 c. 
freshly grated Parmesan
1 tbsp. 
freshly chopped parsley
Salt
Freshly ground black pepper
In a large pot over medium heat, heat oil. Add onion and cook, stirring, until soft, 5 minutes. Add garlic and cook until fragrant, 1 minute more. Stir in tomato paste and red pepper flakes. Add tomatoes and broth and bring to a simmer.
Add penne and cook until al dente, 8 to 10 minutes.
Add chicken, mozzarella, Parmesan, and parsley and season generously with salt and pepper. Let cheese melt, then ladle into bowls.