Yasmin Rashid Apologises After Calling Lahoris 'Jahil'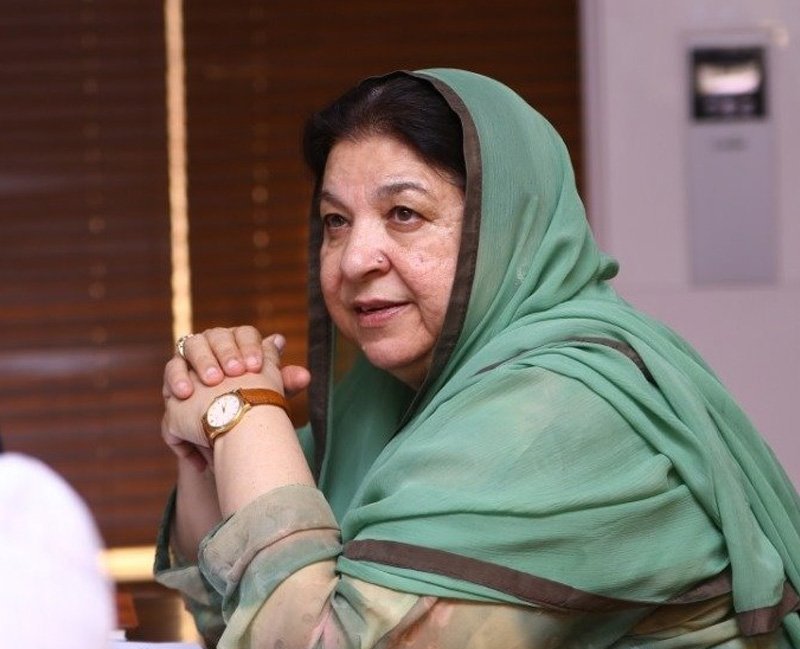 Punjab Health Minister Yasmin Rashid recently came under fire for her comments about the people of Lahore in regards to not following Coronavirus SOPs.
In an interview with Shahzeb Khanzada, Yasmin Rashid referred to Lahoris as 'Ehleda Maklookat' and 'Jahil' in regards to certain opposition followers refusing to wear masks because it is an order by Pakistan Tehreek-e-Insaaf, as well as people believing Coronavirus doesn't exist and the government is injecting their people with the virus deliberately.
ڈاکٹر یاسمین راشد لاہور کے عوام سے ناراض ۔ انکے مطابق لاہور کے عوام کوئی بات سننے کو تیار نہیں ہوتے۔ اور ہر چیز کو بطور تماشا دیکھتے ہیں جو بہت افسوسناک بات ہے۔ ڈاکٹر یاسمین راشد 2/2 pic.twitter.com/3bxc8P7t9q

— Shahzeb Khanzada (@shazbkhanzdaGEO) June 15, 2020
While most are infuriated by her comments, surprisingly some folk on twitter tend to agree with the health ministers observations. Ramiz Raja even hosted a poll and the results say it all!: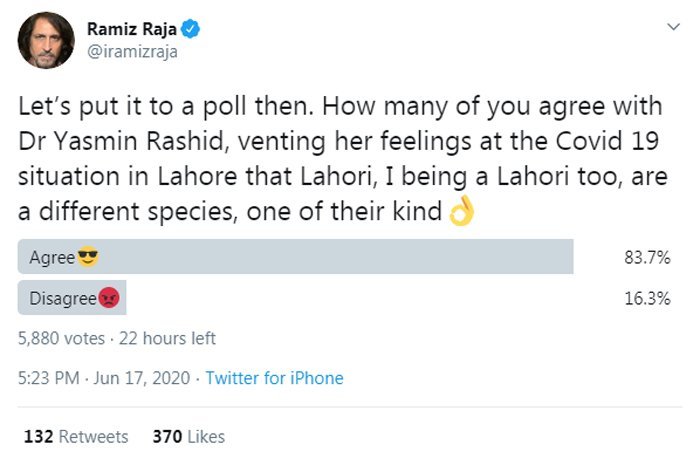 Most who agreed were Lahoris themselves:
My great-grandfather's shop from 1880 still stands in old Lahore. There isn't anyone here more Lahori than me and I have no qualms in admitting that Lahoris are jaahil.
I rather deal with people from other cities than Lahoris.

— Taimoor Ashraf (@taimoorashraf) June 16, 2020
Why are Lahoris getting offended on being called Jahil…..apni sarkon aur public places ki halat dekho phir offend ho…jahalat toh koot koot k bhari hai.
P.s I too am a lahori so dont come at me with ur dumb arguments

— Fatima⁷~ (@itsFatimaahere) June 16, 2020
This is what Yasmin Rashid meant when she said Lahoris are jahil. Btw this video is a month old pic.twitter.com/0vuNUhWc5b

— Ahsan 🇵🇰 (@AftabSahab_) June 16, 2020
Whether there is some truth to her statements or not, Rashid ending up apologising for her controversial comments. While speaking to a news outlet she said  she is very upset about rising number of Coronavirus cases in Lahore which is why she made the statements. She added, "I am 70 years old and I consider myself as mother of Lahoris and I can scold them."
The provincial minister further added "I was born in Lahore and whole Lahore is like my family so I am worried about rising cases of the virus in the city".  She concluded by apologising to all offended by her words.