Junaid Khan Pays Tribute to the Legendary Mehdi Hassan

Singer and Actor Junaid Khan has released his version of  Mehdi Hassan classic, 'Zindagi Mai Toh Sab Hi', as a tribute to the legendary musician ahead of what would be his 91st birthday.
Khan's rendition comes across as a modern take on a classic song and is a beautiful way to honour the late musician. Have a listen:
Speaking to the media, Junaid Khan discussed why he chose this particular song:
" In Pakistan, there are a few vocalists that I'm so inspired from. Nusrat Fateh Ali Khan and Mehdi Hassan are two names that are on top. Their voices, vocals, texture, tone and expression, I've always been a fan of."
"This track by Mehdi Hassan is one I was always moved by this track. From the expression, the lyrics, the melody to the way he sang it, it has always been really inspiring," he added.
"Of course I can't even think of matching the skill set of his but I thought that as a humble tribute I should give to this wonderful voice that Pakistan still cherishes. That's why I thought to do this song in my own style. It's a very deep song and of course using my instrumentation and thought process which is influenced by rock I thought to make my version of this track as a fan." Khan concluded.
It's safe to say the rendition is very much appreciated by fans: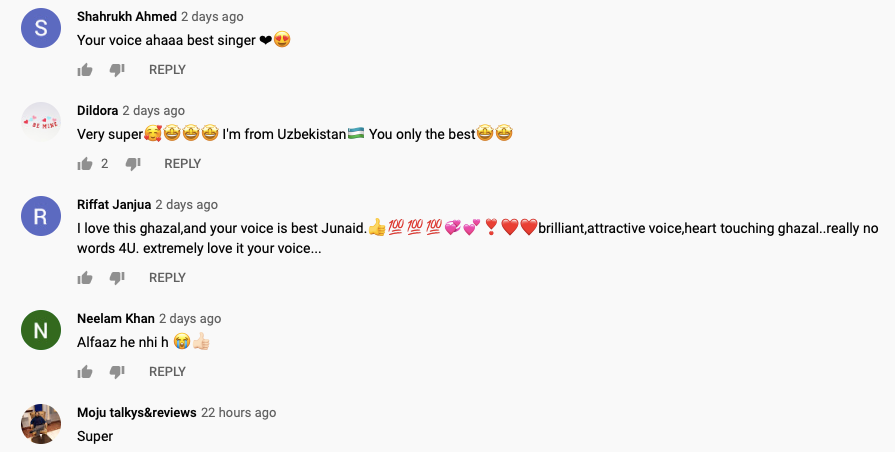 Did Junaid Khan do justice to the classic ghazal? Let us know in the comments below!