Celebs Come to the Defence of 'Diriliş: Ertuğrul' Airing on PTV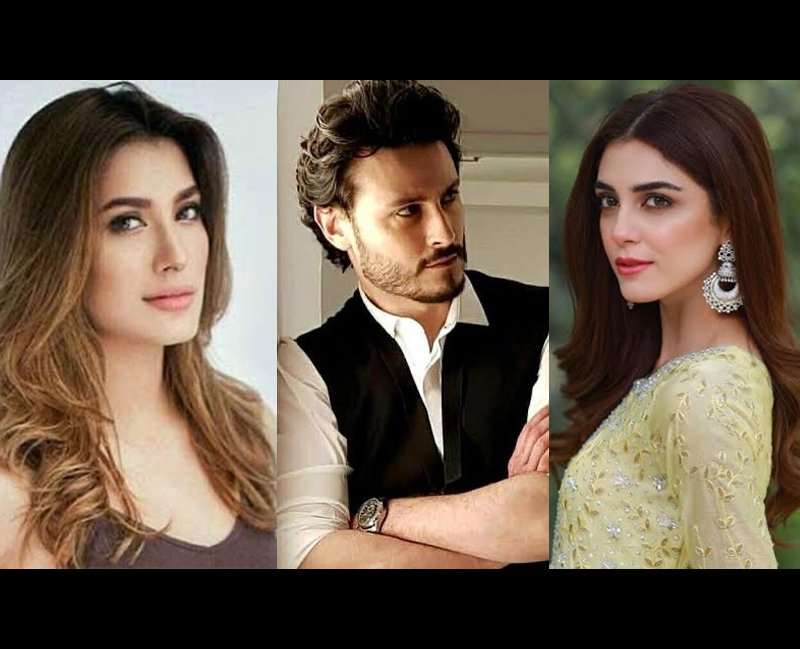 In case you were living under a rock, a certain Turkish show by the name of 'Diriliş: Ertuğrul' is taking over the airwaves and hearts of Pakistan.
The dubbed version of the show which airs on PTV Home daily has won hearts all over the nation, with comments of love and appreciation flooding the Instagram and Twitter accounts of the stars of the show.
A handful of Pakistani celebrities, however, strongly objected to a Turkish show being aired on Pakistan Television, including Shaan and Yasir Hussain:
https://twitter.com/mshaanshahid/status/1255174972219293697
I'm not against Turkish dramas plzzz for the last time understand that,I'm against the govt supporting imported content .. &giving local industry a thumbs down .. when pvt producers brought Turkish dramas the whole tv industry stood against it

— Shaan Shahid (@mshaanshahid) April 28, 2020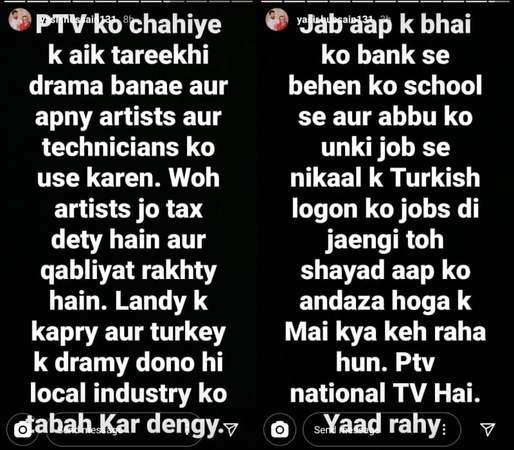 While some construed Yasir Hussains comments as xenophobic, considering how there are millions of immigrant Pakistanis taking jobs "away" from locals in England or the United States, some celebs came forward to defend the show:
Sharing my response to a post that insinuated our jobs are under threat:

I don't recall us actors finding ourselves jobless when Ishq-e-Mamnoon or Mera Sultan were all the rage in Pakistan. Nor did Turkish actors 'infiltrate' the local industry & replace us. – contd.

— Osman Khalid Butt (@aClockworkObi) May 18, 2020
Of course, I'd love it if our national television uses the revenue generated from this series to create our own original content – shows that can rival Ertugrul in narrative if not in scale, and showcase our own historical events.

— Osman Khalid Butt (@aClockworkObi) May 18, 2020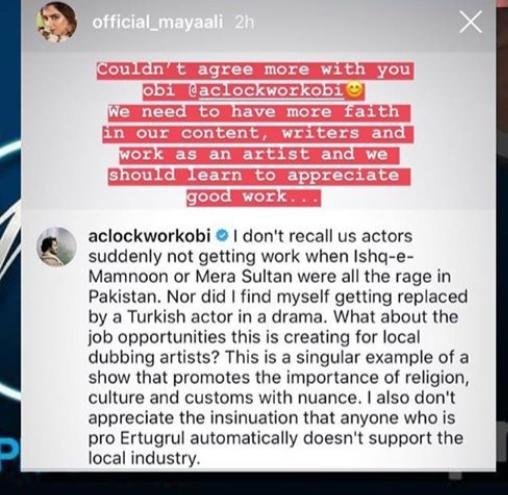 I don't know what the fuss is all abt? At the end of the day lets accept Dirilis #Ertugrul for wht it is; an educational drama series which has historical significance & gr8 moral lessons.I think Engin Altan Düzyatan is pretty hot. A bit like Leonardo Di Caprio no?#crushupdated♥

— Mehwish Hayat TI (@MehwishHayat) May 18, 2020
For a nation that until recently thrived on Bollywood content, and still has their eyes glued to their Netflix accounts full of International shows and movies, allowing only Pakistan made content to air is a bit ludicrous. Considering the majority of Pakistani content is still saas-bahu related, and considering a South Korean film won Best Film at the Oscars, times are changing, the entertainment industry needs to change with it.