A Local News Channel Confused the French 'Merci', Meaning Thankyou, for 'Mercy', Meaning 'Reham'
The Coronavirus has taken its toll on the entire world and our local media is no exception. In yet another case of misreporting, ARY news, without checking the most basic of facts mistook the French word 'Merci' for 'Mercy' and reported that France displayed the word 'Mercy' on the Eiffel tower, and is asking for 'Rehm'.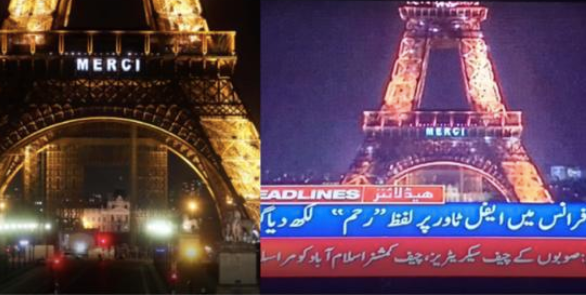 As a token of appreciation to all the frontline health workers who put their lives at risk to save those suffering, France lit up the Eiffel Tower, spelling out the word 'Merci' meaning Thank you in French as well as the call for citizens to Stay Home.
It seems in the process of trying to be the first to break the news, our local news yet again did not check let alone double check the news they were actually reporting. A word which is commonly known by people who might not even be fluent at French was mistaken for a word which is not even spelt the same way.
While this is not the first time, news channels have been found to report false information, in the times of a global pandemic, the media has a huge responsibility to the people to provide authentic and reliable news to educate people as well as avoid mass panic. Here's to hoping we all practice responsible reporting!