A Coronavirus Helmet? Who's Wearing It & Why?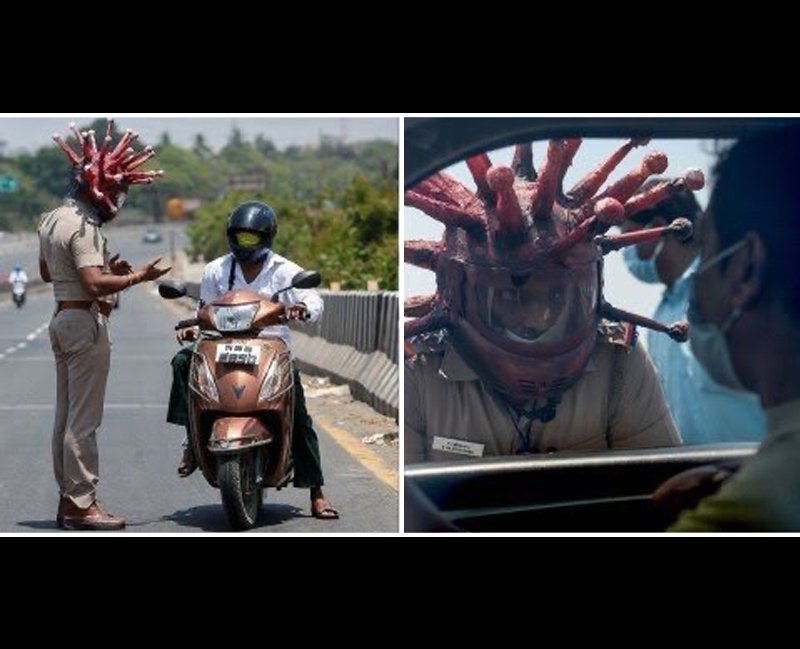 As India enforces lockdown, a police officer has found a super creative way to send a message across: Stay home to stay safe from the Coronavirus! Rajesh Babu is that police officer.
He is a police inspector in the southern city of Chennai. He opted to wear a specially constructed coronavirus helmet while stopping vehicles and pedestrians at checkpoints. The helmet is covered in red spikes with bulbs on the end, just like the microscopic image of the coronavirus, which causes the disease Covid-19.
Who Made the Helmet?
The idea was actually not that of the policeman himself. Local artist B. Gowtham, founder of the Chennai-based organization Art Kingdom, came up with the helmet after noticing a lack of public awareness around the pandemic and preventative measures. He decided that despite government orders, people were out and about without any masks or gloves on. So he decided to create something to ensure that "people will be frightened" once they see the virus coming their way (literally).
How Did Gowtham Make the Helmet?
Due to the lockdown, all art stores were closed. So Gowtham improvised by using newspapers and tissues to create the helmet with the spikes. He went to the nearest police station and gave it to Inspector Babu, who loved the idea. Ever since then, Babu has stopped people in cars & motorcycles especially those that are out and about with proper safety equipment. He tells them about the necessity of social distancing and protective personal equipment, and urges them not to go outside for nonessential reasons.
We must say, this has to be the most creative way of spreading awareness about the important of social distancing and staying indoors during the spread of the Coronavirus. Please stay home & stay safe!