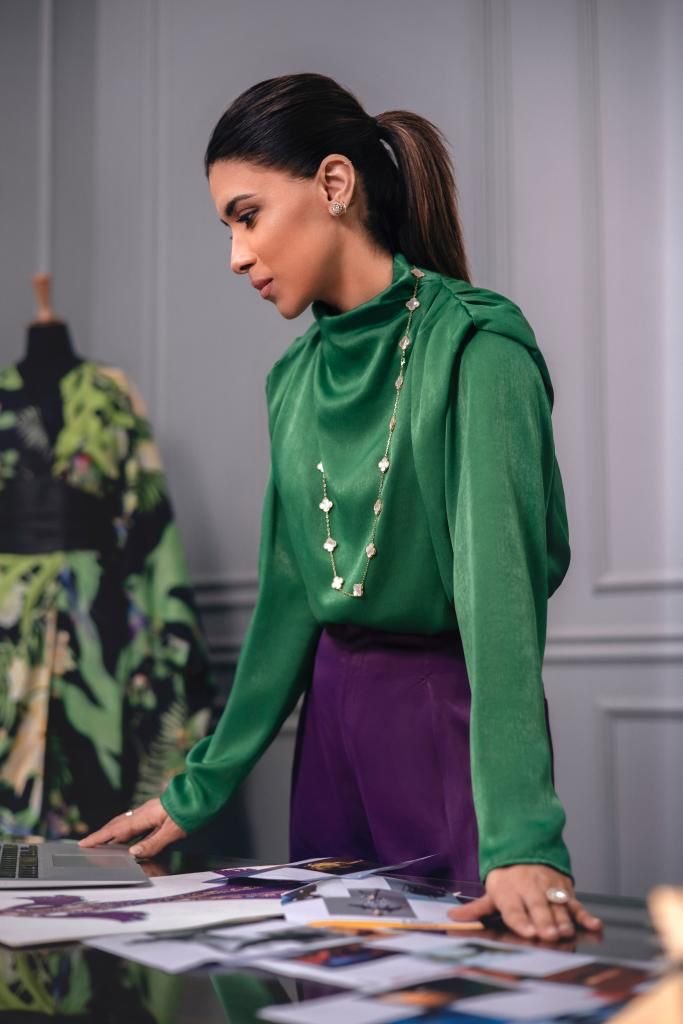 Education is a commodity in highly competitive industries. It is the backbone of all societies, an avenue for people to hone and develop talents that will benefit everyone.  In fields like fashion, it is vital to look over every possible dimension of learning in order to offer the most relevant sources of knowledge available. Universities like the Asian Institute of Fashion Design (AIFD) have made it their mission to provide the most prevalent knowledge to their students. Hence, AIFD's Co-Founder and CEO Maheen Lakhani Ahmar has set out to guide her students and offer skills that will prepare them for the fashion industry. Students at AIFD also recently came out with their first-ever fashion film which is currently breaking barriers in the creative space. We got a chance to speak with Maheen herself and ask her about the origins of AIFD, her background in fashion design and so much more:
Tell us about yourself. Where did you study and what was your major?
Ans. I come from a family with a diverse business background with interests in education, real estate development, and the hospitality sector. I completed high school at Karachi American School (KAS) and then pursued further education at the London College of Fashion (LCF). I was always interested in the organization, planning, and promotion of a fashion business and thus enrolled in LCF's Fashion Management program which is the most exemplary in the world. I have always loved and enjoyed fashion, style, global fashion trends, and the industry as a whole. I have worked with the renowned British designer Dame Zandra Rhodes and at retail brands including Top Shop and Selfridges for my dissertation projects at LCF, looking into their marketing and brand positioning.
Returning to Pakistan and re-joining AIFD, I wanted to make a difference in the field of creative academia.
What is the impetus behind your re-joining  AIFD and revolutionizing the curriculum?
Ans. Having studied Fashion Management in London, one of the major fashion capitals of the world with its vibrant street fashion culture; Fashion Weeks, and exceptional academic fashion institutes like the London College of Fashion, I was exposed to all of that and inspired to return to Pakistan and develop a creative academic hub that provided artistic students in Pakistan who were interested in pursuing Fashion, Textiles and Merchandising an enclave where they could explore their innate creativity and be taught to hone their skills and talents just like the students at fashion institutes in London and elsewhere. AIFD strongly believes in nurturing the individual expertise and forte of its diverse student body, imbuing each talent with well-honed skills inspirited by innovation, originality, and creativity whereby they undergo a progressive thought process buoyed by their own innate artistry; develop into exceptional designers and gain access into the global industries of Fashion, Textile and Fashion Marketing & Merchandising.
What was the impetus and story behind the creation and execution of the AIFD -produced  Fashion Film?
Ans. AIFD  proactively and creatively wanted to move away from the conventional thesis display of their students and opted to showcase their collection in a manner that was accessible for everyone. During the process of creating the AIFD-produced fashion film, students learned a myriad of additional skills including set and jewelry design, and costing et al. I was delighted to hear the storyline and witness the exuberance of the fashion film 'Enchanted  Odyssey' because I felt the students within the environs and under the tutelage of AIFD had opened up their minds; delved deep into their creativity; thought out-of-the-box, dovetailing a magically conceptual theme and storyline with their own exceptional creativity. I wanted them to document their fashion thesis efforts in a film for time immemorial.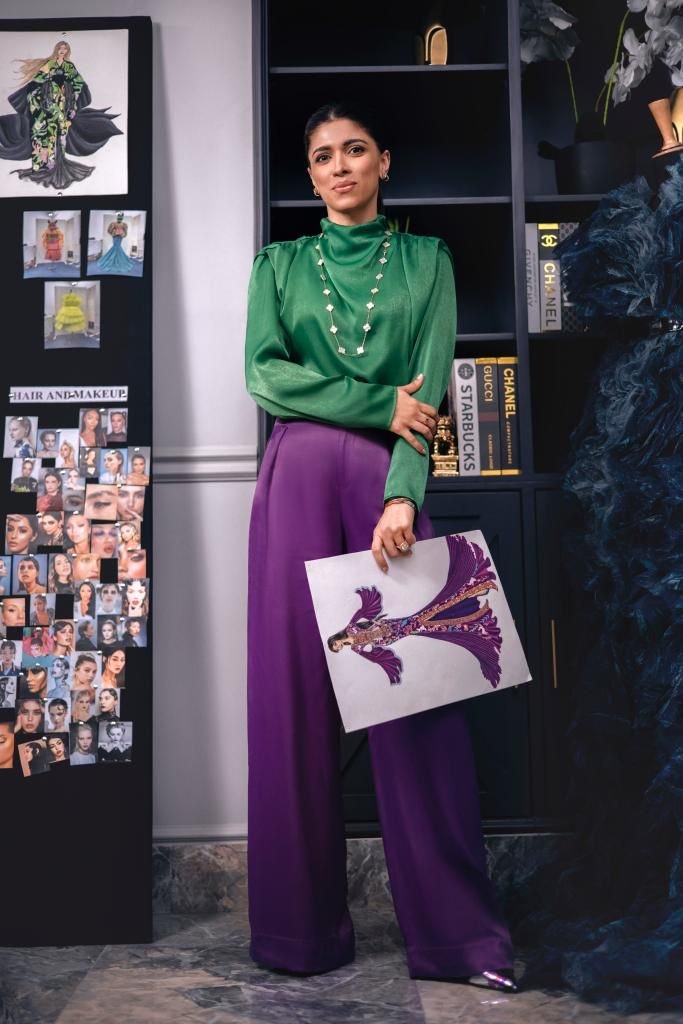 How would you describe the fashion film in your own words? 
Ans. Poignant. Experimental. Fashion-forward. Innovative. Magical. Mesmerizing!
What was your reaction when you saw the final result  of the fashion film?
Ans. I was absolutely mesmerized by the storyline which is poignant since it reflects the feelings of many creative individuals, especially fashion students who have huge couture dreams about making it big in the fashion industry. Foremost what delighted me was the astounding intricacy and attention to detail that went into the creation of the uber-innovative and gorgeous outfits and how beautifully they were captured on film.
What do you hope the fashion film contributes to the fashion world?
Ans. The pioneering 'Enchanted Odyssey' is a first-of-its-kind fashion film produced by an academic institution. It initiates a new wave of experimentation and collaborative work. It is ostensibly a novelty for the local industry and is a visual showcase of how fashion talent currently thinks, visualizes, and creates. It's a creative campaign and advertisement of the very best AIFD has to offer!
How did you come up with the inspiration and concept for the new curriculum and how do you aspire to help future AIFD students?
Ans. AIFD has endeavored to provide an eclectic, invigorating, and encouraging arena and maintain its repute as a fashion-forward and progressive institution and a game-changer in the field of academia. With its pioneering and immersive Fashion Design curriculum, my vision and objective has always been to maintain a balance between imparting artisanal technical skills; inculcating business prowess, and academia; a sure-fire triad that ultimately prepares self-cultivating graduates to navigate through and excel in myriad facets of the fashion industry; become exceptional designers and promote Pakistani fashion on an international platform. This is our ongoing philosophy.
After I re-joined AIFD two years ago I felt the institution however needed to be injected with a fresh dose of experimentation akin to the contemporary fashion-forward yet practical curriculums at fashion institutes around the world. I wanted the curriculum to be imbued with a fresh on-the-pulse of fashion zeitgeist focus! We have altered the curriculum and how courses are taught so as to be more practical and useful.
As well as existing diverse courses including draping, and machine-sewing. pattern-making and fashion  illustration that aid students to transform their visions into quality garments, we are now working on myriad projects and introducing courses such as set design for fashion pictorials or films; jewelry and accessory design; make-up and fashion styling; all the ingredients that are involved in Fashion. We are also working on the AIFD Ready-To-Wear line so that students create a product they can sell soon after they graduate, while simultaneously learning about cost, consumption, and the general and essential  "business of fashion."
What is your advice to AIFD Fashion graduates?
Ans. The advice I would offer currently-enrolled and future students and graduates is to believe in themselves; strengthen and embolden their vision and creativity; develop a strong signature style and have a practical and solid game plan for their future career paths.
Anything else you would like to add?
Ans. I would just like to add that the youth need encouragement from the established members of the fashion industry. Their talent should be recognized and they should be motivated to excel under their leadership. These young members are eager to learn and adopt and should definitely be given opportunities and a chance.
I am extremely happy and satisfied with the implementation of the freshly-invigorated AIFD curriculum which is highlighted in the stunning 2022 Thesis Collection and showcased in the magical fashion film 'Enchanted Odyssey.'
AIFD and it's students continue to raise the bar when it comes to taking risks in fashion design and remain at the forefront for being one of the prestigious schools for fashion in the country. We're already impressed with how much they've accomplished and can't wait to see what they do next!
To learn more about AIFD click the link below:
To watch AIFD students' full fashion film click the link here:  https://www.instagram.com/p/Cls6PBhJta2/