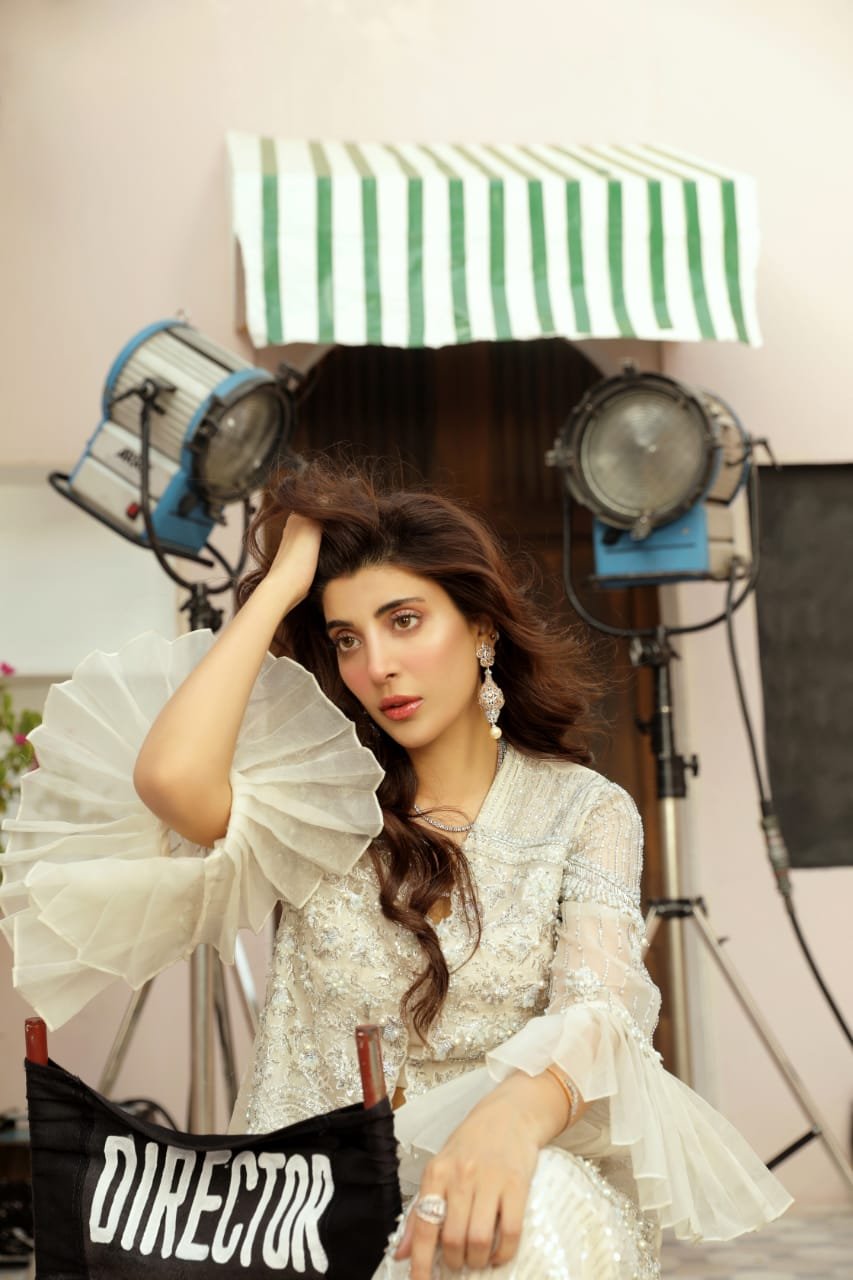 Urwa Hocane is one of the most celebrated actresses in the Pakistani entertainment industry. She is amazing not just on-screen but also off-screen. She is a fine actress, VJ, and model and has also produced her first movie 'Tich Button'.
Are you excited about Tich Button?
I think the project is something very close to my heart and I am very excited to share it with the world. I have learned so much during the whole process.
Being a woman did you face any challenges?
We face difficulties. I know most of the people will not like it and will say that we are the same people who talk about women empowerment but somehow that is the world we live in. There are hurdles for women and we need to gulp it down and digest it already I know people think that we always talk about this topic but it is so important to talk about it. So I feel as a woman it was very tough because there is a mindset and people are conditioned in such a  way that if I for instance need something to be done it takes an extra one hour to make people believe in me and to make them understand that you are very serious and this is the job that you're gonna do and you have to do it with so much patience because the moment you are going to lose your patience then they get another reason to not to agree with you. So, yes it is very hard. I am a very independent and empowered woman but I have still gone through it which makes me wonder those who are underprivileged what they must be going through.
How do you feel about not acting in your own film?
This was my first production so I didn't act in it because this was something new that I was learning and it needed my 100% time and my 100% attention. Everyone asks me why am I not in my film whenever I give an interview or even talk off-camera. It is because I really wanted to learn this and I wanted to be fully present. This is something where I feel that this is my limit. Otherwise, I have been acting, I have been doing my dramas. I know it's a very popular thing to believe that only an actor does everything but I being an actor and producer would like to tell everybody that it's the entire team always.
How do you manage to multi-task?
It does take a lot of juggling and sometimes one thing gets ignored and then you feel like you need to prioritize it. But then, of course, there are so many people and women out there that I look up to who are multi-tasking and doing it like a boss and they are so good at it. So, that keeps you going You get inspired from it. I think I am somebody who is really passionate about learning new things.
What was the inspiration behind UxM?
I and Mawra thought that we need to make such outfits that we like to wear. Whenever we used to travel abroad we saw that there were a lot of clothes available at such reasonable prices and we thought that there is a lot of space to add value to Pakistan's market. One day we thought that all these girls who get inspired by us like to know what designers are we wearing and why do we like to wear them. So, we thought that why not start creating our own thing because even with the other designers or stylists we give our input. So, eventually, the look that comes together is actually a collaboration between you and the stylist or you and the designer. The idea came because of the fans because they wanted more. So, we launched our first line and the response was amazing. It was unbelievable. We were scared back then but later we just kept going on and on because the response is so good.
What are you passionate about?
I think I am passionate about whatever I do I do it right and learn it well. My passion is to kind of being able to give back through whatever I am doing whether it is making clothes or making films or acting. It should add value to the world. So, now I am at a point in my life where I feel very passionately about giving back.
Any advice you would like to give to your fans?
As I said, I would say this to anybody younger or older who is listening to believe in themselves and know their worth, believe in their goals, their dreams, their ambitions. You don't need anybody else to believe in you. You just need YOU to believe in yourself. You don't need anybody's validation. If all these things were told to me when I was younger I would have liked it. I think I  was very hard on myself sometimes and there is no need to be hard on yourself. If you keep taking one step ahead and don't stop. The key is not to stop.

What is your way to detox?
I think sitting in quiet in peace and being close to nature is something that re-charges me. Sometimes listening to music as well if I am in the mood. I'm a fan of being with myself.
3 things you can't leave your home without?
3 things I can't leave my house without would be my wallet, my phone, and my confidence.
What is your favorite travel destination?
It is without a doubt up north Pakistan.
What one dish can you cook well?
I really like making breakfast, and good omelets.
Any project to look forward to?
The project to look forward to is Tich Button and that is something that I also look forward to as well.

Can you share any memorable moments from the set of Tich Button?
I think the entire journey of Tich Button is going to stay with me forever like every day, every minute.
Which songs are on your playlist?
Taali dy thalay by Nazia Hassan, Pasoori is making waves globally and I am so proud of the team and Naseebo Lal and Abida Parveen's Jhoom is so meaningful and is on repeat nowadays.
Any views about Sunday Times?
I think you guys are giving quality information and quality content. I am a follower of Sunday Times.
Don't forget to watch the full interview on our youtube channel.