#IamSatrangi: Bonanza Gives Tribute to Some Great Pakistani Women
Role models play a vital role in the growth of society. We must celebrate people who have achieved greatness in their fields while also managing their personal lives. The #IamSatrangi by Bonanza campaign looks at some of these wonderful Pakistani women who have surmounted enormous challenges to follow their true passions and be the best in the business. 
Zenith Irfan
Zenith Irfan, aka Motorcycle Girl, is truly an inspiration to women all around the globe. In a society where women's mobility has been restricted for generation, Zenith Irfan broke all the barriers. Following her father's dream, she has completed multiple trips on her bike across Pakistan. Thus far, this fearless girl has biked over 20,000 kilometers. Her family, including her mother and younger brother, encouraged her to set on this journey of self-fulfillment. Zenith Irfan has proven that you can achieve your dreams, be free, and make your family proud. This girl truly embodies the idea behind IamSatrangi, as she does it all without the expense of her personal life.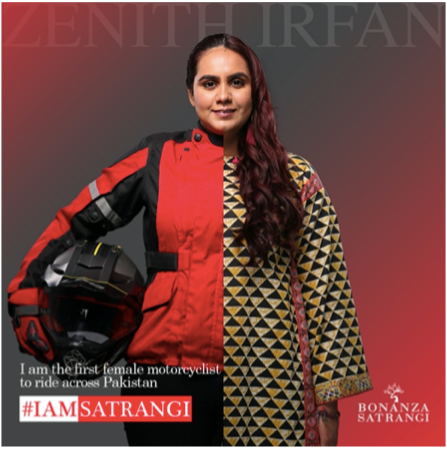 Eman Khan
Eman Khan's Insta profile bio has the following words
"It ain't all muscle; it's all heart."
It takes heart to start up a sport know about in the country. It takes heart to be exceptionally good at it. It takes heart to defy expectations and follow your passion. It takes heart to be alone and slug it on in the gym when there are a lot of easier options available. It takes a lot of heart to be true to yourself and find a way to ensure your loved ones are on board with that idea. EmanKhan has undoubtedly achieved all that and more. A superstar in her own right, this Bonanza Satrangi woman will be going places. Or as she might put it, she has many more hearts to win over.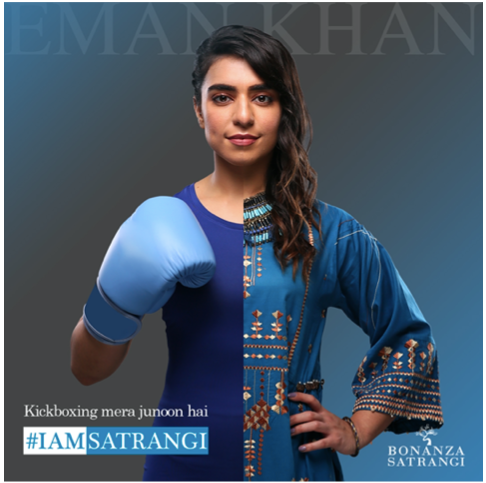 Maliha Rehman
One of the leading voices of Pakistan's entertainment industry, Maliha Rehman, is a role model for all aspiring journalists. In an age of political and social divide, she has managed to keep her distinct voice, and her stories always give you something to think about. By holding her own in the face of opposition, she has spoken for the good of society at large. While doing so, she has also managed to keep her peaceful and joyful personal life. A happy balance, we all strive to achieve. The phrase IamSatrangi has been coined for brilliant individuals like MalihaRehman.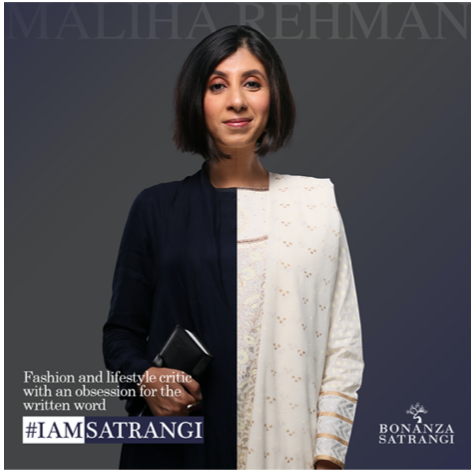 Zarnak Sidhwa
See Also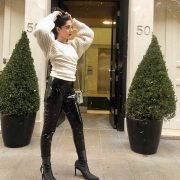 With a considerable following, Chef Zarnak Sidhwa is an influential figure of our times. Her expertise as a cook is on par with her intellect. She has been able to achieve great success and, at the same time, have a beautiful family life. She is an example for all women who think work-life balance would be challenging to achieve. Follow her and be a Bonanza Satrangiwoman.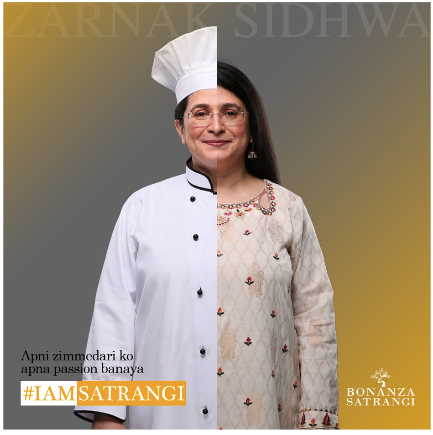 Areeba Siddiqui 
A beautiful mind – that is how we would define Areeba Siddiqui. Her imagination is so vivid, and her ability to translate those ideas through artwork is absolutely astounding. She speaks to each one of us with every piece of work she puts out. This can only be possible when someone is comfortable in their own space. Areeba, like all Bonanza Satrangi women, is expressive but also finds ways to switch off from the world. There is time for her and her family only. This is how she is able to see such colorful and happiness in the world. An artist we need to celebrate a lot more. Areeba personifies what it means to be a Bonanza Satrangi woman.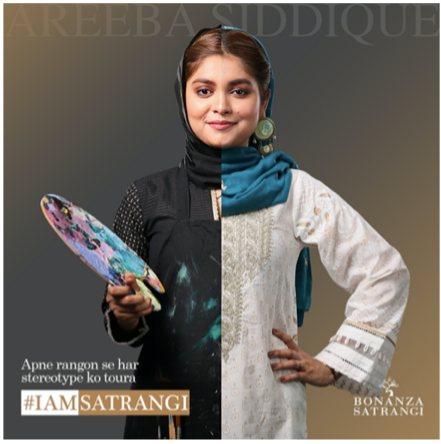 These are few of the countless Bonanza Satrangi women who battle stereotypes and prejudices every day to perform miracles. On the occasion of Women's Day, we say thank you to all the women who are making our world a better place.