All the Pakistani celebrities never fail to impress us with their jaw-dropping looks. Saheefa Jabbar Khattak is one of the celebrities who keeps her style game on point. She makes everyone a fan of her spectacular outfit choices and exquisite styling. We are in awe of her fashion sense and how well she carries all that she wears. Here are a few of our favorite looks of Saheefa Jabbar Khattak that prove her a style icon! From lehenga choli to sarees, chic western attire to everyday wear, she carries it all.
Lehenga Choli
The queen of lehenga choli! Saheefa carries all the looks with utmost grace making every outfit look absolutely stunning. The gorgeous lehengas paired with exquisite jewelry add a magnificent element to every look.
The red lehenga choli by Hussain Rehar is a sight to watch on the gorgeous celebrity! With perfect fitting and modern cuts, the outfit looks heavenly. Saheefa carries the entire look with elegance and delicacy that can be easily replicated for the next wedding event. It is the ideal outfit for the perfect mehendi look that you wish to achieve.
View this post on Instagram
Another lehenga choli by Hussain Rehar is adorned to perfection by the lovely celebrity. With minimal embellishments and the lavish fabric, Saheefa depicts an epitome of elegance. Also, the extravagant grey look adds a modern aesthetic to your wedding wardrobe. She is the perfect reminisce of finesse and grace in this minimalist look which is the perfect outfit to be replicated at a day event.
Saree
Saree itself is a graceful outfit that is styled to perfection by the gorgeous actress. She carries all the looks well that depict royalty and glamour. The magnificent saree looks of Saheefa are our favorite as she enhances the beauty of the outfit with the exquisite fashion sense! From solid colors to floral sarees, the gorgeous model styles everything in a sophisticated manner blessing us with magnificent looks. Moreover, Saheefa tries out different makeovers with different outfits exhibiting the courage to experiment with new looks.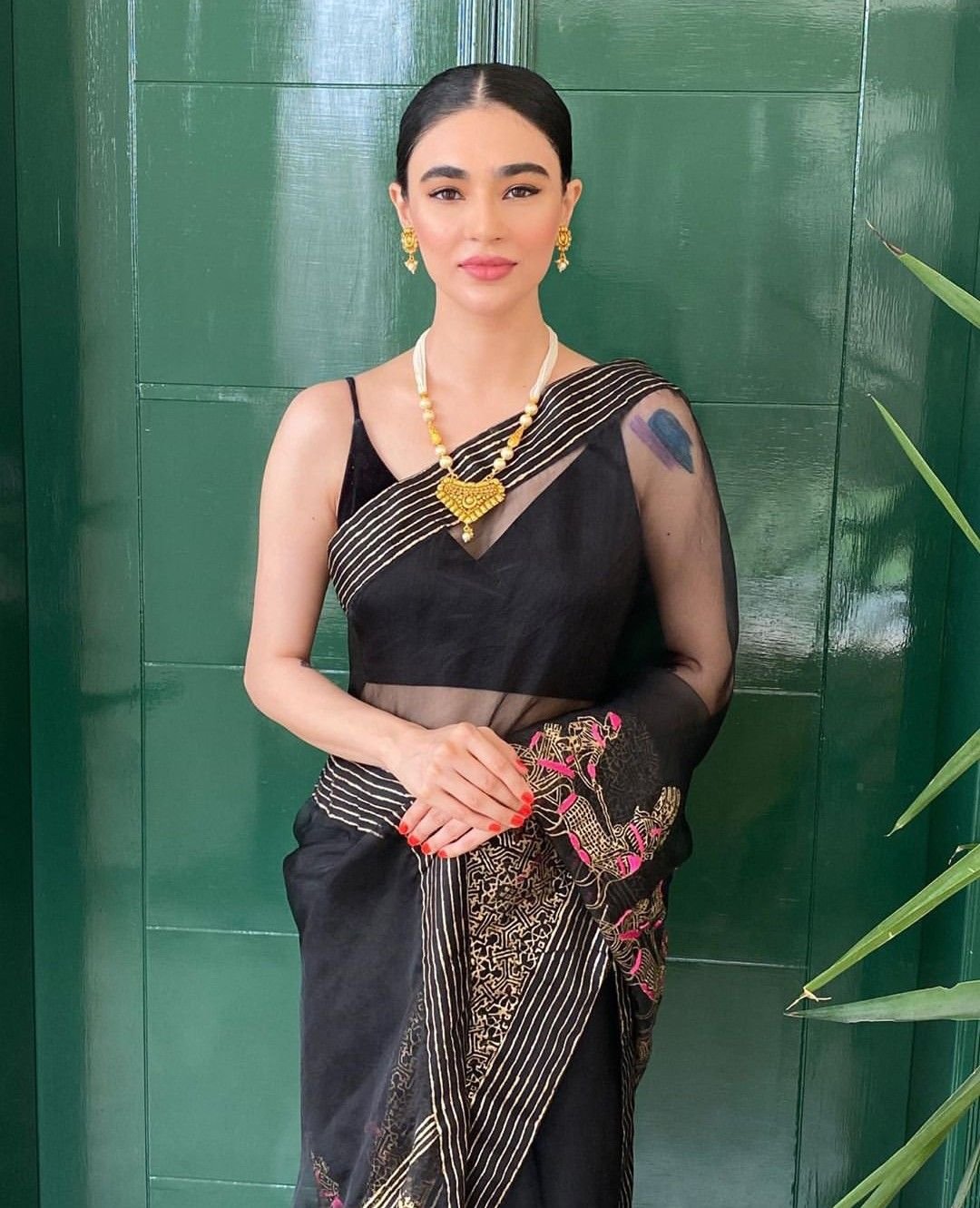 Western attire
As beautifully Saheefa carries the eastern and wedding wear, she adorns the western attire with the same perfection! We are in awe of her fashion sense and how distinguished style the versatile celebrity has. From power suits to feminine dresses, she does it all. Styling all the outfits in a sophisticated manner, Saheefa becomes a style icon for all of us making us a fan of her powerful looks! Furthermore, combining comfort and luxury, she impresses us with her fashionable style.
Everyday wear
Saheefa is a sight to watch even in her everyday wear. She styles the most comfortable clothes in a manner that depicts her on-point fashion sense. Her opulent style makes her an absolute diva! Sweatpants and shirts seem to be her go-to outfits for everyday wear that she carries perfectly.
Along with everyday wear, Saheefa's gym style is also to be noticed. She is an absolute fashion icon serving us major looks in activewear,
Styling Queen
We discovered a hidden talent of the gorgeous Saheefa that is making styling videos. She curates such amazing styling videos that we cannot stop watching them on repeat. The stylish model is definitely the queen of styling videos as she styles all the outfits in a refined manner exhibiting all the details. From rapidly changing clothes to the amazing choice of songs and the priceless expressions, Saheefa wins our hearts!
Evervanna
The versatile celebrity is also an entrepreneur who owns her own brand, Evervanna. It is a street fashion brand consisting of comfortable everyday wear to keep you easy. From eastern to western wear, the brand is a fusion of both. The actress does it all proving to be a real style icon and diva who should be appreciated for her fashion sense and style goals! We are in awe of the magnificent outfits and glamourous looks created by Saheefa Jabbar Khattak who continue to win our hearts.
View this post on Instagram
View this post on Instagram