Summer is all about new styles, vibrant colors and breathable fabrics. From flaunting your favorite fashion looks to adorning and experimenting with new looks, say hello to summer in the most stylish way possible. However, with prices on such a high, spending money on clothing seems unnecessary
Luckily, the Ideas Great Summer Sale is offering a discount of up to 70% off on the unstitched collection as well. Known for its high-quality fabric and non-fade colors, GulAhmed's unstitched fabric is one all ladies love. The prints and color combinations are more unique than ever and are the perfect way to welcome the hot season.
To make things easier on your part, we went on a scavenger hunt and found the pieces we have our eyes on:
Cool Like the Breeze
This ensemble is the epitome of summertime mainly because of its breezy color. Light shades of blue are a treat in the hot months. This three-piece outfit features a printed lawn shirt paired with a printed lawn dupatta and dyed trouser. Get it stitched as per your taste, add embellishments on the sleeves and neckline to take the look of this outfit to the next level.
Make a Bold Statement
Color blocking is all about contrasting the right colors to create a unique look. This outfit flaunts a classic color combination – white and shades of mustard. Featuring a printed lawn shirt with a printed lawn dupatta and plain trousers, this outfit can become a summer favorite. Pair it with the right accessories and make the ultimate fashion statement.
Yellow like the Sun
Bright and vibrant colors like yellow and orange scream summer. The colors are enough to help you make a fashion statement that no one will be able to overlook. This three-piece suit features a printed yard dyed shirt with a printed yarn dyed dupatta and plain trousers. To add pizzazz to the overall look, pair it with a bright lip combination and be the sunshine of the season.
Pretty in Pink
Look like a stunner in this gorgeous pink outfit featuring accents of orange and printed flowers. This outfit can be stunned at any day time event or even when you are lounging around the house. This three-piece outfit features a printed lawn shirt and printed lawn dupatta along with a dyed trouser to the in the entire look together.
The Woman in Red
Red is a staple wardrobe color. It is important for every fashion loving woman to have this color in their collection. Lucky for you, this gorgeous unstitched ensemble is on a delightful discount and you can shop to your heart's content. This suit features a printed lawn shirt with a printed lawn dupatta and a plain trouser.
Nature-Inspired
Shades of green are lovely when they are styled correctly. To make things easier on your end, this two-piece is providing you with the ultimate fashion solution. Pair this printed lawn shirt with a palazzo, Izhaar pants or gharara to look traditional and modern. Accentuate the look with gold lace and you are good to go!
Timeless and Classy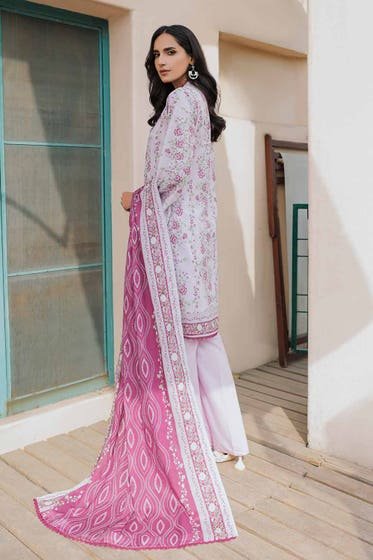 Now it is easier than ever to look timeless and classy. Thanks to GulAhmed for helping all of us this season to look chic as ever on the best discount. Without having to put a dent on your pocket, you can get your hands on your favorite products. This three-piece outfit features a printed lawn shirt with a printed lawn dupatta and plain trousers.
To get your hands on these lovely unstitched pieces, you can head over to your nearest Ideas store or shop online at www.gulahmedshop.com. With a flat PKR 99 fee and 30-day exchange policy, you can shop without any regrets.