The world evolves day after day only to inspire the minds of many. Lajwanti, since its inception in 1993 has rested on the foundation of Mughal Grandeur, but for the very first time has dived into the Mughal world of architecture and interiors.
Under the patronage of Mughal emperors, Persian, Indian, Turkish, and various provincial styles were fused to produce works of quality and refinement. Rewind to the time of a very special emperor, Jehangir, a man who held an appreciation for paintings over architecture.
Together with Lajwanti's love for color schemes alongside the revival of the Mughal era and Jehangir's eye for painted detail within refined monuments, the brand brings to you " Laal Bahaar " . A red bridals collection, influenced by the art and architecture that was birthed during Jehangir's reign, from where every motif, every arch, and every inlay has been incorporated in the most wholesome manner.
The story of the campaign in all its essence is a tribute to the great eemperor'screations. Where each ensemble is a reflection of the art harbored in these ancient structures and is present as manifestations at the final resting place of the Jehangir. Whilst on another front, hinting at a subtle love story brewing between the lines.
View this post on Instagram

There are a hundred different styles you can go for on your wedding day. You can either stick to the classic as bridal dresses for baraat especially are made on the silhouettes of classic and traditional taste, but you can also mix it up and play around with more effortless and modern cuts as well.
If you want to truly stand out and look regal on your big day, then Laal Bahar by Lajwanti is your best option. Here are some of the graceful silhouettes that have caught our eye from the stunning collection!
TAJ
Bridal / Lehnga Choli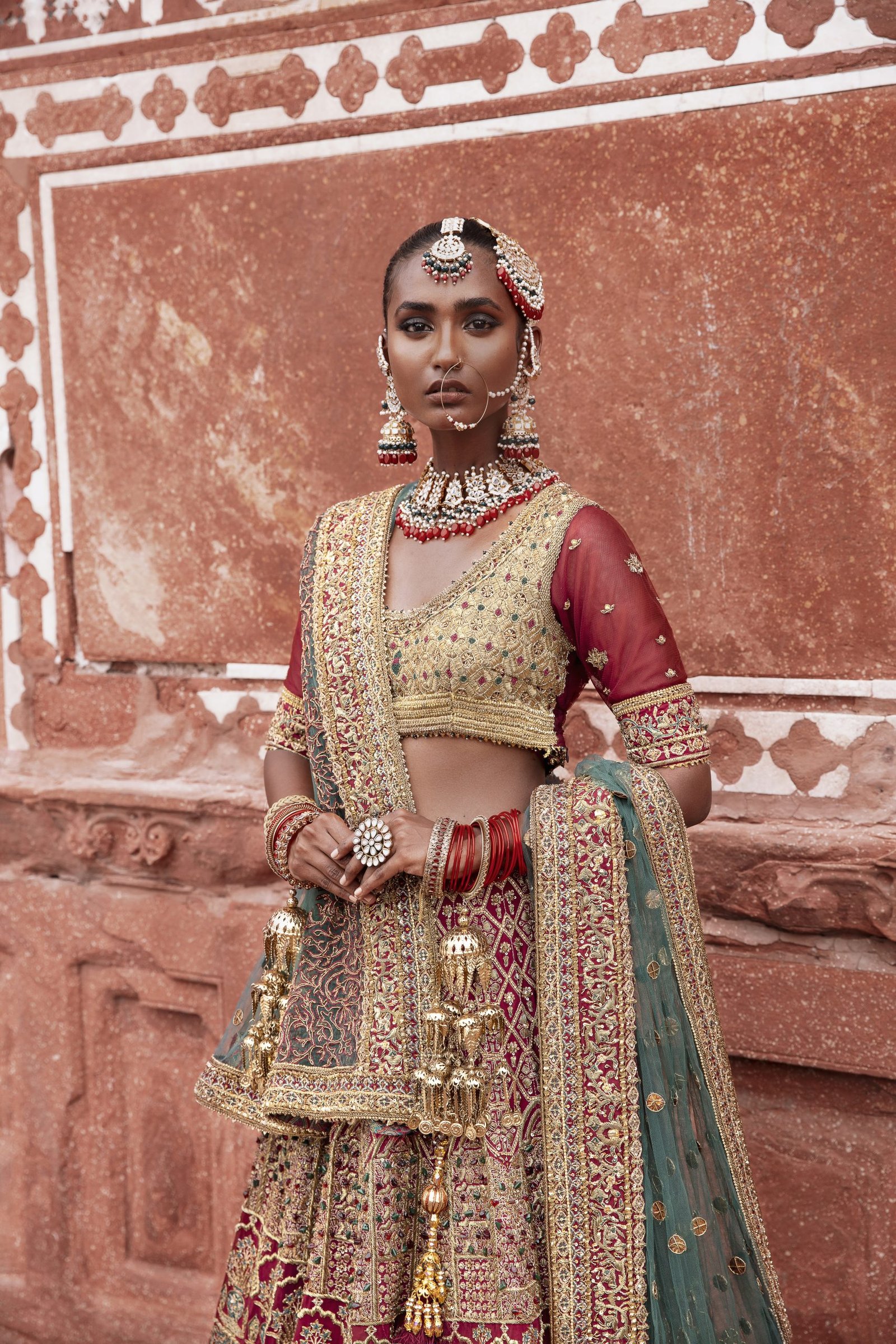 The Crown Jewel of the " Laal Bahaar" collection, Taj takes its inspiration from the architectural elements & floral inlays of Baccha Taj, Described as the "Jewel Box" of India, Baccha Taj is a Mughal mausoleum from the ancient city of Agra. This bridal lehenga choli harbors a multitude of hand-crafted intricate work. The choli is rich in dabka & Resham work with hints of green and maroon & is highlighted with copper sitar along the choli border. The lehnga panels contain meticulously placed arches, fresco reflections & floral motifs in dabka-naqshi, aquatic crystals, and gota-Dori embellishments alongside green Resham Completing the look are two teal and red dupattas, which are highlighted with mukaish rings, antique dabka, and mirror-cutwork.
MOTI
Bridal / Lehnga Choli
Inspired by the elements of the 17th century, a religious building situated within the Lahore fort, Moti Masjid, was built in a rare white marble brought from Makrana. Moti is a heavily embellished red bridal lehnga choli, The choli's inspiration stems solely from the railings of the building, richly incorporated dabka-nashiwork with Sitara and multi pani-moti coupled with copper, pink Resham, and specs of green. The lehngas panels are an ode to the arches and skirting alongside the domes in naqshi pitta work with multi-golden sitar and floral motifs. A pink chiffon dupatta with mukaish clusters highlighted with a heavy border.­­
SHIRIN
Bridal / Peshwaz
Shirin draws its inspiration from the vibrant color palette and meticulous details of the Tomb of Jehangir,
Monochromatic to look at, but the splendor of design, spectrum, and beauty up close, is a timeless marvel. An open front gown, in a subtle grassy green that blankets the top half with kora-dabka and naqshi work in a brushed gold color scheme, copper cut-dana, moti Sitara Kundan, and green Reshami are some of the many embellishments that make up the ensemble. A forest green, pure jamawar lehnga, elevated by patterns taken from the exterior of the building, lifted with maroon Resham cut-dana & fashion dabka. Completing the ensemble is a dupatta in pure tissue, in a shade of green-gold, highlighted with side-jaal work in dabka naqshi and crystal cut beads.
PALASH
Sherwani
View this post on Instagram
A post shared by Lajwanti (@lajwantiofficial)
Palash is a Sanskrit word for a rare flower known as the "Flame of the forest". A scarlet sherwani in pure karandi, doused in monochromatic floral details of vines and petals. An ode to the visual of having a red monument encompassed by a dense, green thicket. A cotton kurta and trousers in a similar color lay under the sherwani and are elevated by Mughal khussas and a crisp turban. Highlighting the sherwani, are the immaculate gold and silver details that occupy the collar and the cuffs of the ensemble.
AGNI
Bridal / Saree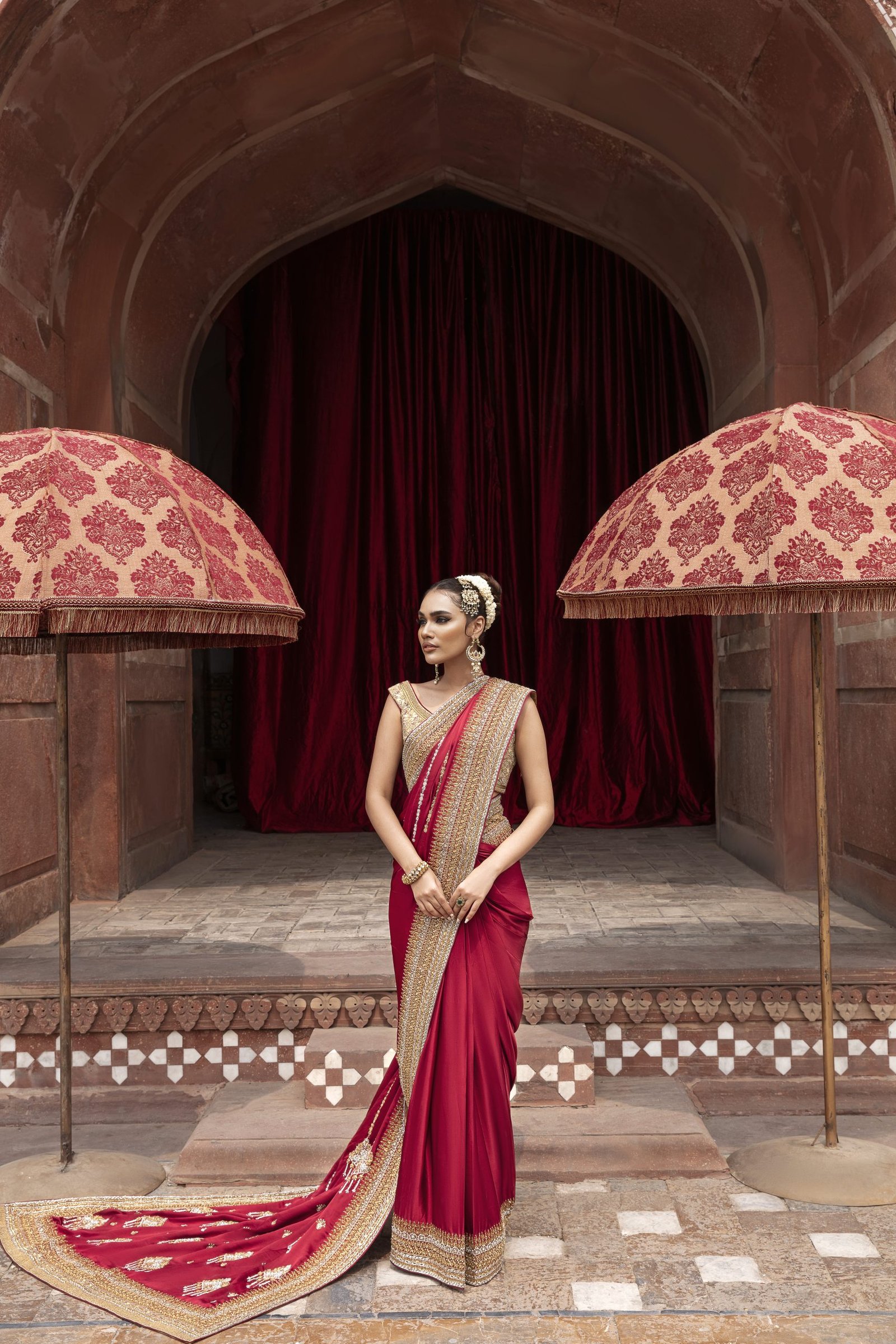 Agni, the silk flame from the Mughal hemisphere, is a breezy, currant-red saree that harbors an antique gold choli with dabka-nashi and silver kangri elevated by geometrical patterns further embellished in tilla. The saree is in pure shamose silk, with stands of gold and silver hand-crafted dabka that run through the middle, and the borders are made up of intricate, handmade Sitara & kora work as it aims to mimic the motifs of a forgotten world.
AGAN
Sherwani
Agan is gold and beige sherwani in pure karandi with gold thread, organic intricacies paired with a beige kurta, and trousers in pure cotton. Adding a hint of grandeur to the ensemble is a minimalist, gold-laden collar, silver & bronze khussas, and a beige monochromatic, patterned turban.
MEHAL
Bridal / Peshwaz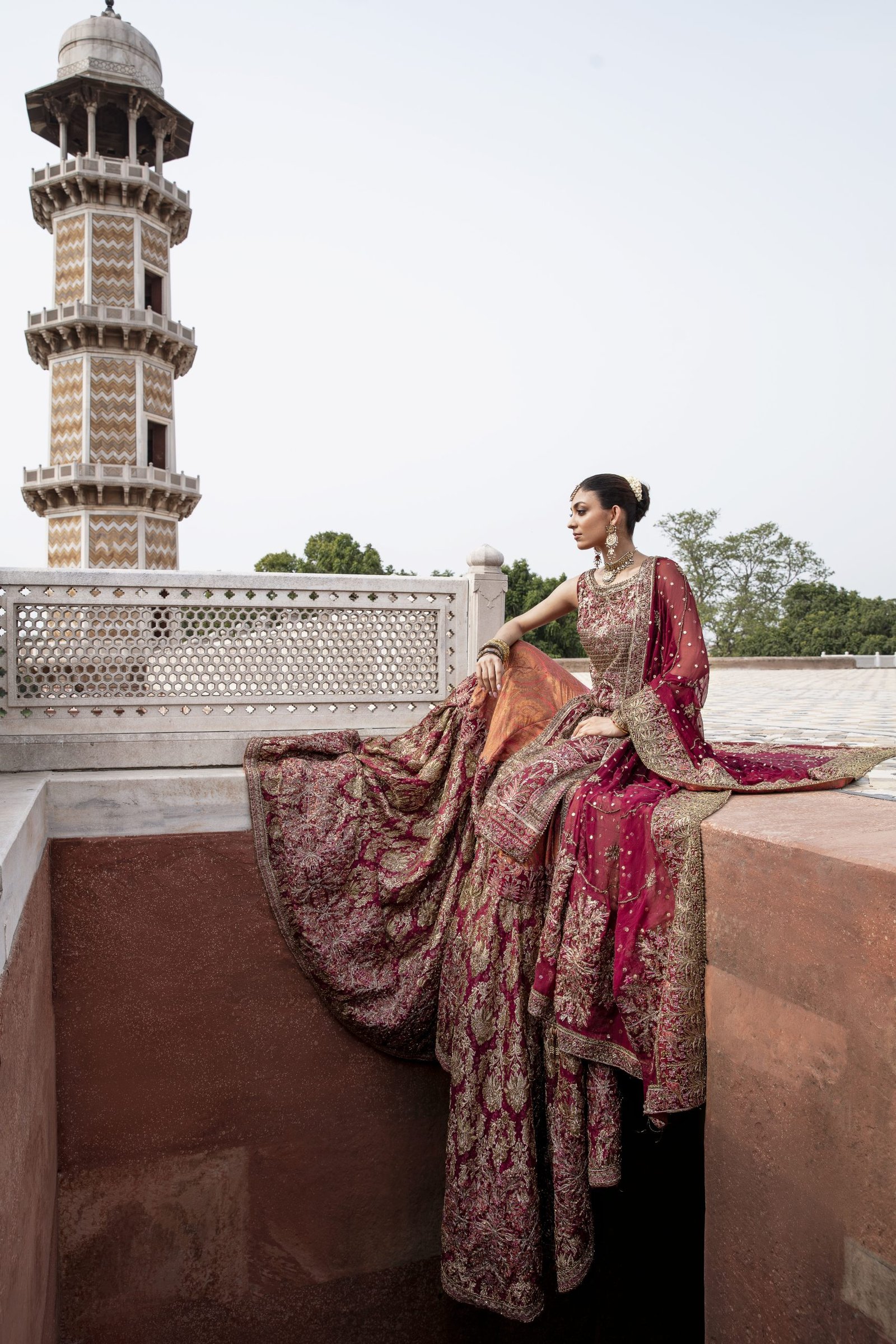 Mehal represents one of the most note-worthy structures within the Agra fort in Delhi, Jehangir's Palace. With high-rise elephant doors and faded turquoise, almost silver, feature walls, speaks of delightful decadence. This bridal ensemble consists of a long shirt with asymmetrical side buttons and a shirt generously embellished with gold dabka, chorsi & sitar work uplifted by bird motifs. A dual-toned sharara in pure jamawar with cascading Sitara details and light gold moti work. A dupatta in pure chiffon, decorated at its edges with large, crystallized, floral designs whilst its borders are enriched with copper Sitara work, Chandni patterns of small birds, and mukaish sprays.
MINARI
Bridal / Lehnga Choli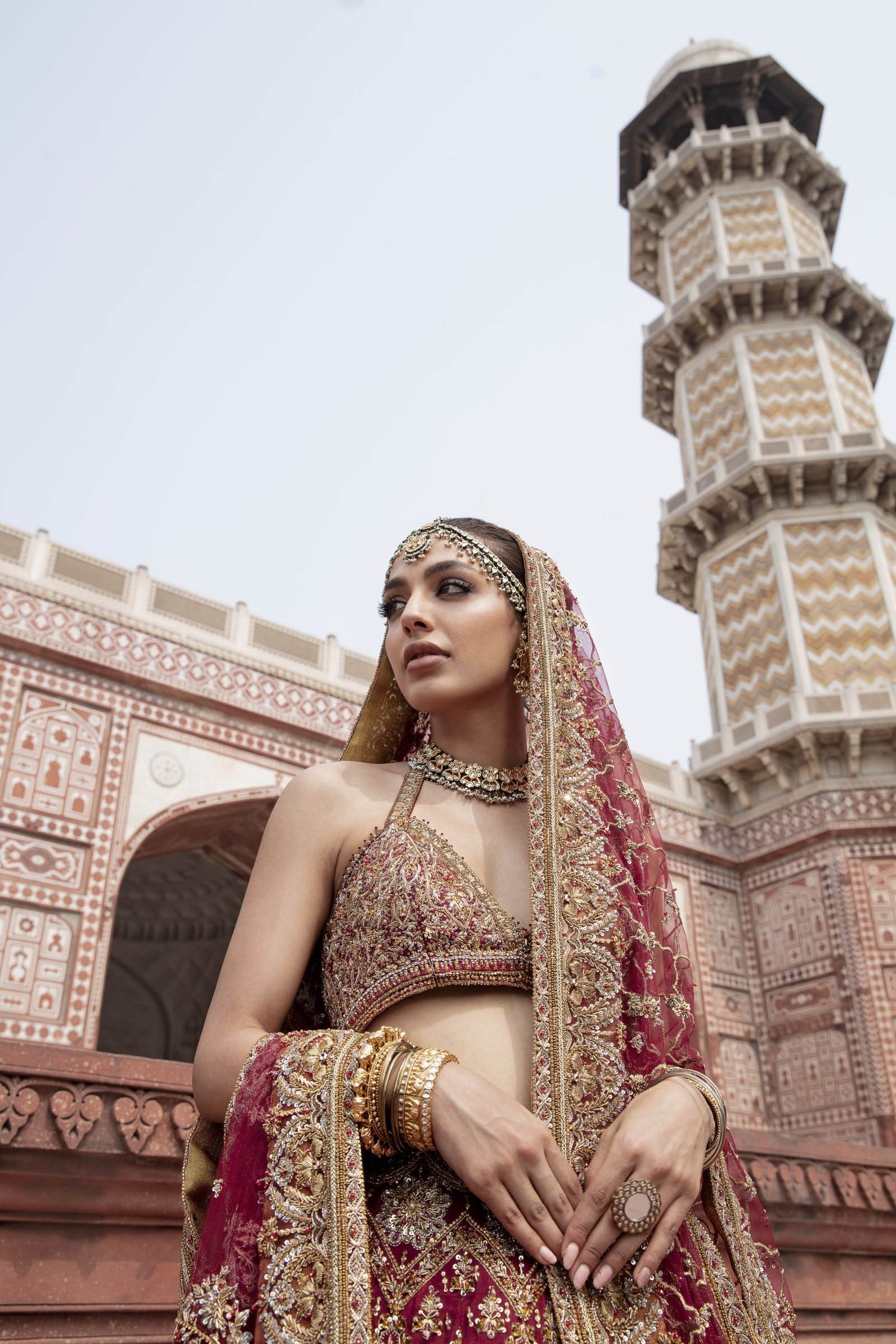 Based on one of the largest forts in India, called the Chittorgarh Palace, covering an expanse of 19 large temples and 20 water bodies, the monumental site is home to unparalleled details in terms of both design and beauty. The Minari bridal ensemble is in a subtle shade of maroon with hints of peach, pure cut-dana, Chandni& multicolored champagne crystals to complete the halter v-neck choli and lehenga The lehnga is home to a multitude of intricate, polygonal patterns accentuated by pearl ferns and embroidered flora. The dupatta hosts heavy borders and a Mughal jaal in gold thread.
BEGUM
Bridal / Peshwaz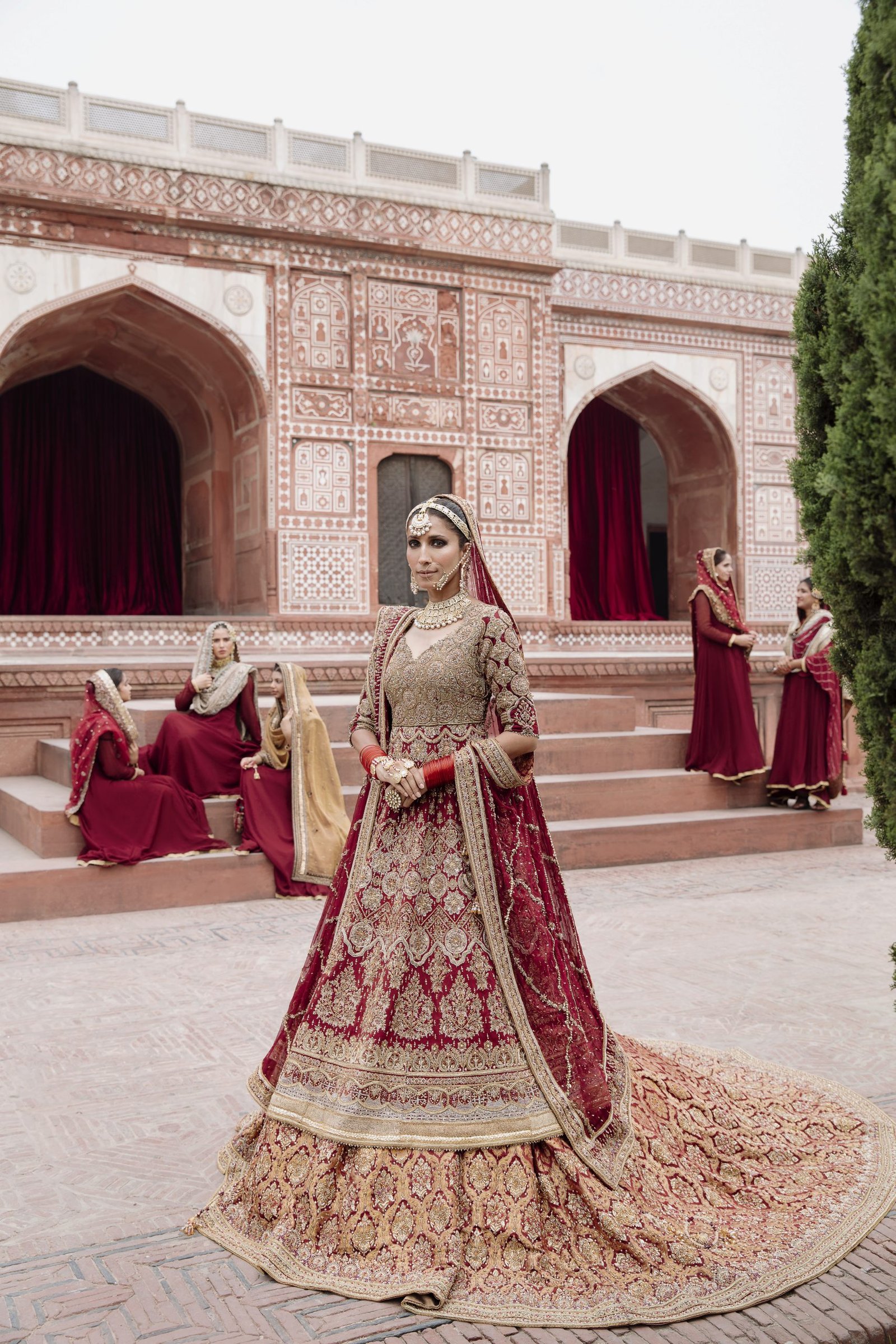 Situated in the walled city is the mosque of Begum shahi, Built-in 1611, with Persian details design. The Begum bridal speaks of unspeakably breathtaking grandeur from its time. The patterns and indentations present on the ceiling of its domes greatly influence the motifs and placement that blanket the Peshwaz. with maroon, rust orange, and gold making up its color palette on a pure raw silk fabric, pure cut-dana, Chandni & multicolored champagne crystals complete the peshwaz, a lehnga in fashion jamawar covered in heavy jaali work coupled with a dupatta in pure chiffon, with a criss-cross jaal in the middle, enhanced with gota patti, intricate details and heavy borders.