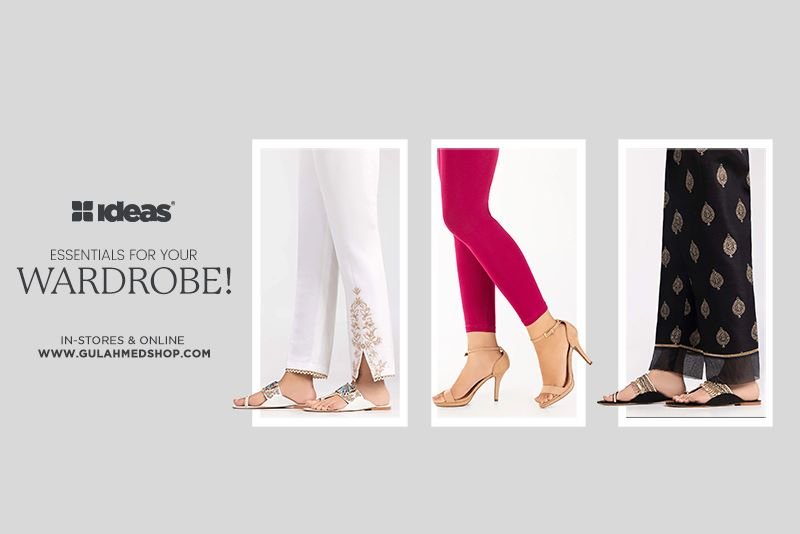 As women, every time we go outfit hunting, it's always the trousers and pants that are usually the least detailed article of clothing at every store. Even though they are the most essential piece of any desi outfit, they hardly ever seem to catch any retailer's attention especially when it comes to the detailing, cuts, comfort and style. 
Considering that women's trousers are a staple piece and a not just limited to a single outfit, kameez or kurta, we wonder why there is such a shortage in the market for women's pants that have the versatility and depth of design which can amp up any outfit? 
Thankfully our quest for the perfect pair led us to Ideas Pret amazing lineup of women's trousers that will add an oomph to the most casual outfit of yours! 
But that's not everything we were looking for in our perfect pair of pants and trousers!
When we're picking a shalwar, trouser or basic tight from our wardrobe, the first thing we look for is comfort and the flexibility to pair the same set of shalwar with multiple other kurtis and tops but without compromising on the style. Because let's admit it! nobody wishes to look unflattering in the name of comfort, right? 
It's always a win-win for us women when the pair of trousers we choose is comfy and fashionable. That's when we feel we have gotten value for our hard-earned money! Browse through the store and you're sure to find just the right trouser for that beautiful kurti rotting behind in some corner of your cupboard because you couldn't find a trouser to go with it. 
What we love about this new collection is that the women's pants section has all sorts of variety suitable for all seasons, styles and occasions. There are formal trousers, basic trousers, shalwars as well as tights for you to choose from. 
https://www.gulahmedshop.com/black-raw-silk-embroidered-trousers-tr-22-28
https://www.gulahmedshop.com/white-embroidered-raw-silk-trousers-tr-22-38 
Formal trousers are beyond beautiful to say the least! The exquisite minimalistic embroidery and attention to detail makes them perfect for a classy look when paired with that heavy kurti you probably have in mind for a family gathering or a wedding event. We all know the thumb rule of fashion that if our shirts are heavy, we go light on the trousers. So, keeping that in mind Ideas has a beautiful variety of formal pants for you to pick and choose from. 
https://www.gulahmedshop.com/screen-printed-cambric-shalwar-wgk-trs-dy-52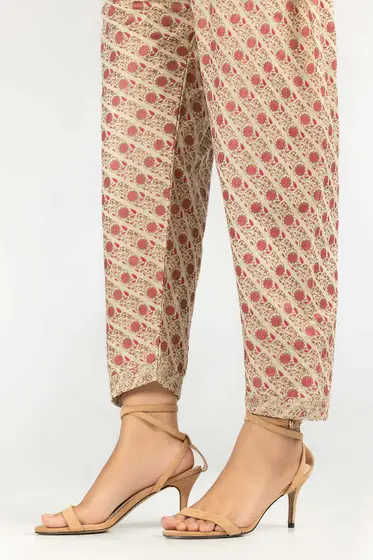 https://www.gulahmedshop.com/screen-printed-cambric-shalwar-tr-21-97-b
With shalwars becoming increasingly trendy, it's no shock that Ideas has a super trendy collection offering printed, embroidered and basic shalwars that can be paired with a plain white kurta or anything else you want to pair them with to make the heads turn! 
https://www.gulahmedshop.com/white-screen-printed-raw-silk-pants-tr-21-163
https://www.gulahmedshop.com/beige-cambric-festive-trousers-tr-21-135
Casual trousers are honestly a holy grail for us women and why wouldn't they be? They literally go with everything! Be it a colorful kurti, a printed top or a basic one; casual trousers are always our go-to for daily wear. Ideas casual trousers have amazing quality that will make you feel comfortable throughout the day! 
https://www.gulahmedshop.com/navy-jersey-tights-tr-21-50
https://www.gulahmedshop.com/purple-jersey-tights-tr-21-50 
Tights are never going out of fashion because of their sheer versatility. Pair with any outfit and you can instantly sport a modern chic look.  Ideas has various color options making it easy for us to find the perfect match for our digital printed kurtis. And if you are just a "back to basics" kinda girl, then simply grab the black and white tights from this collection and you're sorted.
The best part about these women's trousers is that they're available at unbelievable prices at Ideas. Nothing's better than clothing at affordable prices that too from Pakistan's most loved high-end fashion brand! So, wait no further and grab your favorite picks now available in stores and online.