Located in the vibrant epicenter of DHA Lahore's Y-Block, SAPPHIRE proudly introduced its latest marvel, a cutting-edge Next Gen store, on Sunday, November 5th, marking the occasion with an exclusive launch party. This new store encapsulates the essence of SAPPHIRE's new signature store aesthetic — a blend of contemporary elegance and innovative design, where form works with function in perfect harmony. A standout feature of this store is its pioneering visual technology, elevating the shopping experience to unprecedented heights. Join us on an immersive journey through SAPPHIRE's one-of-a-kind extraordinary retail experience.
View this post on Instagram
CONTENTS:
A Captivating Façade
Gateway to Retail Bliss
Ready to Wear Realm, WEST Zone & Customisation Station
Menswear Hub & Home Haven
A World Full of Unstitched
An Extraordinary Retail Experience
A Captivating Façade
As you approach the entrance of the building, you'll be greeted by a captivating façade; a work of art that seamlessly transitions from an opaque window during the day to an extraordinary color and light spectacle at night. This is a testament to the innovative design and technology that SAPPHIRE has employed in the creation of this cutting-edge, next-generation store.
Gateway to Retail Bliss
Once you enter the building, you are greeted by an awe-inspiring screen that starts from behind the counter and stretches along the ceiling playing specially commissioned 3D artworks. Next to the counter is the Beauty Zone which has its own separate pod area, the Gifting Station features exclusive gift boxes, luxurious fitting rooms, and of course the latest collections are exquisitely displayed on rails and mannequin displays.
Explore the Beauty Zone which showcases all of SAPPHIRE Beauty's cosmetics and fragrances, ready to be swatched and sampled. Bring your friends or treat yourself to a solo shopping spree and get your hands on all the best products from lipsticks, mascaras, nail polishes, perfumes, and body mists, to give yourself a complete makeover this season!
If you are looking for a gift, then you can also get it wrapped at the Gifting Station. Featuring a wide range of wrapping paper designs, gift boxes and bags to choose from, the trained staff will help you create the most Instagrammable gifts, so that every present you give is a unique and memorable one.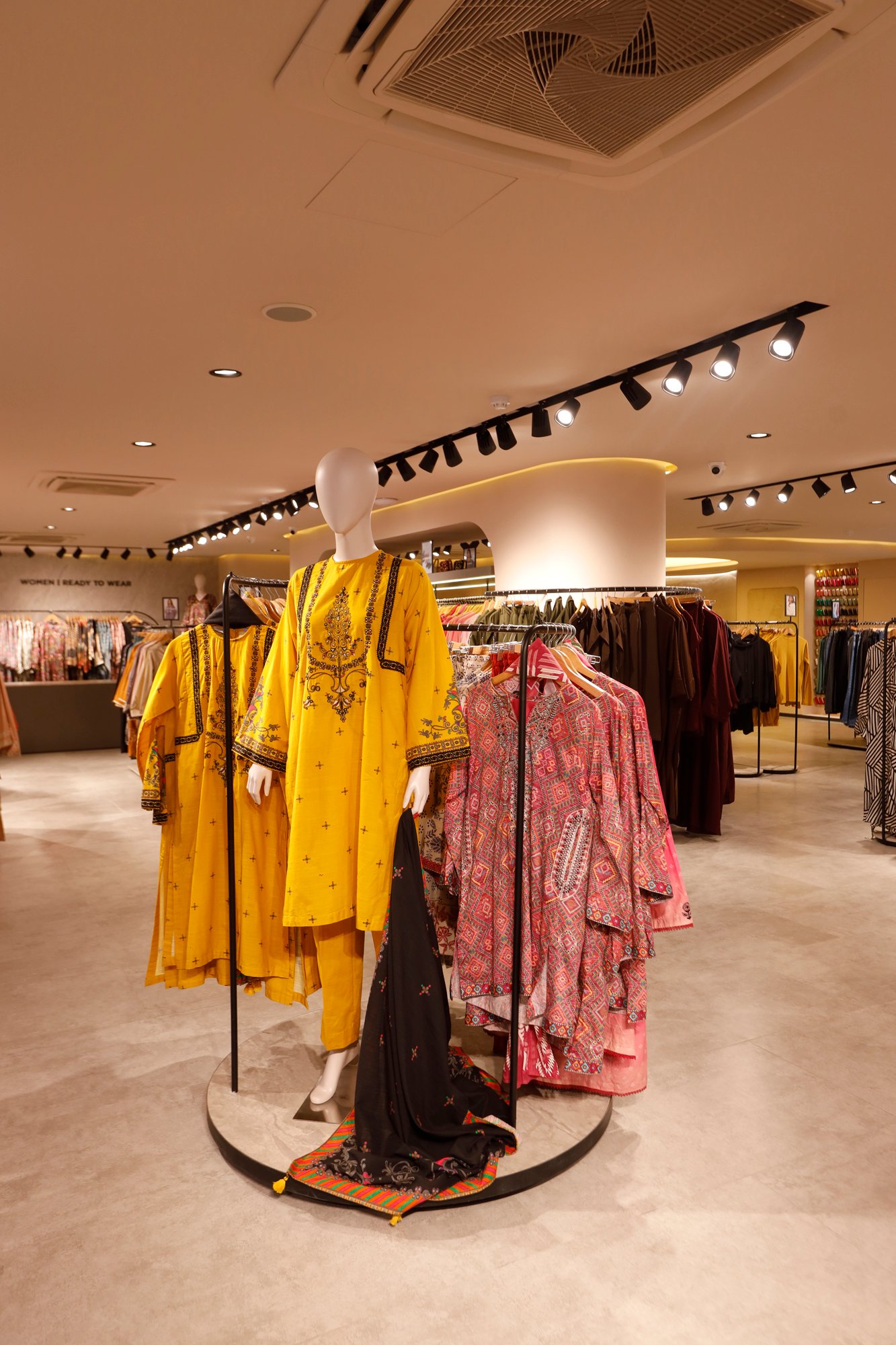 Experience moments of serene indulgence with SAPPHIRE's lavish fitting rooms. The rooms are large and feature mirrors that allow you to see different views of your outfit at the same time – bring your selection, try them out in your own private area and choose the ones that you love the most!
Ready to Wear Realm, WEST Zone & Customisation Station
Take the grand staircase with its ground to top floor light installation as a pathway to the first-floor retail paradise featuring carefully curated collections of Ready To Wear and WEST, as well as SAPPHIRE's first ever SAPPHIRE x YOU Customisation Station.
This floor offers everything you need for your wardrobe, whether its an everyday outfit or something for a special occasion. Explore SAPPHIRE's range of printed, embroidered, and solid Ready To Wear designs to find something for both formal and casual wear. Whether you prefer traditional suit designs or contemporary outfits, SAPPHIRE's readymade collections have you sorted.
For your western wardrobe must-haves, SAPPHIRE WEST's latest collection will have you covered from your weekend casual vibes to chic formal looks. Always on-trend and never compromising on quality.
Visit the SAPPHIRE x YOU Customisation Station where you can personalize your new purchases with your own embroidery designs and monogramming service, have hems altered for your own unique fit and for your favourite SAPPHIRE pieces that you always want to have in your wardrobe, SAPPHIRE offers a repair service.
Menswear Hub & Home Haven
The second floor has the Menswear Hub and has everything you could possibly need to revamp your Home.
See Also

Find your style with both stitched and unstitched pieces, available in a range of premium fabrics, designs, and colours from SAPPHIRE's Menswear Collections, ensuring that you are always dressed to impress.
Transform your space for the season with SAPPHIRE's inspiring Home Collection, featuring on-trend cushion covers, comfy beddings, stunning table linen, soft bath linen, and so much more to make your home the perfect retreat.
The inspirational Home area features a statement dappled metal ceiling – a work of art that beautifully creates a modern dreamy aesthetic that compliments the store's minimal yet layered décor.
A World Full of Unstitched
In the basement, a plethora of unstitched fabric awaits you. It's more than just a section; it's an unstitched heaven where you can explore the endless possibilities of creating your own style. With such a vast collection of women's unstitched dresses to choose from, the floor is divided into one-piece, two-piece, and three-piece suits to make the process of discovering your next favorite suit design easier. The considered layout of the area allows for an easy-to-navigate shopping experience for the customer; especially great for those on the go with too little time on their hands.
An Extraordinary Retail Experience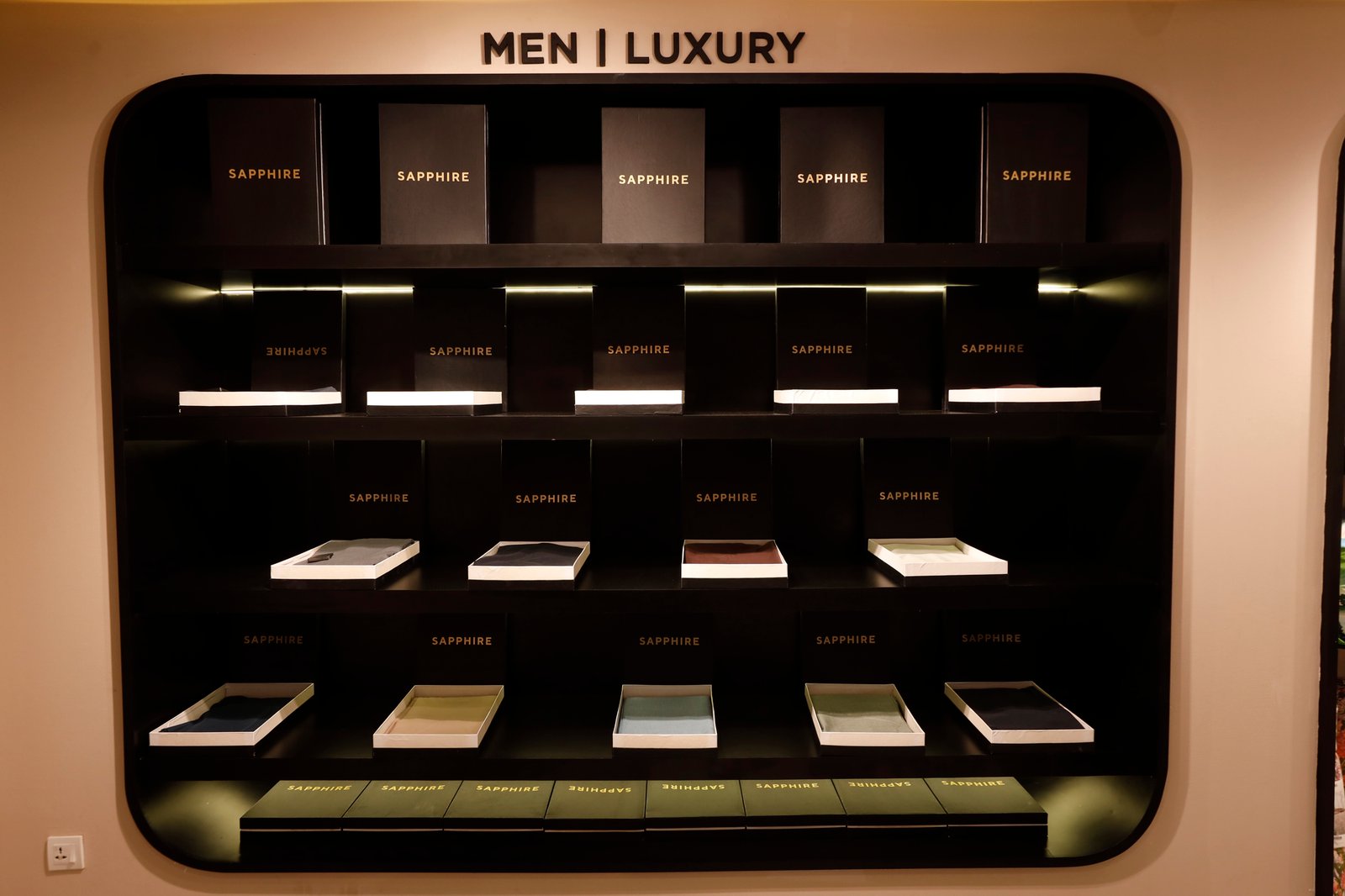 SAPPHIRE's latest Next Gen store is a true testament to SAPPHIRE's trademark vision of fusing innovation, design, and technology in the world of fashion. From the moment you step inside, you'll be captivated by the stunning facade that sets the stage for a one-of-a-kind shopping experience. With a carefully curated selection of categories to choose from, this store is set to become THE fashion shopping detination.