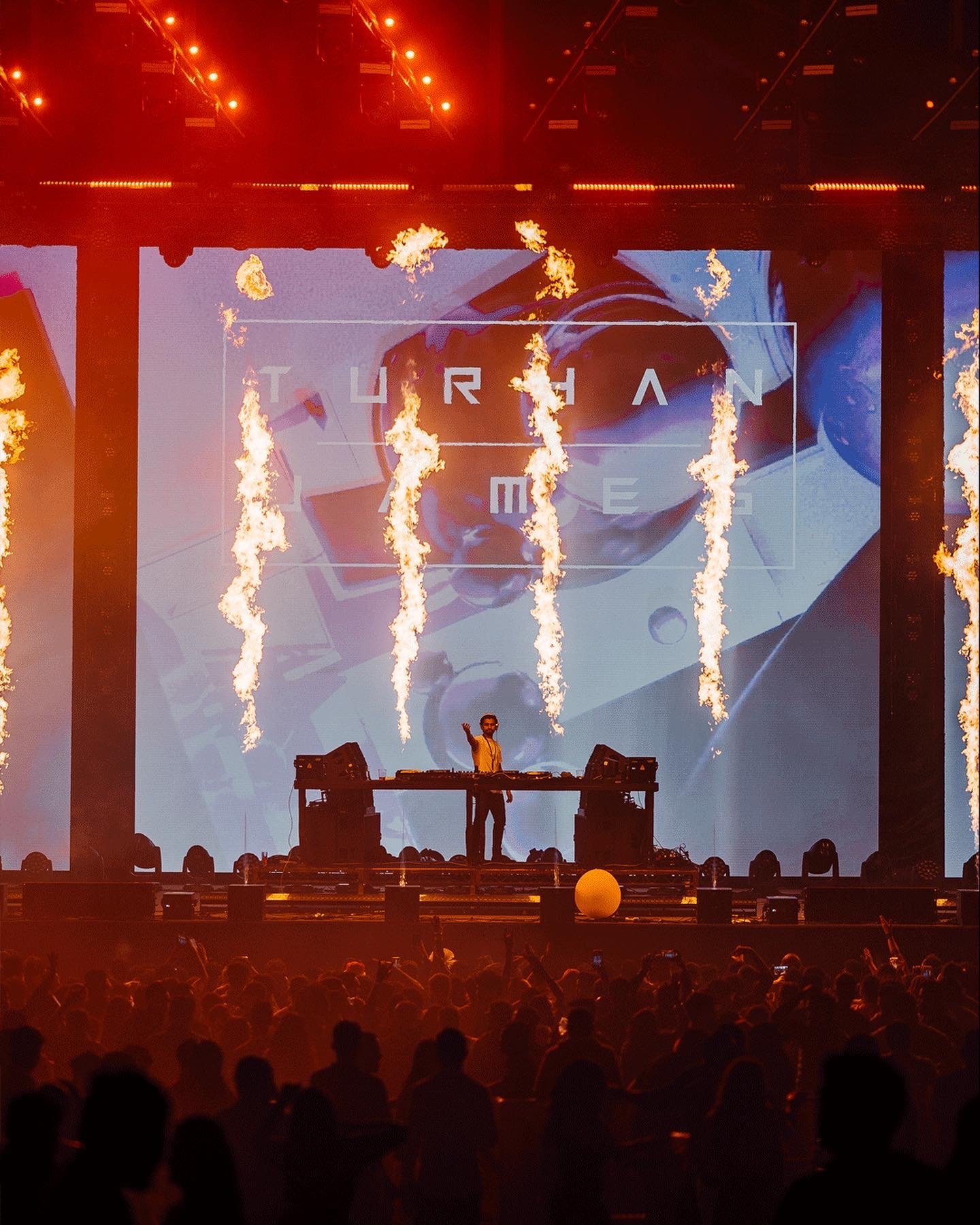 The perfect beginning to 2023! 2022 has been an entertainment-rich year for Pakistan, as the industry blossomed and was lauded globally.
Ending the year on a perfect note on New Year's Eve-Karachi-based, and Ottawa-bred DJ and Music Producer- Turhan James, renowned for producing within a variety of EDM genres, from Deep House to Dance-Pop was the support opening act for a live performance by headliner DJ/ producer Martin Garrix at  Coca Cola Arena on Friday, December 30th, 2022; and the opening act for Fedde Le Grand and Special Guest Armin van Buuren at the 'New Year's Eve Countdown to 2023' at Media City Amphitheater Dubai on Saturday, December 31st, 2022 -both under the aegis of Full Circle Presents!
This is Turhan's and  Garrix's second collaboration which reprises their back-to-back performance at the same venue in December 2021 which was sold out.
Some of Turhan's previous titles include ' Normal Life',  'Feel Alive' 'Wicked Ways' 'Amsterdam' and 'LA' which featured Kelsey Hayes and was a momentous milestone hitting 1,931,152 streams in just over six months on Spotify.
Turhan has been celebrated as one of the Top 10  Electronic Artists from Spotify Pakistan.
In early March 2022, Turhan  was the opening act for the headliner
Grammy Award-winning, platinum-certified DJ/ producer and international icon Tiësto.
Says Turhan about being the opening act at the  upcoming  concerts in Dubai:
"It feels surreal to be able to play alongside these well-established artists. It sets a benchmark as these are the people I am opening for and look at the love they garner. This is what I also have to achieve. I take this as an opportunity to stop, ponder and realize where I am in life; that things are looking good and that I just need to keep working hard; stay humble and keep my head down; release music; play at a lot of shows and try to also achieve as much as these artists have."
Garrix is lauded as the instinctual music genius and one of EDM's most prolific artists behind top chart hits "Animals",  "Scared to Be Lonely" and "In the Name of Love" which garnered a billion Spotify streams accolade with  Bebe Rexha, as well as his collaboration with Tove Lo on 'Pressure',  and the official UEFA 2020 song 'We Are The People with Bono and The Edge which was released in 2021.
The scintillating collaborative live event was presented by UAE's full-service entertainment, hospitality, and marketing agency-Full Circle Presents in partnership with Coca-Cola Arena and Dubai Calendar.
Full Circle has collaborated with the likes of  F1 Abu Dhabi and has featured acclaimed artists such as Tiestö, Travis Scott, Christina Aguilera, Dua Lipa, Pitbull, Calvin Harris, Future, Migos, and David Guetta among others.
On New Year's Eve Turan geared up again as the opening act for Dutch House DJ, music producer, and re-mixer  Fedde le Grand and Special Guest performer  Dutch DJ and record producer Armin van Buuren at  Media City Amphitheatre Dubai, also presented by Full Circle in collaboration with the  McGettigans  Group- which specializes in live sports, music, hospitality and Irish food.
Fedde le Grand is a Dutch  DJ, music producer, and re-mixer who began is career in 2002 and works within the genres of House and Electro/Dutch/ Progressive House.
In 2006, le Grand's single "Put Your Hands Up 4 Detroit "reached the top five on the Dutch Top 40, number one on the UK Singles Chart, and spent five weeks on the dance charts in Spain. His discographies include Output (2009) and
Something Real (2016) He is the recipient of myriad awards and nominations including the Beatport Music Awards; Billboard Music Awards; DJ Awards; Danish Deejay; International Dance Music Awards; MTV Australia Awards; MTV Europe Music Awards; Gold Awards and the Zulu Awards.
In DJ Magazine, Fedde Le Grand debuted on the rankings at 22nd in 2007 and 2021 was ranked 19.
Armin van Buuren is a Dutch DJ and record producer. Since 2001, he has hosted A State of Trance (ASOT), a weekly radio show, which is broadcast to nearly 40 million listeners in 84 countries on over 100 FM radio stations.  Van Buuren has won several accolades. He has been ranked the number one DJ by DJ Mag a record five times, four years in a row. He was ranked fifth on the DJ Mag Top 100 DJs list in 2022, as well as fourth in 2015, 2016, 2019, and 2020, and third in 2017. In 2014, he was nominated for a Grammy Award for Best Dance Recording for his single "This Is What It Feels Like" featuring Trevor Guthrie which makes him the fourth trance artist ever to receive a Grammy Award nomination. In the United States, he holds the record for most entries, twenty-one, on the Billboard Dance/Electronic Albums chart.
New Year's in Dubai was a fire-cracking start with this quartet of scintillating live acts under the aegis of Full Circle Presents!