Iftar shows are streaming all over television these days and we see our favorite celebrities everywhere! From Ramadan transmissions to interesting games post-iftar, it is all keeping us engaged these days. Here are the top 5 of our favorite looks from Iftar shows that we love on our favorite celebrities!
Shaista Lodhi
Shaista Lodhi wore a beautiful white ensemble by Mysie By Tahira. From the color of the outfit to the intricate detailing, it was the ideal outfit for a Ramadan show. The gorgeous actress styles every outfit with utmost grace and grandeur. The beautiful outfit is curated with heavily embellished sleeves and a dupatta that definitely make it a festive piece to wear!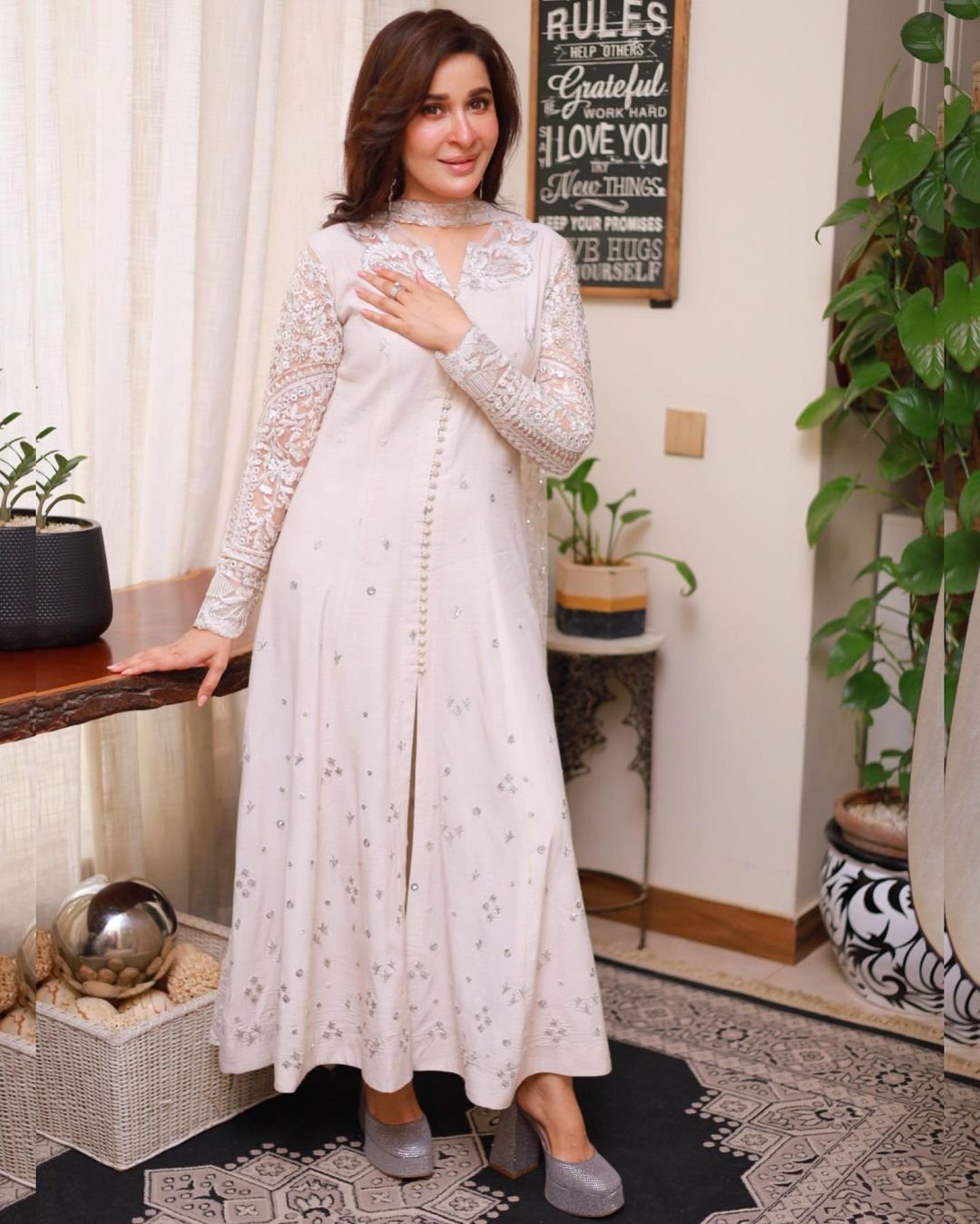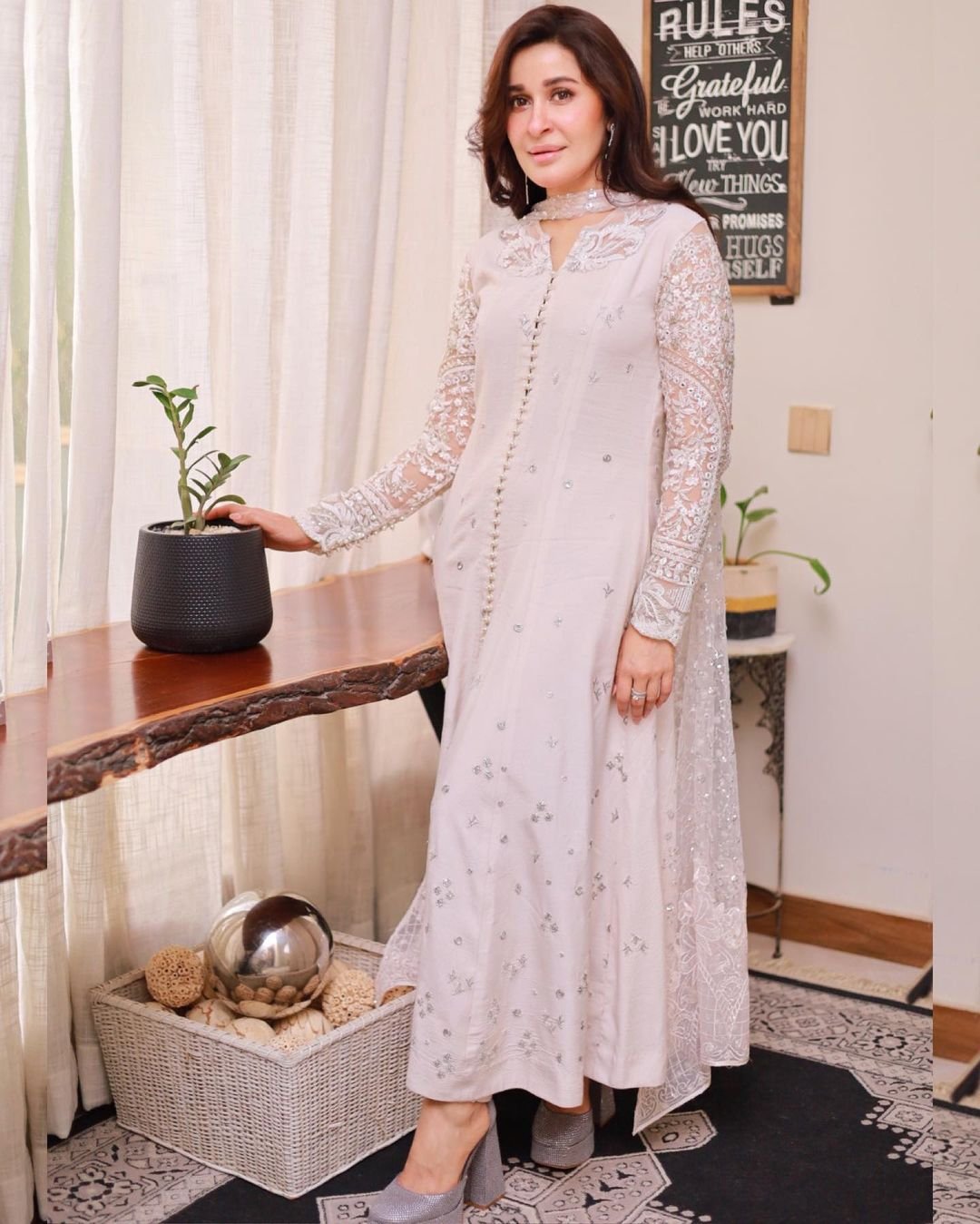 Sana Javed
Another of our favorite looks is of Sana Javed who wore a striking green outfit by Hussain Rehar! The gorgeous traditional outfit was also a perfect pick for an iftar show. It was a green shalwar kameez that was embellished with hues of pink motifs all over. Moreover, it was paired with a tie and dye dupatta to complete the look. Sana beautifully styled the splendid outfit!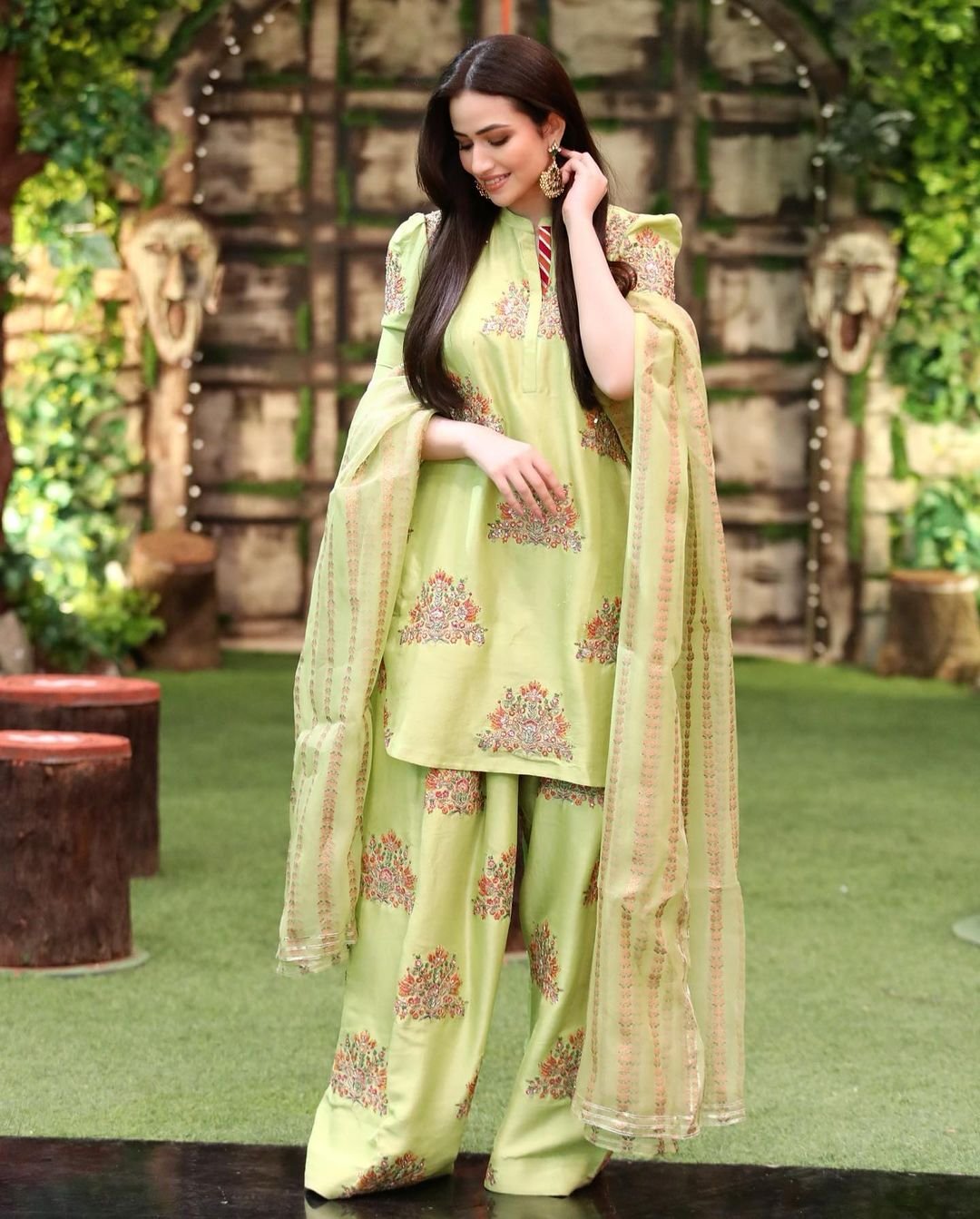 Kinza Hashmi
Kinza Hashmi wears a striking green pair of separates by Ayesha Shoaib Malik. The beautiful actress is truly a treat for the eyes in the vibrant color. The asymmetrical shirt is a unique piece along with the embellished neckline that draws all the attention. She keeps it minimal yet elegant in this gorgeous outfit! The breezy outfit is one of the best looks on the gorgeous Kinza.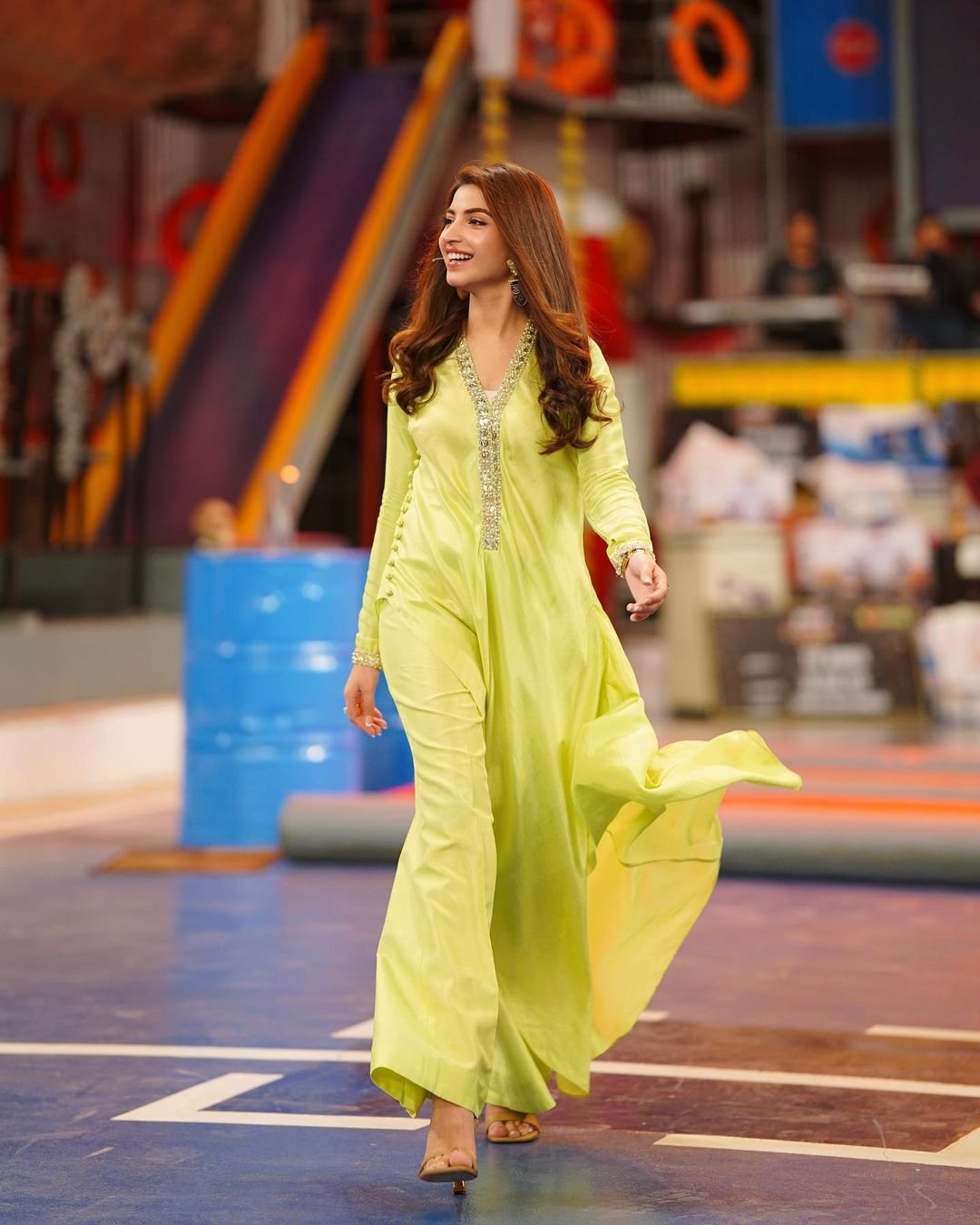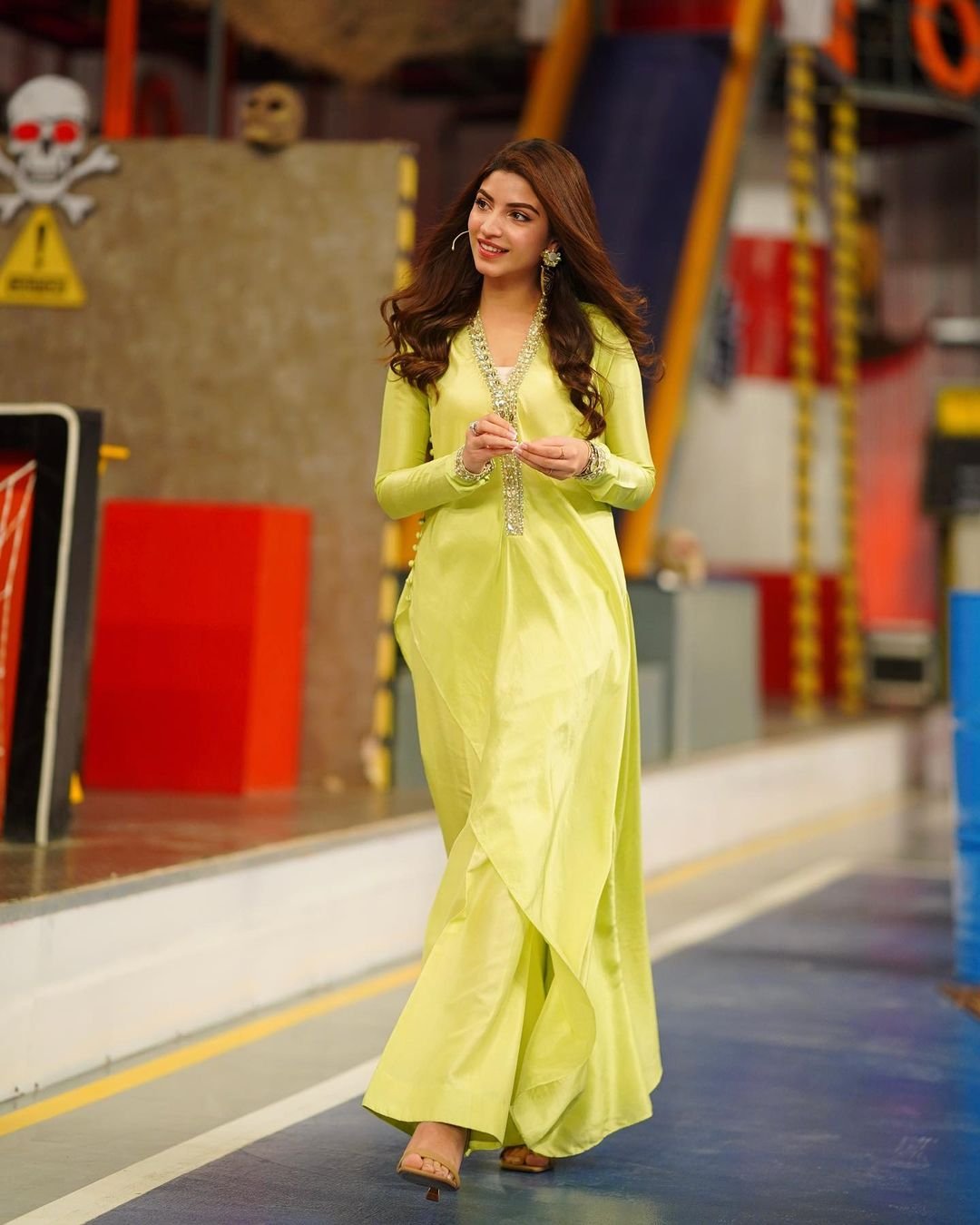 Ushna Shah
For one of the shows, Ushna Shah wears a soft pink attire by Zainab Chottiani. The beautiful organza outfit not only looks elegant but is also appropriate for the occasion. The blush pink color depicts grace. Ushna Shah is a vision to behold in the beautiful outfit which includes a long pink shirt and trousers paired with a plain organza dupatta to complete the look!
Saboor Aly
Saboor Aly wore a vibrant green and pink outfit by Hussain Rehar for one of the post-iftar game shows! The beautiful outfit is a perfect pick by the gorgeous actress who does justice to the attire and styles it gracefully! The flowy outfit was perfectly styled and she added life to it. We're in awe of Saboor's style game and how it has drastically changed to being more elegant!