Since the past few weeks all of Pakistan has been rooting for the #KHAASWorldRecord by NESTLÉ EVERYDAY Pakistan. Seeing the whole ordeal, our favorite celebrities were also not far behind to express their love for Mixed Chai! They too are becoming a part of the KHAAS world record and casting their votes. Chai in particular is something that binds our whole nation together, especially Mix Chai, it has become more than a drink in our households. From sharing it over deep conversations to enjoying it along with a fond memory, there is nothing we believe that a cup of steaming Mix Chai can't fix!
The coolest singer on the block, Asim Azhar came through and voted
https://www.instagram.com/p/BeGAS45BN9O/?hl=en&taken-by=asimazhar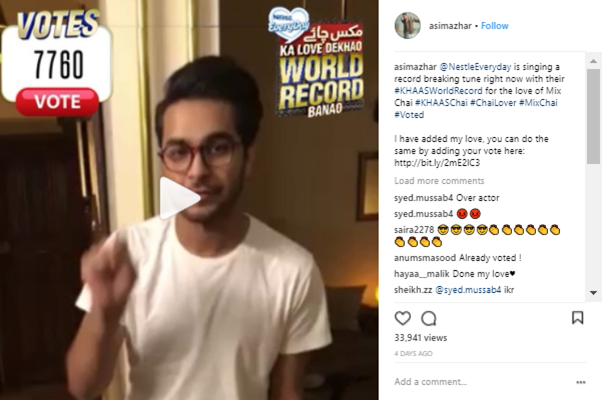 Our favourite actress Aiman Khan was also not far behind and she too voted
https://www.instagram.com/p/BeDHC29HSni/?hl=en&taken-by=aimankhan.official
The actor turned director, Osman Khaild Butt voted for the largest saucepan:
https://www.instagram.com/p/BeQaIuljK6L/?hl=en&taken-by=aclockworkobi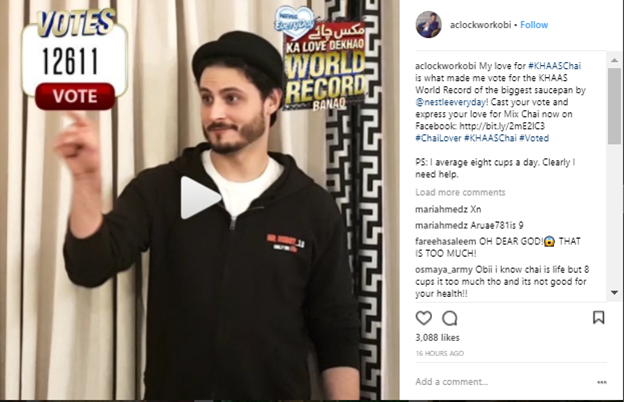 This is something that we haven't ever seen before in Pakistan; from celebrities to artists, everyone is rushing forward and putting in their vote to make the largest saucepan. This huge phenomenon of the #KHAASWorldRecord has us going back again and again to cast as many votes as we can. The anticipation of how big the saucepan is going to be has consumed our mind and we are on the edge of our seats every time to see how many more votes are added to the pan each day.
The more votes that will be gathered, the bigger the saucepan will be so what is everyone who hasn't voted yet waiting for? Come on and be a part of the #KHAASWorldRecord and put your vote in the pan. To vote, click: http://bit.ly/2mE2lC3. You can also head over to NESTLÈ EVERYDAY's Facebook page and vote; or dial 90131 and send a missed call to vote! We can't wait to see the final saucepan: VOTE! VOTE! VOTE!