Anusha Bawany chats with the Dubai based trainer on fitness, the importance of nutrition and aspiring to workout with Oprah
What made you go from fashion designing into fitness?
Considering that I have a degree in fashion technology, I haven't completely eliminated that from my future plans! However, I have been into sports since I was knee high and eventually got into fitness hardcore some ten odd years ago. Once I found myself getting into it rigorously, I decided to pursue it as a career.
What trainings and certifications do you have?
I have a level three certification from IFPA (International Fitness Professional Association) accredited by reps in UAE and internationally. A certification in KO8 functional training and level 1&2 ASCA (American Swimming Coaches Association) considering I was a national swimmer and have been a water sport lover since childhood. Last but not least, I am an EBBF licensed member (Emirates Cody Building Federation). I will continue to learn and further polish my skills in future.
What is your personal fitness routine?
I have always been a fan of strength training, however I incorporate HIIT training and calisthenics into my weekly programs. I alter my training every four weeks including frequent rest weeks, as it's extremely important to avoid catastrophes caused with excessive workouts and lack of appropriate nutrition. I also love outdoor workouts including functional and strength to avoid gym boredom.
What is your method of working with a client?
I have several different methods I adapt to which allow my clients' to feel comfort and at ease to stop when feeling discomfort, especially since I work with kids and adults. I also provide a sustainable and user-friendly manual providing all the adequate nutrients needed. Whenever I'm working with someone who is an athlete then it's a whole other ball game, which involves weekly check in's with a caliper and BMI assessments including a comprehensive diet required for their particular goals.
Tell us a little about the move to Dubai and what you are up to currently.
I moved from working with the famed 42 Day Challenge back in Islamabad, where orchestrating an entire audience over a microphone was challenging yet taught me so much about working with a crowd as opposed to one on ones. I worked with Fit Inc. in Dubai for my first few months in the city, doing some personal training and bootcamps, and then moved to Fitness First, Fitness HQ and Dubai Fitness Challenge as a freelancer. Now I work with freelance companies momentarily and will be working with different school camps during the Summer. I believe I made the right decision moving here, as it has allowed me to grow and be so vividly independent, all the while having so much support from my family (particularly my mentor and my father). I am fortunate to be on my own two feet a year in.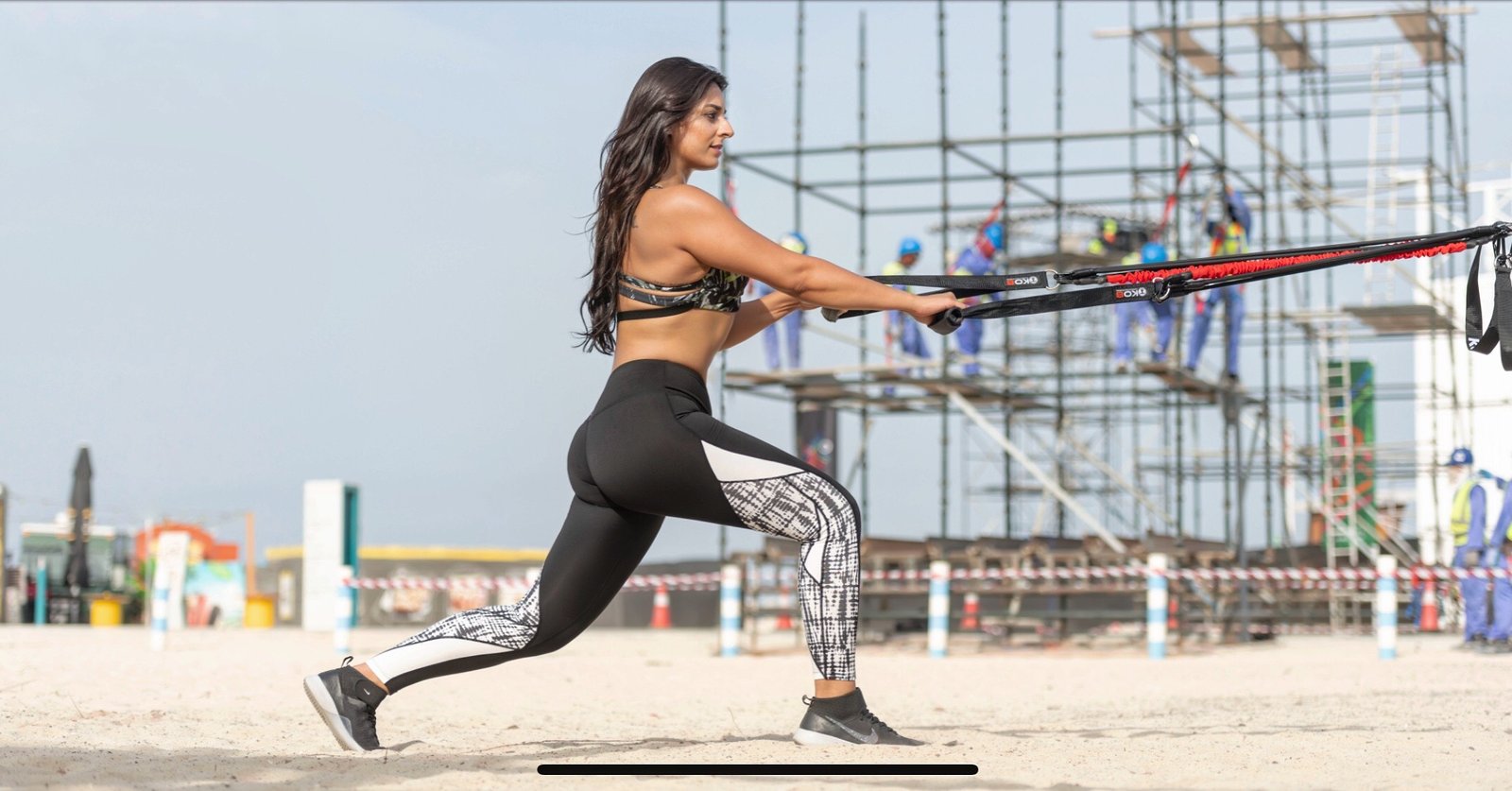 In your opinion, what is more vital between nutrition and a gym routine?
Well, mostly definitely both go hand in hand. However if you know your body enough you will know how to keep your nutritional intake on track and balanced, adding reverse and flexible dieting every now and then to keep learning and educating yourself further. While focusing on improving your training methods and ways to avoid injuries, your daily supplementation and nutrition is on top of everything else.  It is important to be smart with nutrition – don't eat something just because it looks healthy!
Many women think that working out with weights will increase bulk. How do you go about breaking this stigma?
Yes, adding on bulk is possible if you're in an anabolic state and lift weights twice your potential with an increment of weekly macros and over indulgence. That's a whole lot of effort going in! But if you make sure your workout plan is suitable to your body type and goals and you maintain consistency and focus, then weights won't cause you to gain too much muscle – it will simply aid your overall workout. Simply avoid taking advice from too many people (too many cooks spoil the broth). Also, just remember that females don't have high testosterone levels like men do, so it's hard for us to gain muscles without proper supplementation.
Share some of your crucial tips and tricks when it comes to staying fit:
It is important to keep a sustainable and manageable nutrition plan and not get into complicating things – and to mark your daily meals. I like to mix things up by doing cardio twice a week in the morning and HIIT thrice post weight training. Don't use supplements because you think their cool and every gym rat uses them so apply your own research before frying out your liver. And mist importantly, always have fun with your routine! Indulge in sports and fitness with your family and children, like my parents did with me.
What do you think of fad diets like Keto and Atkins?
Been there done that! Kato is essential for diabetics and only works with a ketone meter or specific stocks for measuring ketones in your blood.Don't play around with your body, keep it simple enjoy what you eat as long as you eat a lot of colours and keep it fresh and make it at home without drowning it in gallons of oil you're good to go.
What has been a defining moment in your career as a fitness trainer?
Working with young and old people, learning about each individuals needs and reaching out to them as a friend not as client. Growing as person beyond my means and comfort zone.
If you could train any one celebrity, who would it be and why?
I'd love to train former First Lady Michelle Obama and Oprah! One is a fitness freak so it would be challenging and the other still struggling to find a balance, but it would be super fun to train with and learn so much from them both.
The one exercise you hate the most:
I hate chest day and benching, especially since most men focus their strength on chest are left with chicken legs! For us women, we build lower strength faster and way better. I use to be a skinny muscular kid and I had my skinny phases, but now I'm dealing with people back home calling me Arnold! I take it as a compliment because I gained muscle and I'm stronger than most of those name calling men.
What all can we expect to see from you in the near future? What plans do you have to expand your personal training?
I have big plans in the works! Although, even a little information is always too much, I will say this – it involves fitness clothing not for fashions purposes and rehabilitating physically incapable people.