Taskeen Zahra chats with the young artist about his love for NCA, Nintendo and a world where Mughals meet the Mario Brothers!
DID YOU ALWAYS WANT TO BE AN ARTIST?
I remember I would create works of art from trash, so I think I had the bug from early on. Having pursued a pre-medical education during my FSC, I didn't realize how my passion for art could actually become a career till I decided to give it an actual go. I let all preconceived notions on how and what a career should be go out the window.
WHAT MADE YOU WANT TO LEARN HOW TO SKETCH AND PAINT?
Art is synonymous with the word observation. The human mind, eye and hand must all be in continuous sync and focused in order to achieve the skill required, which I felt was absolutely necessary.
WHAT WAS THE INSPIRATION BEHIND YOUR THESIS?
The inspiration behind my thesis was to create a specific kind of dialogue that brings a sense of my being into the Mughal miniature practice. Miniature painting is one of the most prominent aspects of the Mughal rule, where their daily activities were documented through the art. On the other hand, Nintendo games and the 8-bit world has played an active role as far as my childhood years are concerned. I just created a play between the Mughal record keeping art form and my past to create a dialogue between the old world and the relatively new world. Also, it's always fun to seek a bit of thrill with manipulation of imagery.
WHAT WAS IT LIKE BEING A STUDENT AT NCA?
Anyone who has been part of the NCA experience knows how hard it is to let go once it's time to set foot out into the world. Luckily, I started off my journey at the NCA Rawalpindi Campus and migrated to the Lahore campus midway. I met the most talented amazing people; NCA is where teachers become friends and friends became family. Opportunities never stop coming if you have been part of the very giving NCA culture. My thesis days were the best – we would stay on campus all day and night binge eating, making tea, watching movies, and listening to cheap Bollywood songs.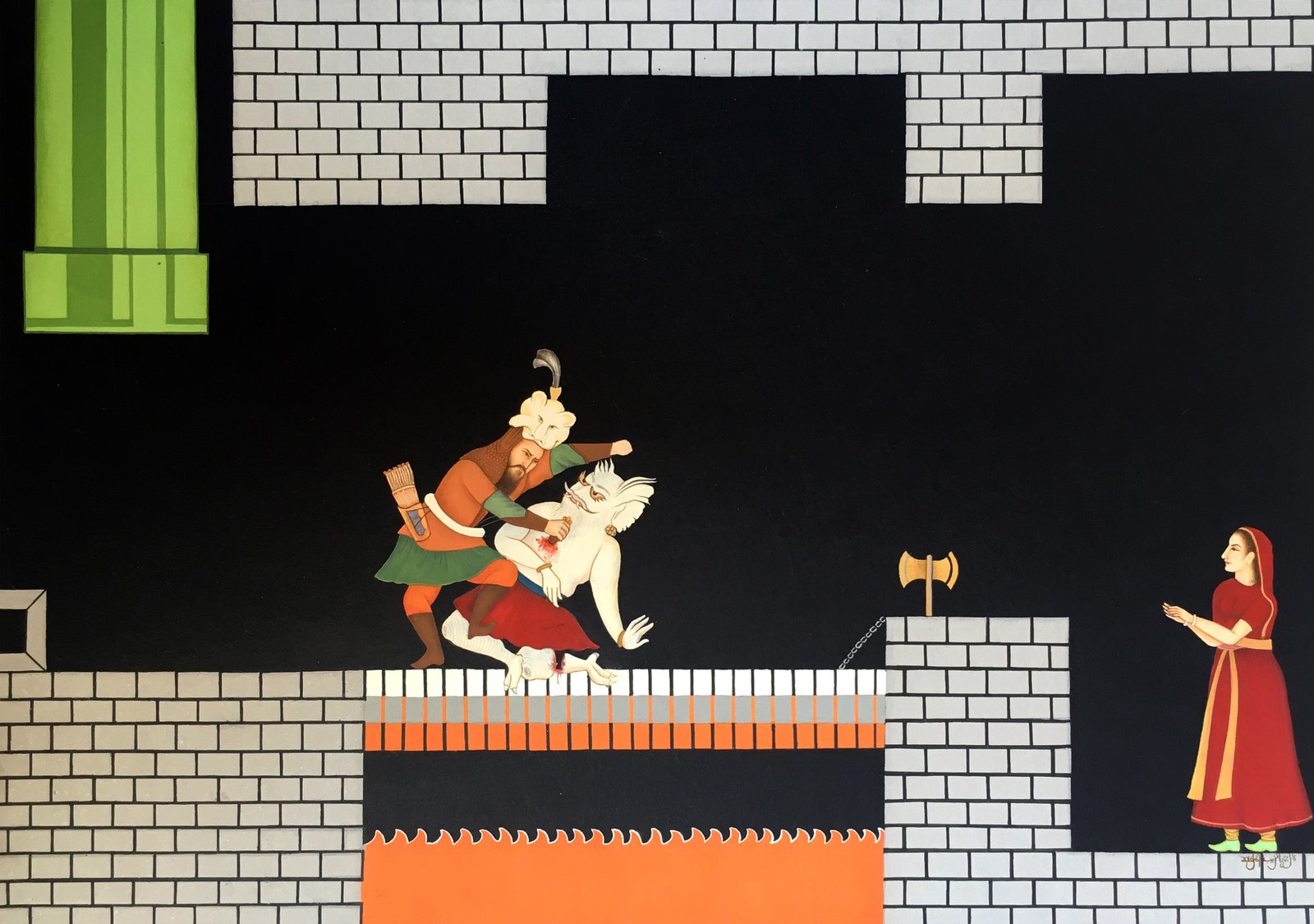 WHERE HAVE YOU EXHIBITED YOUR WORK?
I have recently exhibited my work at Satrang Islamabad and at The Paint Bucket Gallery in Lahore. I've sent my work internationally as well, which was exhibited at the Eye for Art Gallery in New York.
HOW WOULD YOU DESCRIBE YOUR AESTHETIC STYLE?
Currently, my aesthetic style is very true to the flat, Mughal sensibility.
ARTISTS THAT INSPIRE YOU:
Thukral and Tagra, Chuck Close, and Banksy. Also Irfan Hassan, as I am lucky enough that I got a chance to learn from him.
HOW IMPORTANT IS IT, AS AN ARTIST, TO EXPERIENCE OTHER CULTURES?
As an artist, culture is specifically essential because of the complex relationship it has with art. Traveling, meeting new people, hearing new words and discussing norms and practices are all cultural factors that only benefit you in terms of inspiration and thought process. After leaving the small valley of Quetta, I began to experience a whole new world. NCA is very multicultural and is the perfect representation of the people of Pakistan as a whole. With a beautiful cultural mix at hand, I have been able to explore new ideas and prospects, which has helped me grow not only as an artist but as human being as well.
HOW IMPORTANT IS IT AS AN ARTIST TO RECEIVE CRITICISM?
It's very important to receive criticism from different people – not only from art critics but the common man as well. Art is for everyone to enjoy and everyone's opinion matters and adds to the meaning of each piece, strengthening and further maturing it's meaning currently and for future work.
HOW HAS YOUR ART CHANGED YOU?
Well, I was a totally a different person before my journey began, but surely enough art changed me in many ways. Art has broadened my horizons to look into different perspective, to feel things deeply and to be fearless in exploring new avenues.
WHAT ARE YOU CURRENTLY WORKING ON?
I am working for "Contemporary Art Exhibition" at PNCA.It's a combined project with the U.S. embassy and Kuch Khaas, and the duration of the show is going to be for two months.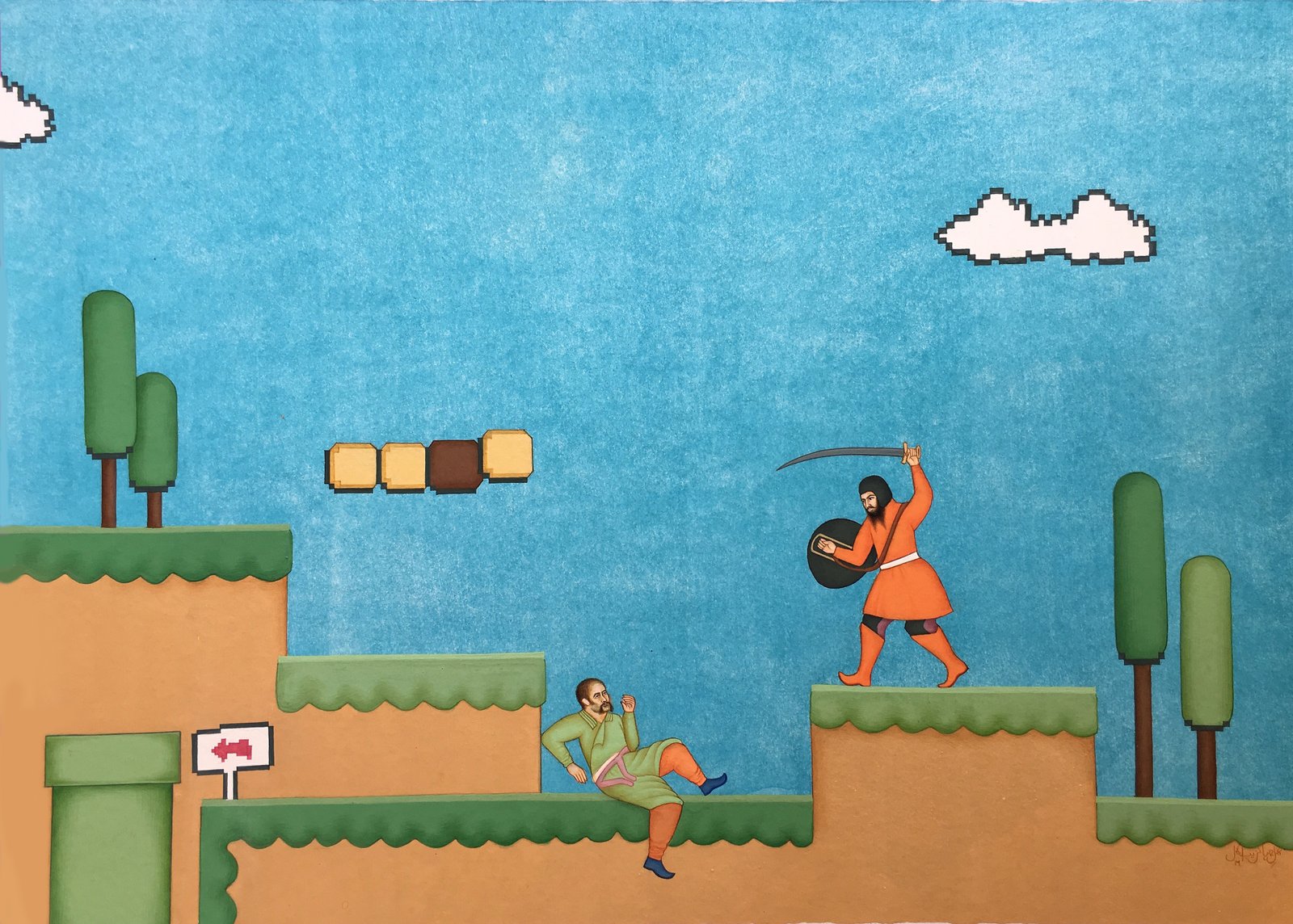 WHERE DO YOU SEE YOURSELF IN FIVE YEARS?
I see myself strongly representing Pakistan as far as the International art scene is concerned.I would definitely want to own a studio of my own and keep working, progressing with my fellow artists. I should've taken part in a couple of residencies both in Pakistan and out of country by the end of this five year span.