Cinema enthusiast, Faiz Khan reviews Hrithik Roshan's latest release, Mohenjo Daro
As a prelude to the film, an interesting anecdote comes to mind, something that I can now have a hearty laugh at. Days before its release, Mumbai High Court ruled in favour of director Ashutosh Gowariker, in an action filed by a Mr. Akashaditya Lama claiming that Gowariker had stolen his script for Mohenjo Daro.   Allegedly, Gowariker was able to convince his Honourable Justice that he had carried out meticulous research on the subject with archeologists, to the extent of arranging a panel of experts to engage in discussions (lasting days), which enabled him to finally create this tale set in the ancient Indus valley civilization. Mr. Gowariker, really? Quite honestly, Sir, I would have shown the film to his Honourable Justice for an open and shut case… No one could possibly have stolen this script!
It's 2016 BC. Three canoes move hesitatingly down a ravine. The Adonis–like Sarman (Hrithik Roshan), an indigo farmer (all bronzed to accentuate the obvious mythological link) stands astride the canoe with his band of merry men, watching, waiting. A sense of foreboding precedes the unknown when out of the blue (pun not intended), a flying crocodile lurches forth, taking our Adonis down into the depths of the ravine. The underwater scuffle finally results in our Adonis returning victorious to his quiet village coming off as the giant crocodile slayer.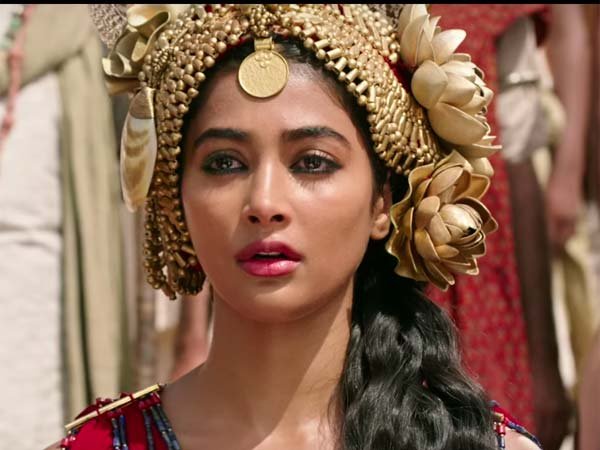 Bored with life in the village, Sarman finally heads off with his comedic sidekick to Mohenjo Daro, which he soon discovers to be the "land of greedy". Ruled by the evil Maham (Kabir Bedi) – more bison than human – and his moronic son, Moonja (Arunoday Singh), Mohenjo Daro is a land of the oppressed farmer, clearly ripe for a savior to rally them to a better future. All within a day, Sarman falls foul of Moonja as well as for the buxom Chaani (Pooja Hegde), the Priest's daughter who has been chosen to serve the river Goddess, "Sindhu Ma". Parading around the bazaar in headgear resembling a motorcycle helmet embellished with feathers and shells, looking more like a camp cheerleader than a revered protector of a deity, Sarman falls hook line and sinker! Cupid finally strikes when Sarma comes to the rescue of a hapless Chaani, paralyzed by fear from four horses intent on making a beeline for her. A proclamation of everlasting love on an auspicious night seals the deal, much to the chagrin of Moonja who was to be betrothed to her.
Painful as it is to recount, I can assure you that it continues unabated with Gowariker making sure to pack in as many clichés as possible, leaving the viewer spellbound with its preposterousness, from its gloriously tacky CGI effects, to the gladiatorial combat involving Sarman and two maniacal brothers referred to as "Tajik man-eaters" – an unintentional tribute to "Reecha" from Hingorani's extraordinarily dire "Kaatilon ke Kaatil". That we speak of "Mohenjo Daro" and "Kaatilon ke Kaatil" in the same breath does not bode well for Gowariker.
Quite honestly, "Mohenjo Daro" sets a new benchmark in awfulness, primarily because it has delusions of grandeur. It is far from the worst film ever made, and indeed, the fact that this is so incredibly ordinary, clichéd and contrived does provide a degree of sadistic pleasure and entertainment to the discerning viewer. It does, however, raise the question as to whether Gowariker is merely a pretender to the throne? I admire Lagaan for the fairytale that was so seamlessly knit together, as well as the lesser Swades and Jodhaa Akbar. But "What's Your Rashee", "Khenge Hum Jee Jaanse", and now "Mohenjo Daro" bring into doubt the genius that has been bestowed on Gowariker, responsible as he is for the direction as well as a story and screenplay. Crass, clichéd and contrived as any I have seen, "Mohenjo Daro" clearly has a kinship with "Lagaan" thematically but almost plays like the ugly sister to Lagaan's Cinderella. Isn't this just one "Heaven's Gate" too many?
Hrithik Roshan is a fine actor but there is nothing that he can bring to this role, save for a few synchronized dance steps, flared nostrils and the quiver in his voice which I have to say, is now becoming rather tiresome. Pooja Hegde smiles gormlessly, shows an ample bosom, a lithe leg and an inability to emote. Kabir Bedi, never really known as an actor, is nothing short of farcical, and ends becoming a caricature of himself. In the same vein, A. R. Rahman produces his worst possible score, so insipid that one wonders whether perhaps the whole project was afflicted with dengue right from inception. Give me a re-run of Dharmveer any day. Terrible.