We chat with the super talented fashion designer Shiza Hassan
What inspired Shiza Hassan the clothing label?
It's a story about passion turned into profession and its Fuel has been the many working women in different professions excelling and being good at what they do alongside balancing their home life. My mother is a phenomenal woman. She's a homemaker and a national tennis champion and has been the Force behind me pursuing and making a career out of my talent.
Shiza Hassan Bridal
How would you describe your brand?
At Shiza Hassan we believe Fashion is for everyone, not limited by body shape or coloring. Though our brand is constantly evolving with experience, our brand aesthetic is experimentation with the beautiful crafts of our region, with a Fusion of different cuts and silhouettes creating pieces that are timeless and will be worn again and again.
Shiza Hassan Luxury Pret
What's your proudest moment at work?
It's been 2 years since the inception of our brand and being selected to showcase at PFDC Loreal bridal week this year would be the moment I'm relishing right now. So yes I'm feeling proud of this and grateful too.
Who is Shiza Hassan the person?
Casual. Easy to talk to. Thinks with her heart & thinks way too much. Always up for a good time. Loves to travel and at the end of it a||, Family and Friends mean everything!
What drew you to design?
For as long as i can remember, I was designing trousseaus outfits for close family and friends. Even though I am a graduate From LUMS and an have an interior design diploma From NCA designing clothes was where my heart was.
Tell us a bit about your clients?
I have clients from all ages but more predominantly a younger clientele of marriageable age since our Forte is more bridal and formal wear. However, since I do couture and customize according to client needs we cater to whole families as well as grooms now.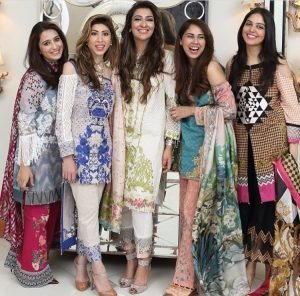 Ladies in Shiza Hassan designs!
What advice would you have for up and coming designers?
Believe in yourself and your originality! This industry has become very competitive but I strongly feel that if you work diligently there is room for everyone. Also disappointments should be a tool for motivation rather than failure!