We headed towards the Pavilion End Club for the rocking Bites and Vibes Festival by Food Panda and had a blast!  From the decor to the delicious food to the amazing ambiance, everything was perfect!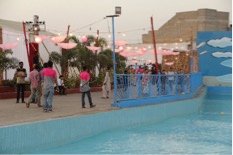 As the sun started to set the crowd started to fill the place, people of all age groups attended the event, the aroma of food rising from different stalls made the atmosphere extremely delightful. The vivid lighting and the music that played in the background added to the ambiance of the festival, affordable food in a good setting arrangement.
Different restaurants had their stalls there and people lined in front of them to grab a bite of the delicious food they offered. Families were seen sitting at tables placed in one corner of the tent enclosed area. There was also a kids' area to accommodate the kids to keep them from getting bored.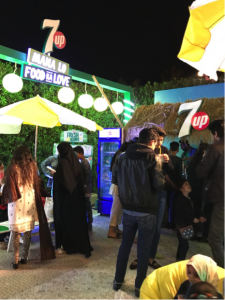 7 UP had an attractive set up in the front where they offered a variety of drinks made through 7 UP. They offered a free drink to anyone who took a selfie in the vicinity of their stall and uploaded it to Facebook with the appropriate hashtag.
Aunty Lulu, Skewers, Hot Bombz, II Posto, Bonsai Pan Asia Kitchen, 8teas, Zhi Zhi Fan Chao, Snow Cone, Arabi's, Potadose, Chit Chaat and chai, Delina, Heaven the Waffle Bar, Urban and D'
Near the end of the event, the DJ stopped playing the music when a band went on stage. They started off with some of the most songs of the region and as soon as the crowd gathered in front of the stage, the band switched to more difficult tracks. The performance was followed by a round of applause by the audience.