Taskeen Zahra reviews the latest theatrical production, "Out of Order"
Lahoris are notorious for being worshippers at the altar of freebies. An event with 'halla gulla', music, art and theatre is one that Lahoris would never pass up on. And couple that with free entry, and you can expect every 'Ali, Hassan and Muhammad' to be there (desi equivalents of Tom, Dick and Harry). However, what I witnessed this entire week was a hall packed with an audience that had actually paid to be entertained by the finest theatrical productions of our time. It is utterly invigorating to see people come out, even during weekdays, to support the talent within our country through attendance and the well deserved standing ovations that lend credence to the sheer amount of unadulterated entertainment that the entire cast had put together.
'Out of Order' is a play written by Ray Cooney, and was today, so stupendously directed by the young and talented Waleed A. Zaidi. At the end of the farcical comedy, I could almost picture Waleed receiving Ray Cooney's benediction for his outstanding direction and his ability to harness the talents of his cast to present a show like no other. However, precedence shows that for Waleed A Zaidi, this wasn't a debut direction, for he managed to pull off another farcical comedy last year, "It Runs In the Family". I guess for some people it just comes naturally.
'Out of Order' is a comedy that encapsulates the antics of a wild troupe of foolhardy characters that help unfold an even wilder story line. The entire plot revolves around a junior minister from the Conservative Party, Richard Willey (played by Ali Tahir) who attempts a clandestine romantic rendezvous with a secretary from the Labour Party, Jane Worthington (played by Hooria Khan) at a posh hotel in London. Upon discovery of a dead body (played by Momin Masood) hanging through the window, he involves his Parliamentary Private Secretary, George Pigden (played by Ian Eldred), as they improvise an enmeshed and intertwined web of completely ridiculous yet hilarious lies, while attempting to get rid of the body without so much so as a whisper of scandal.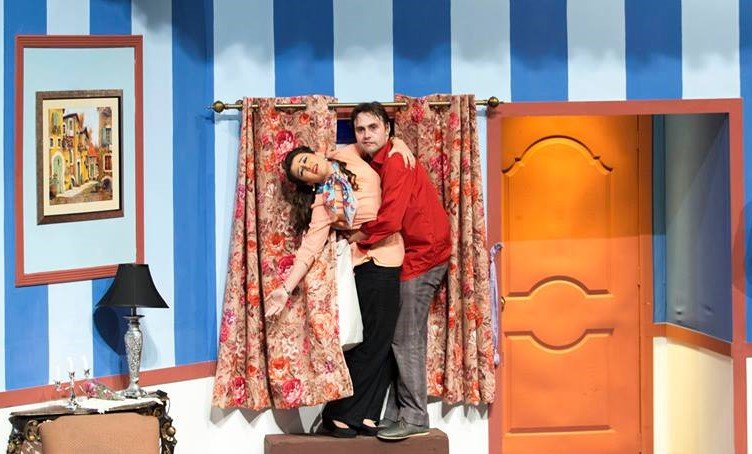 If it wasn't enough that the play had managed to engross the audience in the delicate political balance of the right and left wing parties within the UK, the inclusion of an Italian waiter with his wily ways and one liners, coupled with an angry husband, a nurse, had all played a significant role in making this play a huge success! After all, ensembles of talented actors that work together as a team, and the right delivery of dialogues, pacing and improvising, are all prerequisites of a successful production – all of which were widely present in making this farce a success. If politics, scandal and an extra marital affair aren't enough to leave you in fits of laughter, watching Ali Tahir and Ian Eldred struggling in troubled waters, is enough to crack even the hardest of nuts. After all, we love watching someone else in the soup!
As the show moves on to Islamabad and Karachi after winning the hearts of countless Lahoris, this only restores my faith in Pakistani theatrical productions. As I hope for several 'nouveaux commencements', I highly recommend everyone to go watch this play.
Laughter attack warning!