Tell us how did you find the artist inside you? How long have you been doing art? Is artsomething that you always wanted to do?
Visual arts have been a part of my life in one way or another since I was very young. As a teen, I would say art found me, as I didn't really understand it was a viable career option until I accidentally stumbled across an art college in my search for the right university. Then it all clicked, and I knew I had found my path.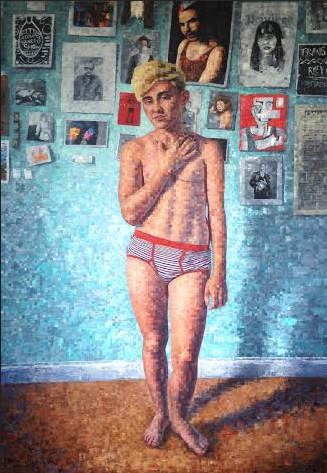 Do you remember the first painting you did that you were really proud of? 
It is hard for me to be truly "proud" of my paintings, as I always feel like my work has an unfinished quality, or could be changed for the better in some way. I can, however, feel proud of a section of a piece; a part where the balance of inspiration and skill meet to produce something that works.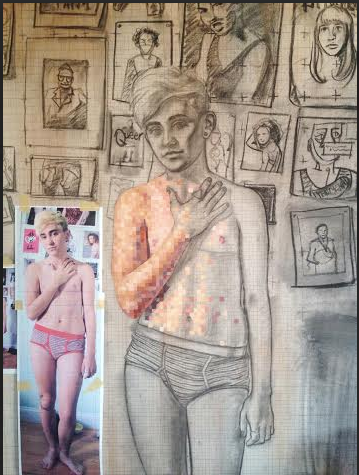 What's your background? Are you a self-taught artist or did you study art?
I am a classically trained painter and draftswoman; I was taught in the method of renaissance figure drawing and alla prima painting, which I practiced relentlessly in the studio to hone my skills. I studied at a specialized art school and began working in the creative industry directly afterwards. I would say I learned my skills through a formal arteducation, but I started to find my voice through the journey of working in the arts.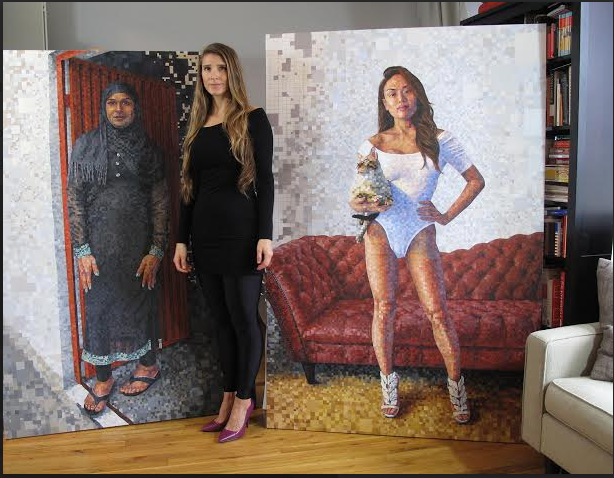 Do you think an art education is important or imperative for anybody wishing to be anartist?
I consider learning art: painting, drawing, sculpture, to be like learning a language. There are foundational aspects you need to understand in order to get past a certain point, but beyond that you just have to immerse yourself in it to truly learn it.
How would you describe your style?
I once heard someone describe my work as 'Contemporary Realism'. It has a graphic quality, but is still classically driven, blending worlds and styles together.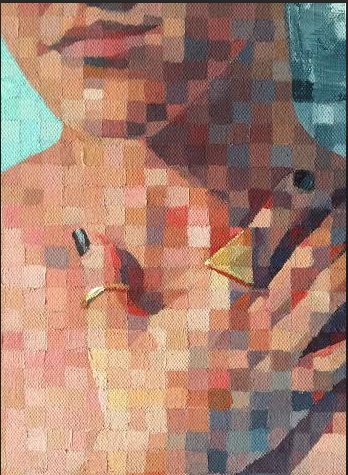 What themes do you pursue and what do you hope the viewer will take away from your art?
There is a sense of documentary realism in portraiture, but of course, the lens of the painter casts a unique perspective. I am an idealist, and I hope that comes through in my work. Â I also hope my work speaks to young audiences, promoting tolerance and acceptance, and inspires more people to be confident in themselves.
Can you describe your typical workflow when you're working on a painting? What medium do you often use and why?
Once I find a subject that inspires me, I take photos and capture just the right image for my key visual reference. I then draw the image onto my canvas and begin the painting process in oil. I prefer painting in oil because of its flexibility, and I love the texture. Once I start a painting, it becomes an obsession to cover the canvas. To me it feels like I am uncovering the image for the first time.
Tell us about your recent trip to Pakistan?
I have had the pleasure of visiting Pakistan three times now, and on this trip in particular, I was struck by a sense of warmth from the people I met. There is so much diversity inPakistan not only the people, but also the arts, fashion and nature, there is an endless amount to discover.
Do you plan on doing any exhibitions in this part of the world?
Currently I do not have any exhibitions scheduled in South Asia, but I would love to show my work to a new audience.
Did anything catch your eye that got you inspired when you were in Pakistan?
The colors are so striking in Pakistan. I love seeing the flower markets, the ornately decorated trucks, and especially the beautiful, bright garments women wear. There is hope in the colors of Pakistan.
Tell us more about your transgender portraits entitled "transformation"?
I started the 'Transformation' series in 2013. This set of nearly life-sized portraits of transgender young adults from around the word was created to portray ordinary people in an extraordinary manner, and render them in a positive, hopeful light. They are common people at first glance; but upon deeper observation, they are heroes who have followed their hearts to be themselves.
The illustrative style of these paintings, the tiny squares of mosaic-like color, is a deliberate parallel. The subjects were at different stages of identity development, and come from different corners of the globe. What unifies them is their shared state of modular flux; changing aspects of their physical appearance to reflect how they feel about their inner selves. I wanted to express that intangible aspect in a harmonious composition.
What are some of the toughest challenges you have faced as an artist during your artcareer?
I think the biggest challenge I've had to overcome is myself. Negative thinking and self-doubt can plague a creative mind. Staying positive is key, and the only way to do that is to keep moving forward, to keep producing art and keep learning as you go.
How do you handle critics?
Since I spend so much time alone working, I welcome constructive criticism. I try to maintain an open mind and be objective. If the criticism is valid and helpful, I adapt and learn from it.
Where do you see yourself in the future? What's your goal?
I can see myself progressing in different directions; I would love to exhibit my work in New York and beyond, but I would also love to do more commission portrait art for private clients.
Is there any project you are currently working on right now or any upcoming exhibitions you would like to share with our readers?
Right now, I am searching for more models for my Transformation series to continue producing the portraits. I am searching for the right gallery partnership to exhibit it in New York either in late 2016 or early 2017.
What's your word of advice for beginners?
Stay curious. If you have a natural gift for drawing or painting, nurture it by learning from someone better than you. If you're the best one in the room, you're not learning from those around you. Always surround yourself with people who know more than you do. Once you have done this; practice, practice, practice. Don't be precious about it. If you've made 100 drawings and only 1 is any good, you've learned more through those 99 mistakes than you would have if you spent all your time on that first drawing.
To view Tara Lubonovich's work or to buy her art pieces you can go on: www.lubonovich.com