The "IDIO" Campaign by Edenrobe Beauty has made its mark!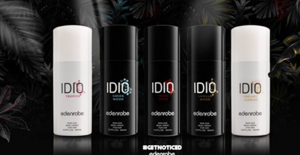 The DVC has been launched by edenrobe Beauty for their new range of deodorants and is trending on social media as one of the fitting and coolest campaigns on social media as it rightly captures the soul of the conversation as every once in a while we have done or committed an act just to #GetNoticed.
There was a lot of pre-hype before the launch of the DVC where Celebs like Minal khan , Muneeb Butt and Yasir Hussain also poured in their real-life stories about how they in their teens and at their important moments they went out of the way to create an impression and how not always things didn't turn out as they expected it to.
Click below to watch these fabulous celebs share their stories:
The first DVC produced showed fun and exciting college life where we all want to be part of that cool group because we all know that it gets the maximum consideration plus the popularity that comes with it. WATCH NOW
The second DVC produced by edenrobe Beauty has an interesting angle where to get noticed for the efforts, a person makes many efforts to stay fit so he is observed and appreciated by his peers and friends to an extent to even get praised for all the labours he puts himself through, in an entertaining manner we can see the message that the brand wants to put across that simply says "IDIO Lagao, Notice main Ao!".
WATCH NOW
The "IDIO" deodorants extension in the edenrobe Beauty has five variants, the deodorants have a formula of no-gas, it has three male and two female fragrances, the deo's have fresh and stimulating aroma that makes a person feel good about themselves that leads to a boost in confidence of an individual, since body odour plays an important role in a person's personality.
Multiple publications like @siddysays, @somethinghaute and @nichelifestyle. also have shared their stories regarding the sweats that they went to get noticed and how sometimes just to satisfy that need emotional need to be the centre of attention we do things that we look back and laugh, cherish them and keep them forever in hearts and minds.
The brand has relevance to each and every being since bloggers like Mishaal of mitchkoway, Arsalan Ali of Behtreenpk, Fahad of trendinginsocial, Saman of Strollwithsaman, Umair of Umairhmirza have also become part of this campaign partaking stories that are so relatable showing that getting noticed for something they wanted to be center of attention and how it's part of everyday routine life.
Taking up that, the simple yet amusing approach of the brand has made us all cheering for it as it gives us a moment to walk down our memory lane and realize that's why to make so many efforts to be prominent be it college, university, office, family etc., just use a deodorant that does it all for you.