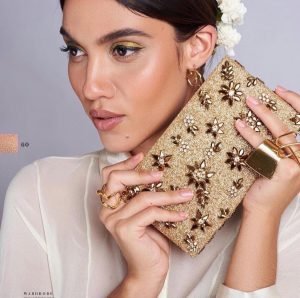 As we gear up for the inevitable chaos of the wedding seasons in July and December, we thought we would reach out and offer some shopping inspiration!
Blumera, an American brand based in LA, that creates unique, hand-crafted luxury purses. In order to pursue creative freedom and celebrate the beauty of the world around us, designer Mehera Blum has traveled worldwide to India, Bali and Italy to collaborate with the most talented artisans who have worked painstakingly to create these special bags which are truly works of art!
One of our favourite bags, which will pair perfect for wedding season, is the Shooting Star Crystal Clutch. This clutch has thousands of illustrious crystals that are hand-sewn over hundreds of hours to make it a perfect statement piece for a wedding! It also has Blumera's signature magenta inner lining. The Shooting Star Crystal Clutch comes in four different variations – black, gold, blush and multi-coloured, which pair perfectly with all the desi outfits we wear as we hop from event to event. And most importantly, these clutches represent a journey towards female empowerment, the pursuit of self and the celebration of us being the strong and kickass women that we are!
From its very onset, Blumera has attracted a lot of press from the fashion world, including powerhouses such as Vogue, Forbes and Women's Wear Daily. Blumera is also a favorite of many influential women, including Jessica Alba, Olivia Wilde, Katy Perry and Yoko Ono. Recently, Orange is the New Black star, another strong and courageous woman, Laverne Cox, carried the black Shooting Star Clutch to the Golden Globes.
The Shooting Star Crystal Encrusted Clutch is $800 and ships worldwide. They are offering free shipping to any part of the world on all orders placed before June 25th! The Shooting Star Crystal Clutch is exquisitely designed and crafted, and stands as a symbol of positivity and upliftment. It is limited edition and a celebrity-favorite, so grab your special bag before it is too late!
Shop this link for FREE SHIPPING!