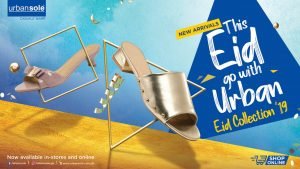 Come to think about it, so much more thought goes into our shoe needs for daily routines, as compared to one particular type of shoe for one particular occasion. Obviously, what we want to wear everyday deserves a lot more attention! And there are a number of factors that go into making that decision, especially shoes for every day!
This summer season that choice has gotten a whole lot easier thanks to Urban Sole, with their new summer collection that is now available online and in stores! The collection is a very thoughtful curation of comfort and style, and we know how important both of these factors are!
Urban Sole has always been known to be one of the most stylish brands for all of us urban souls, and now they have introduced the very innovative memory foam technology in their summer sandals line, which comes with a number of health benefits too! For example, it redistributes body weight; provides support to your neck, back, shoulders, knees, and legs; and it also improves blood circulation.
When a brand as stylish as Urban Sole goes this extra mile to account for comfort and health, it really does make the choice very worth the while! Furthermore, the summer collection has its own active wear articles as well, as well as double density soles which are light weight that provide extra cushioning. It also relieves pressure points while you walk. The durability is another factor one cannot miss!
Hats off to Urban Sole for conceiving such a well rounded, inclusive summer collection that accounts for so much out of the ordinary!