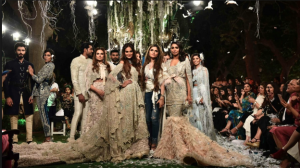 After the momentous success of Shehla Chatoor's previous solo bridal couture showcase 'Nur-e-Alaleh', the label's upcoming collection 'Aks' (Reflection) is to be presented this weekend and will indubitably dazzle audiences yet again. The soul and signature of the SHEHLA brand has always lain in its   time-honoured craftsmanship and the creation of timeless handcrafted pieces including hand-printed textiles and even handmade buttons; a commitment that has remained unchanged for over two decades.
"For the last two decades Bridal Couture has been a very important and major part of the SHEHLA brand.  I have always seen Bridals as a timeless investment. I view these artisanal pieces like items of jewellery which can be passed on to future generations as heirlooms."
–      Shehla Chatoor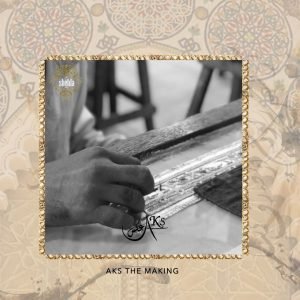 The designers craftsmen and kaarigars have worked passionately and relentlessly to create this timeless 'Aks' bridal couture collection. With this same spirit 'Aks' has been painstakingly crafted with curated hand-spun fabrics including silk and cotton along with velvet, tulle, organza and organdy; using a rich and regal colour palette of ivory champas and gold dovetailed with magenta and plums;   silver and champagne; sea-green and soft mint; black with gold, Kashmiri tea-pink and fuchsia, and a plethora of blacks and ivory amalgamations. These have been beautifully accented with intricate traditional hand-crafted mirror-work, gota, marori and zardozi – painstakingly detailed motifs and embroideries that Shehla's skilled team has recreated from historical museum references.
'Aks' will also include a presentation of elegant and majestic menswear pieces imbued with old school charm. The collection includes sophisticated waistcoats and sherwanis in beige,  ivory black, Kashmiri tea pink and non-traditional soft mint embellished with stunning intricate embroideries.
We for one are truly excited to see what the designer has in store for us this season, and staying true to her signature grandeur we can bet it will be a night to remember.