On Thursday 15th November 2018 edenrobe dropped its campaign video for winter titled Knot the Blues. The video opens to a group of real women, distinct and without the pampered glitz of the fashion industry. There are no glazed looks or blank convictions, these are real women. One by one each takes to the screen to relay their stories and encounters.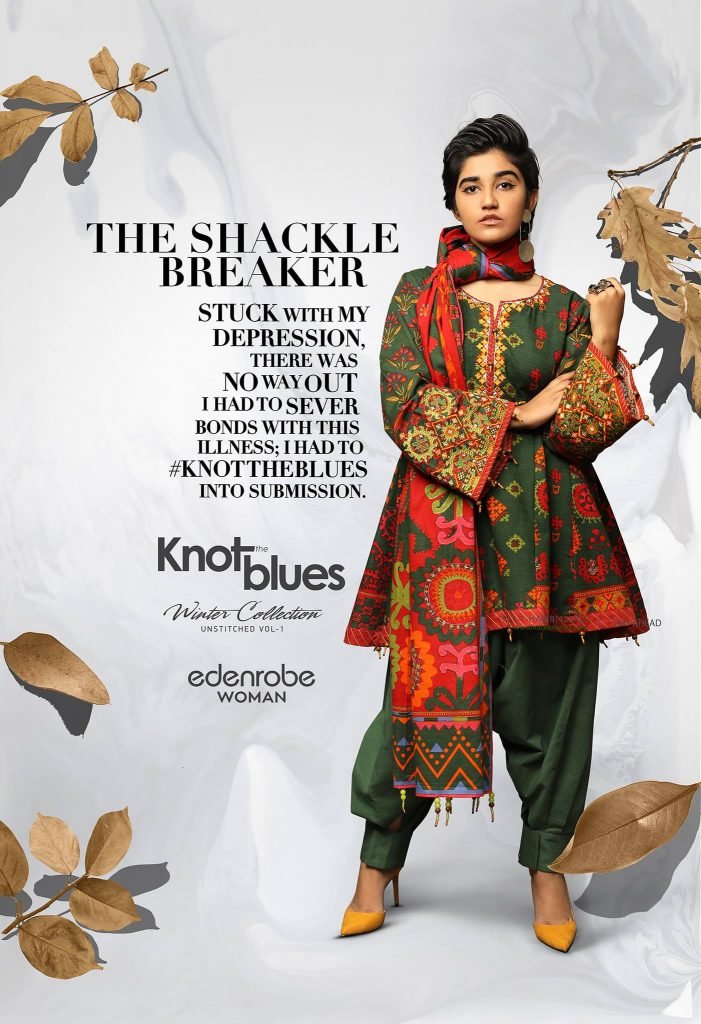 The campaign showcases women who are suffering from depression, at the end of the video they tie knots on their dupattas, a conventional symbol of a woman preparing herself for a strenuous task. They mean to stand up to the mental illness, and by telling their stories they mean to break away from the taboo of discussing such issues in the Pakistani society and begin the important phase of battling the blues: speaking out about it.
In Pakistani society joy is a big factor which is dented by the increasing number of women suffering from depression. What could be a better reminder of beauty than the ode to the strength of seemingly ordinary extraordinary women.
To kickstart the campaign the brand reached out to real women; receiving an influx of responses and stories of people who wanted to come forward with their stories, they wanted to tell the world that you are never alone with this illness though it feels that way. In the end nine unique women were chosen to take part in the campaign. Campaign focused on a very basic solution to this issue, which is to speak up. Keep it to your self can be an issue.
In Pakistan there is a taboo that surrounds the topic of mental illness. People don't talk about it, and there are people who don't believe how real it is. Part of edenrobe's research on female insight, beauty, and vanity showed that the conventional conversation over fashion was all wrong. Women may look but do not relate to impossible beauty standards, and therefore were not truly connecting to the content.
This is not the first time edenrobe has taken forward real insight from Pakistani women as a theme in their communication. The campaign is a breath fresh air, starring the same women as heroes setting examples in ordinary routine. It makes one think, if they can do it so can we, piquing the interest of their target market.
edenrobe took the campaign forward with an interactive window in all retail outlets. The day after the video was released #knottheblues trended and a movement began where women posted their own pictures tying knots and coming forward with their stories of struggling with mental illness, marking the first time in Pakistani history where females were prodded to battle and they responded.
The campaign received plenty of applause on digital, with positive reviews, sincere feedback and over a million views and counting for the campaign video. It has created a space amidst a strong platform where women are coming forward, breaking their silence, and sharing their stories of defying depression.